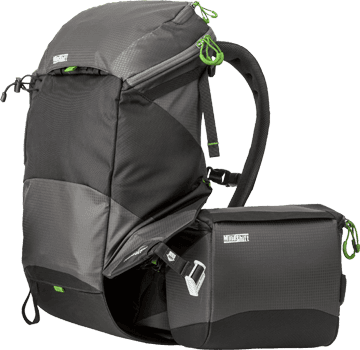 PLEASE NOTE: This bag is now available and you can find my in-depth review right HERE.
Today we're previewing the latest Rotation 180 photography backpack to come out of MindShift Gear, Think Tank Photo's sister company. The Rotation 180 system was first seen in the R180 Professional pack, a pack which I totally fell in love with and have used to transport my gear all over the world already. The Rotation 180 system is demonstrated in the animated GIF below with the R180 Pro pack. It's a really clever way of giving photographers access to their gear without the need to take the pack off your bag. This works well in several situations; first when the ground is wet/muddy/dusty and secondly when you're on the move and don't want to stop for very long like when you are skiing. The Rotation 180 Professional is a big pack though, designed for long day trips and those that take a lot of gear with them. I can even fit my Canon 200-400 in it! Read a full review of the Rotation 180 Professional HERE.
What was needed was a bag that had the same Rotation 180 technology in it, but with a smaller volume and lighter weight. This is the Rotation 180 Panorama.
Features And Design

As with the Rotation 180 Professional, the Panorama features the rotating belt pack that made the other one so successful. The magnetic latch on the side of the bag is a breeze to undo with one hand and the cleverly elasticized hatch door springs open to allow you to rotate the belt pack to the front of your body. The uses of such a system are almost endless and I find more every time I'm out shooting. Just yesterday I was shooting Bald Eagles in Squamish, BC as they congregate for the Chum Salmon run that takes place every year. Once the Salmon have spawned they die and their rotting carcasses litter the river banks. The smell is terrible! Using the Rotation 180 system though I was able to get my camera gear out without needing to take my backpack off. Had I needed to take it off and put it on the ground…… well let's just say I might have needed a new bag, that's not a smell that comes out easily! Granted that's a scenario most people won't face, but there's many other useful situations as well. I love to use it skiing since I don't have to put my pack down on a steep slope and risk it tumbling off a cliff, and it works great on any landscape photo mission where the ground is muddy, wet or overly dusty.
This is the Rotation 180 Professional, but the Panorama's mechanism works in the same way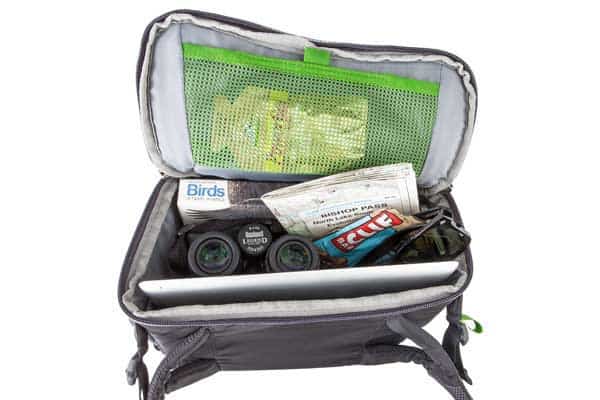 The belt pack is shown here with non photography gear such as binoculars and an iPad.
The overall shape of the Panorama backpack is quite different to the Rotation 180 Professional; it's a lot sleeker and skinnier. The result is a pack that is easy to maneuver with since the weight is kept closer to your center of gravity. The belt pack is slightly deeper, allowing you to fit a regular sized camera body with a lens facing downwards. Something like a 24-70 or a 70-300 ought to be fine but I'll do full testing in my upcoming review.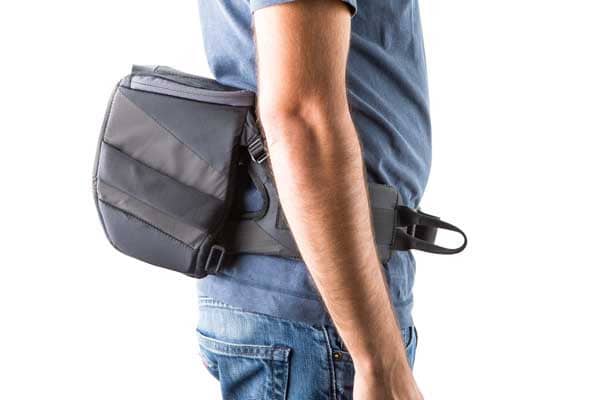 A little more thought has also gone into the ability to wear the belt pack on its own this time as well. There's a couple of adjustment straps that allow you to pull the bulk of the belt pack back towards your spine so it doesn't sag backwards when worn on its own. This is a great solution for a climbing pack, or just a super lightweight hiking solution when you have a camera and tripod over your shoulder. On a recent trip to Cambodia I took to wearing the R180 Professional's belt pack in this way, and with an added shoulder strap, because the intense heat there made it uncomfortable to wear a backpack all the time. The Rotation 180 system just gives you great flexibility which I love.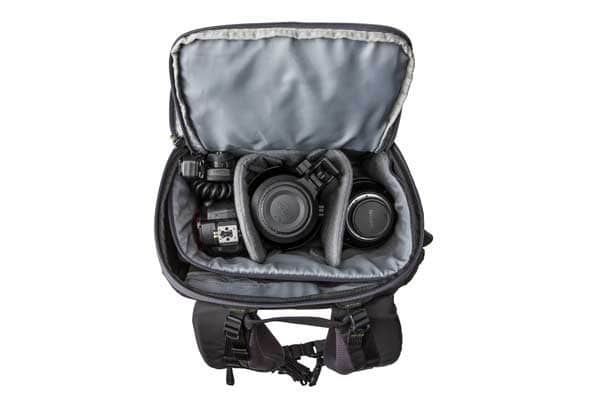 Speaking of flexibility, of course you also have the option to put more camera gear in the top half of the bag, or to just fill it with other items like food and clothing for your day. There's a zippered top pocket with a clip for keys and memory card holders and a water bladder pocket on the side. If you do put camera gear in the top section, your water is safely out-of-the-way to prevent any nasty accidents.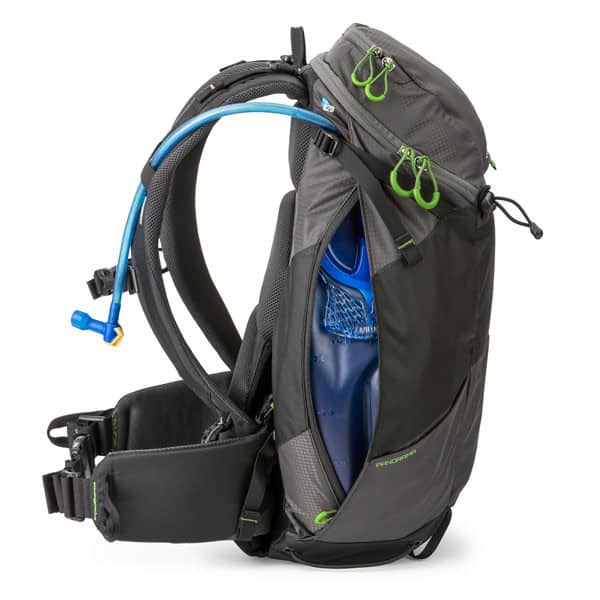 Tripod attachment is done via a hidden strap on the front of the bag at the top, and a fold-out tripod cup that comes from the bottom along with a second strap to secure the feet.
Overall, the pack is also much lighter than its bigger brother R180 Pro, it doesn't have back panel opening for the top section which cuts out a ton of weight, and care has been made wherever possible to use only materials that are absolutely necessary. The result is a bag that weighs 2.9lbs, about 40% less than the larger R180 Pro.
The Rotation 180 Panorama will retail for $199.99 when it launches which is also great because it gives many more people the opportunity to experience the rotation system at a much lower price than the professional model.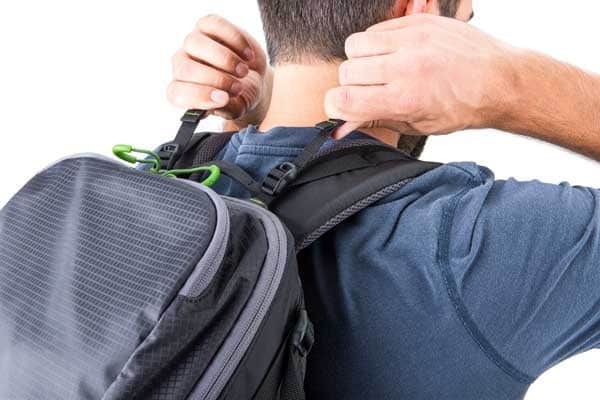 Two Colors
Brightening things up this time will be this snazzy blue/purple pack as well as the two-tone grey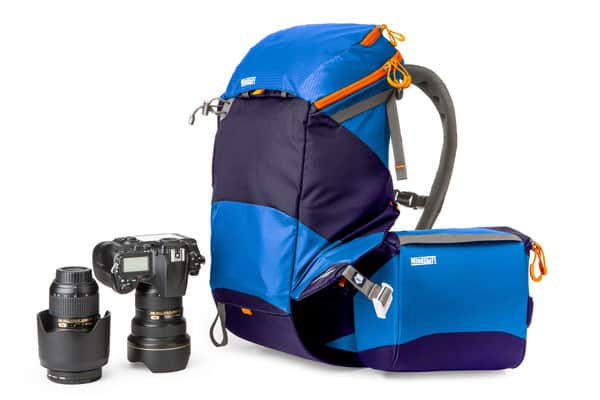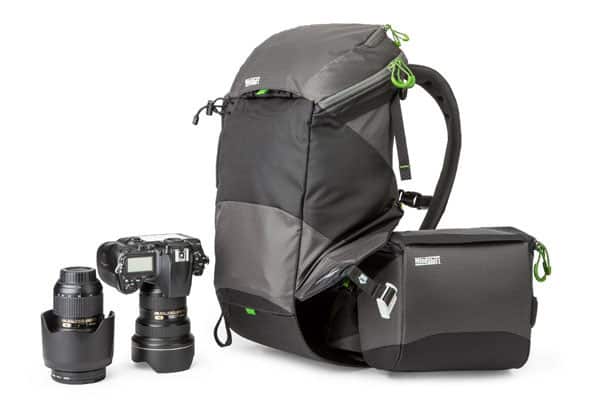 Panorama Padded Insert
The padded insert designed to fit in the top half of the bag is optional and available for $44.99. You can fit a 24-70 attached to a standard sized camera, plus 2-3 other lenses.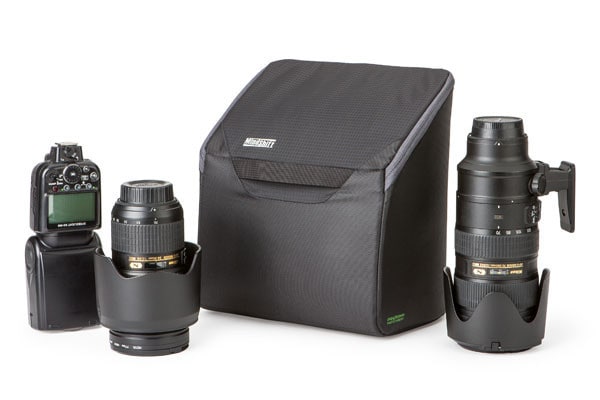 You can see more photos of it and read my thoughts on whether you will need it in this separate article: MindShift Panorama Padded Insert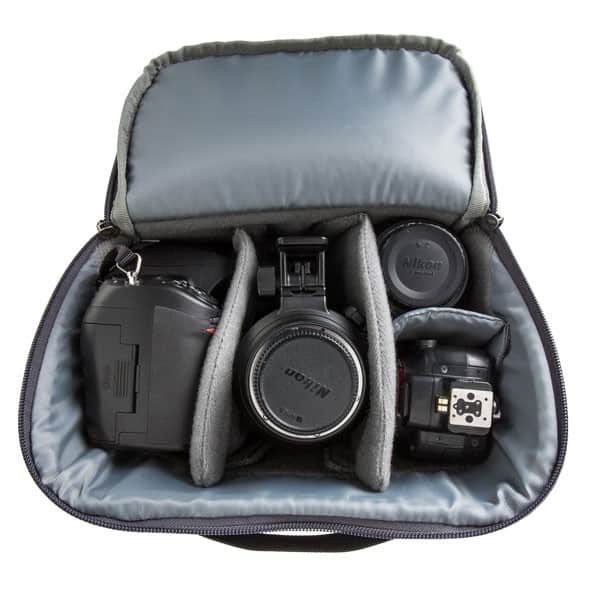 I'm Excited!!
I can't wait to get my hands on (now I have done!) one of these packs since the larger R180 Professional has worked out so well for me in a variety of situations. The guys at MindShift have promised to send me one of the pre-production models so that I can do a full review for you before they are available to purchase so this will give you all the info you need to make a solid purchasing choice. I'll be taking it skiing, biking and hiking among other things to compile my review so stay tuned!
Get a Free Gift From MindShift Gear (& free shipping)
As a friend of this site, you'll get a free gift at the checkout if you spend more than $50 through MindShift's online store, as long as you click through one of the links to their store on this page, like this one. Out of all the possible free gift options I recommend that you get the House of Cards memory card holder if you don't already have one, this is the card holder I use every day (and previously reviewed here). I may make a small commission if you purchase from them after clicking one of these links, but as always, it's greatly appreciated when you use these and it doesn't cost you a penny more.