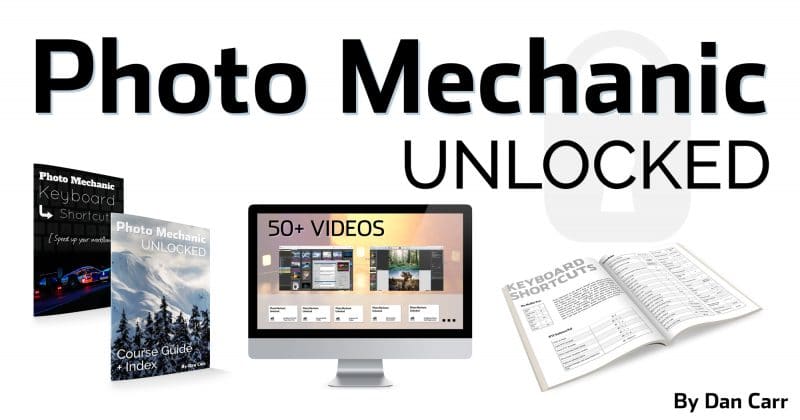 I've talked about Photo Mechanic many times on this site, and even offer a free keyboard shortcut guide for it. This amazing piece of software has been part of my professional workflow for many years, and my video tutorials for it have always been popular. I've long had it in mind that I wanted to offer more, but it's a complex and feature-laden piece of software that needed a huge amount of time to dissect and explain. Well folks, that's exactly what I did this summer, so I'm pleased to announce today: Photo Mechanic Unlocked. The first ever in-depth video training series for this software.
The Photo Mechanic Unlocked training course is quite simply the video series I wished had been available when I first began using the program. This course will get new users up to speed with the powerful features, and also teach PM veterans some new tricks that can further enhance their workflow. Included with the course is over 60 videos, split into conveniently designed chapters that allow you to tackle the whole thing, or jump in and out of sections to view just what you need. You'll also find an array of sample templates, as well as beautifully formatted keyboard shortcut guides to keep on your computer or mobile device for quick reference.
Here's what one of the very first customers had to say:
Hi Dan – This is just a brief e-mail to tell you how much I enjoy your Photo Mechanic course. I purchased PM a few months ago, but haven't done much with it due to the complexity. Your course is brilliant. I'm starting to understand PM much more and look forward to taking advantage of its advanced features. Thanks for putting your time into making the course. No doubt many people will benefit from your work. I'm very impressed with the quality of your course.

5DayDeal customer – Doug, USA.
I'm really proud to have joined forces once again with the folks from 5DayDeal, to bring you guys the Photo Mechanic Unlocked course as part of their annual Complete Photography Bundle. This bundle features an array of products from the likes of Trey Ratcliff, David DuChemin, Jeremy Cowart, Joel Grimes, Lindsay Adler, and Zach Arias, for the heavily discounted price of just $97. In fact, the bundle contains over $2500 worth of products, so that's a 96% discount!
That price would be worth it for my Photo Mechanic course alone, but launching it alongside the 5DayDeal gives you guys the chance to get an additional $2400 worth of inspirational and educational products to go along with it – for a very limited time of course. The sale ends at 12pm on October 19th, and once it's over, that's it! Gone forever!
The other great thing is that 10% of all sales go straight to charity, and this year we're hoping to reach our goal of $300,000 in charitable donation over the course of the 5 day sale. You can find out more about the charities that are supported, on this page of the 5DayDeal site. I'm really proud to have my work play a small part in such an amazing cause. If the targets are reached this week, it will put the total charitable donations for the time I have been working with 5DayDeal over the last few years, at over $1 millon!
Your support would mean the world, whether it's making a purchase in order to get your hands on my new training course, or even just sharing the deal with your photography friends to see whether they can benefit from it too.
Thanks!