The Shimoda Action X v2 is an updated version of the brand's technical adventure and nature photography backpack. The v2 update sees two new sizes added to the lineup, a host of new features, Women's specific models, and user-driven refinements to Core Units. In this review, I'll be taking my usual in-depth look at the whole lineup to help you decide whether an Action X v2 is in your future. Buckle up. There's a lot to talk about, so I think this will be a big one!
Disclosure: Shimoda sent me these bags to review. No money changed hands, and they did not get to see the content before it was published. These are my honest views about the Action X v2 bags.
Shimoda Designs has offered Shutter Muse readers a 10% discount on anything purchased through their online stores. US, UK, French, or German residents should use the discount code ShutterMuse10 after clicking here to access the store. Australian readers should use the same code on the local Shimoda distributor's site, Maxxum, instead.
Throughout this review, I will refer to these bags using their full name, i.e., Shimoda Action X50 v2, or shortened versions such as Action X50 or X50. Using v2 every time would be tedious to read, so it is safe to assume that I am always referring to the new v2 versions of the Action X bags unless I specifically say otherwise.
Shimoda Action X v2 Key Features
I'll dig into these in more detail, but for now, here's a quick rundown of the impressive list of features found on the Action X25 v2, Action X30 v2, Action X40 v2, and Action X50 v2.
Removable, adjustable hip belt
Adjustable torso length
Padded side, top and base handles
Luggage handle pass-through
Helmet holder
Apple AirTag pocket
2x padded laptop sleeves
Ice Axe Loops
Shoulder strap pockets for phone and water bottle
Adjustable roll top for volume expansion
Reinforced padded base
Quick Access Zipper
Modular Core Unit camera insert system
Included rain cover
Removable tripod and water bottle pockets "Drop Pocket"
DWR and Carbonate Coating
YKK SplashGuard zippers
TPU Ski straps
Shimoda Action X v2 Colors and Sizes
The Action X v2 is available in five sizes and four colors. Action X25 v2 and Action X40 v2 are new sizes in the lineup, as is the existence of Women's Action X25, X30, and X40. The Women's Series bags, with specially shaped shoulder straps, are only available in Teal. The Action X25, X30, X40, and X50 are available in Black, Yellow, or Army Green. The Action X70 HD is only available in Black or Army Green.
The new yellow color is a bright, fun way to add to the Action X v2 options. It's a great choice in the mountains or when you need a color that pops in photos and videos. I can see this being a popular choice for YouTube content creators that don't want to blend into the background all the time in their videos. Of course, wildlife photographers will continue to love the stealthy Army Green color.
Special Note On the Action X70 HD
The X70 HD is a huge camera backpack designed primarily for cinematographers and wildlife photographers who carry heavy equipment and super-telephoto lenses. It's also the best camera bag for people who want to go multi-day trekking with a camera and camping gear. While this bag is technically part of the Action X v2 lineup, featuring all the v2 updates, there are enough differences between it and the rest of the lineup that I decided to write a separate review for that model. Read on if you're most interested in the Action X25, X30, X40, and X50. But divert and head to my Action X70 HD review if that is where your focus lies.
Shimoda Action X v2 Specifications
Action X Vs. Action X v2 – New Features
You may have bought one of the original Action X packs, and now you're wondering whether you should upgrade to one of the new v2 models. Or, you may remember seeing the Action X bags in the past, but they didn't come in quite the right size for you or were missing a feature you needed. With multiple new sizes and a long list of new and updated features for v2, it's worth revisiting this series. Here's what's new for v2.
Two new sizes: Action X25 v2 and Action X40 v2
Three new women's specific sizes: Women's Action X25, X30, and X40
New yellow color
There are now two padded laptop sleeves instead of one
A hidden AirTag pocket was added inside the bag
Side tripod/water bottle pockets are now removable to wear on the hip belt
Phone pocket expanded to fit iPhone 13 & 14 Pro Max
A rain cover is now included, and a new rain cover pocket has been added to the interior base of the bag
The hip/waist padding on the belt is now adjustable for smaller waists
Luggage handle pass-through added, and also acts as padded side handle
A base handle was added for 2-handed moving the bag around on the ground or into vehicles
Large DSLR Core Unit lengthened to fit better a mounted Sony 200-600mm lens and the Nikon Z 800mm lens
I enjoyed using the original Action X bag I bought from their Kickstarter launch campaign some years ago, so I was pleased that they didn't make any drastic changes to the bags for v2. You won't notice the difference from a distance unless you're looking at the brand-new yellow color. Still, Ian Miller, Shimoda's chief designer, has come up with a long list of carefully thought-out updates that each contribute meaningfully to the overall usability of the bags. Action X v2 is product refinement at its best, and by using it, you see how meticulous Ian has been with a redesign that has been two years in the making.
New X25 and X40 Sizes Welcomed
When I first got details of the planned updates to the Action X lineup, I was particularly pleased to see the new X25 and X40 sizes on the list. Reviewing the Shimoda Explore v2 series, I underlined what a breath of fresh air the smallest Explore 25 v2 backpack was. Outdoor photography backpacks typically come in larger sizes, and trying to find a smaller pack usually means moving down through a brand's product line to a cheaper, inevitably inferior product. People of smaller stature shouldn't be forced to use inferior bags. Shimoda's Explore 25 v2 finally gave those people a smaller camera backpack with the same features and high-quality materials as much larger bags. Now they have twice as many options with the Action X25 v2 introduction.
The Action X25 v2 isn't just for smaller people, though. Sometimes I want to carry one camera with one or two lenses, and I want to do it in a bag that offers the same level of comfort and features as the bag I use when carrying two bodies, six lenses, and some camping gear. I can easily pack a small 2-lens camera kit, my laptop, and enough clothes and toiletries for a 3-4 day trip into the Action X25 v2.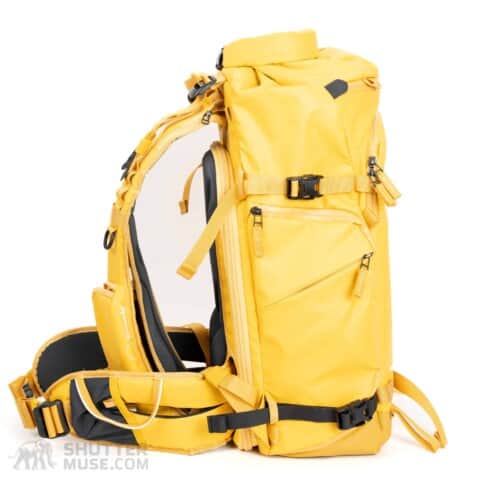 Even as I sit here finishing this review a couple of days before the bag's official public launch, that's exactly my plan. Tomorrow, I hop on a plane from the Yukon to Vancouver, then from the West Coast to the East Coast, for a 4-day trip with only the Action X25 v2 on my back. This bag is a perfect solution for fast and light days in the mountains or multi-day travel excursions where you don't want to feel weighed down as you hop from the airport to the city and back again.
So, we've established that I love the new Action X25. What's the new Action X40 all about? Obviously, the X40 sits between the Action X30 and the Action X50, but it's not quite as simple as that, and it all comes down to Core Units. The Core Unit system is discussed in greater depth later in the review, but the quick version is that the X30 uses the shallower Mirrorless Core Units. In contrast, the X40 and X50 use the deeper DSLR Core Units that accommodate gripped or pro-sized bodies.
Both the X40 and X50 will hold the Large DSLR Core Unit, so their camera carrying capacity is identical. Though the X40 sits in the middle, it's best to consider it a smaller X50 rather than a larger X30. The Action X40 has the same width and depth as the X50 but is 1.1 inches shorter. This slight height change also means that the X40 fits within the carry-on regulations for international flights with more airlines, and, as I mentioned, it does this while still being able to hold as much camera gear as the X50.
Here's a real example: The maximum height for international carry-on with Air Canada is 21.5″. An Action X50 v2 is 22″ tall, so the thought of using it on one of their flights gives me some anxiety. Perhaps I'll get a gate agent that's having a bad day and enforcing every rule. The Action X40 v2, on the other hand, has a height of 20.9″. I can still carry the same camera gear but be completely reassured that if they ask me to put my bag in the dreaded luggage cage, it'll fit without an issue. The new Action X40 v2 might be the Goldilocks bag in the lineup, and I wouldn't be surprised if it turns out to be the most popular option.
Women's Action X Series
Alongside the Action X v2, Shimoda also launched a new Women's Series of backpacks, including three Women's specific versions of the new v2 Action X25, X30, and X40, and two versions of the Explore v2 in 25L and 30L sizes. These bags are largely the same as their regular counterparts but come in an exclusive Teal color. They also feature specially contoured shoulder straps that use a twin sternum strap design to alleviate awkward pressure points around the chest. Shimoda has always been at the forefront of creating camera bags to fit a wider range of body types, and it's great to see them continue this.
When I unboxed a Women's Action X30 as part of the package Shimoda sent me, my partner Kait–usually ambivalent about the constant stream of gear that arrives–grabbed it from me. She was smitten when I showed her the shoulder strap design and explained the features. With a big smile, she said, "I love it!!" Right then, I knew we'd be keeping that one for her because, as she said tp me, she's never seen any backpack with straps designed for women. Let alone a camera bag.
Action X Design and Features In Depth
Roll Top Section
The top section of the Action X packs has a roll top design that adds a few liters of extra volume when it's needed. Inside the top section is a suspended gear "bucket" that helps to separate all your non-photographic gear from the camera compartment below. Built into the sides of this, you'll find two large zippered mesh pockets, with the rearmost also containing a quick-release key clip. This top gear bucket zips out of the bag if you want to convert your Action X pack into a single-volume hiking or travel pack.
Quick Access Zipper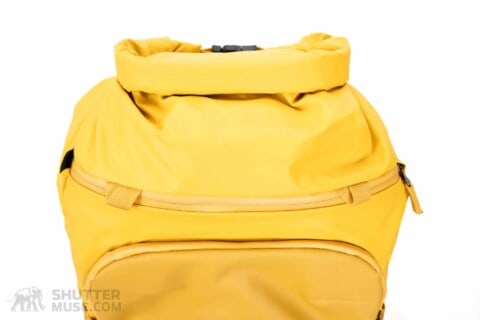 A roll top is excellent for expandability and versatility, but it's not the fastest way to get into a bag. Therefore, the Action X backpacks have a zipper that runs right across the top of the bag beneath the roll. In practice, you'll use this quick-access zipper far more than the roll top entrance. When the zipper is open, it's wide enough to insert or extract even large objects like drones or heavy down jackets.
Camera Access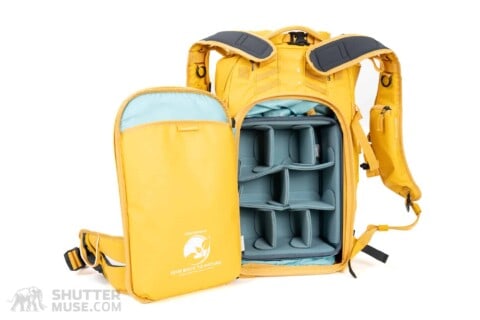 Camera access on the Action X25, X30, X40, and X50 can be done through the zippered back panel of the pack or a side hatch. The rear hatch gives you direct access to everything stored in your protective Core Unit, while the side hatch is designed to provide you with fast access to a camera with a lens attached to it.
Front Pocket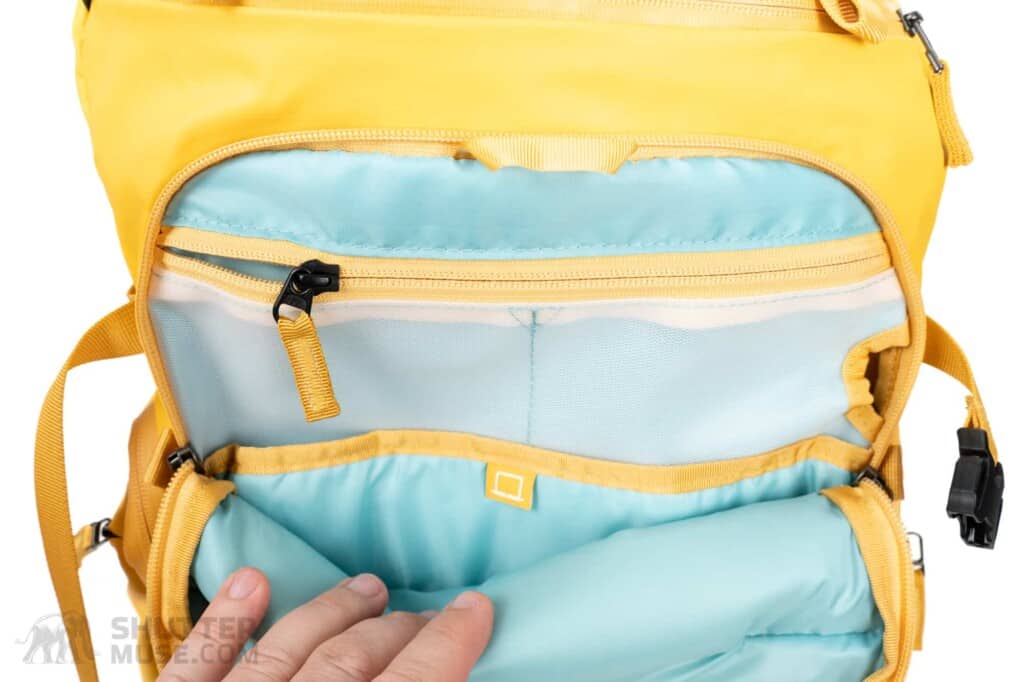 The bag's front pocket features a pair of zippered pockets for organizing small, flat items like circular filters. The large main area in this pocket is split in two by a padded divider. For backcountry skiers, this section is large enough for an avalanche shovel and probe. Everybody else will probably use it for storing layers or separating wet gear. Drainage holes in the bottom of the pocket give melt water a place to go.
Side Pocket
On the opposite side of the bag to the camera hatch is a slim pocket perfect for storing rectangular filters or other similarly flat items. You can also see the stowed water bottle/tripod pocket opposite in its own pocket. If you have the water bottle/tripod pocket deployed, that frees up another pocket for use.
AirTag Pocket
I'm a big fan of Apple AirTags for keeping track of essential items. I've written before about how I use these to keep track of my bags while I'm traveling, and now Shimoda has made that easier by adding a hidden AirTag pocket within the bag's front pocket. Love this!
Torso Length Adjustment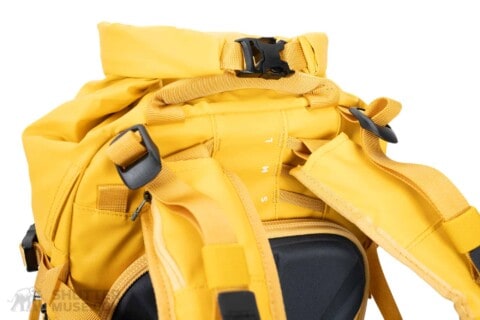 The pack's torso length can be adjusted between three different positions. When you get the pack, it's worth trying all three. I wouldn't have said I have a long torso, but I found the longest position most comfortable.
Shoulder Straps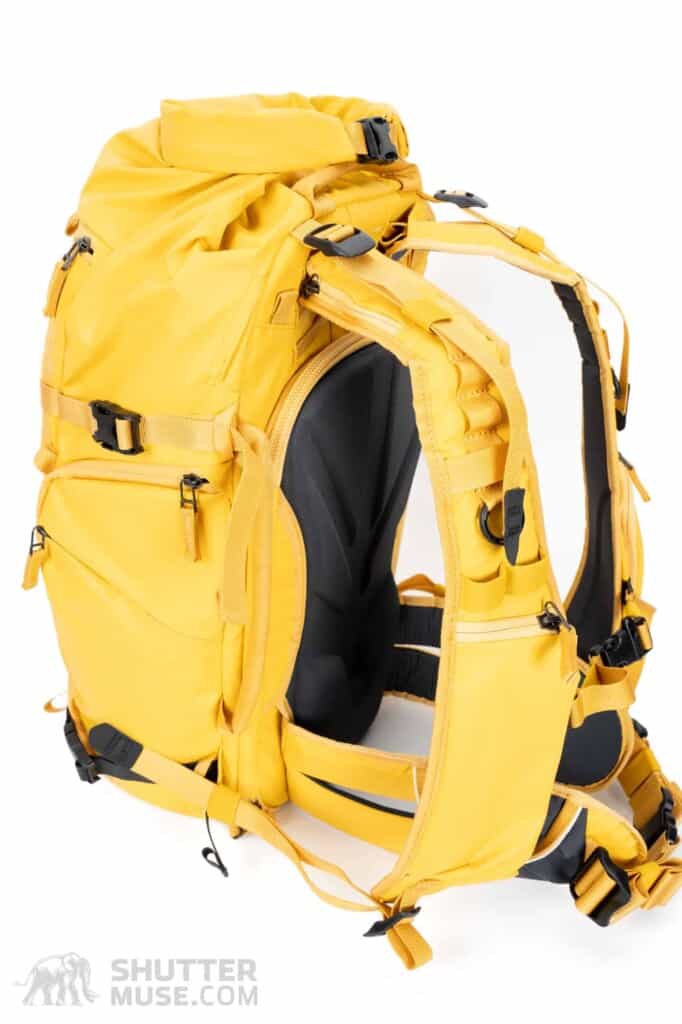 The shoulder straps are made from EVA foam and forgo any Air Mesh to shed snow and dirt better, thus preventing it from being rubbed back onto your clothing. The straps are heavily contoured to the shape of your body and, despite looking a little thin, do an excellent job keeping things comfortable on a long hike. I particularly like the way the strap widens around the pockets. This extra surface area works wonders stabilizing the bag on your body while you hike, bike, or just generally move around in the outdoors.
Shoulder Strap Pockets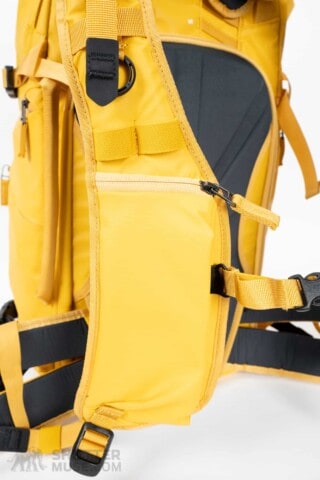 The shoulder straps feature two large pockets. A zippered phone pocket on the wearer's left side will fit an iPhone 13 or 14 Pro Max. If you're not using this for a phone, it's a handy place for an InReach Mini or other small GPS device. While moving through airports, you can clip a pen onto the nylon webbing in this pocket to help you with the endless customs forms.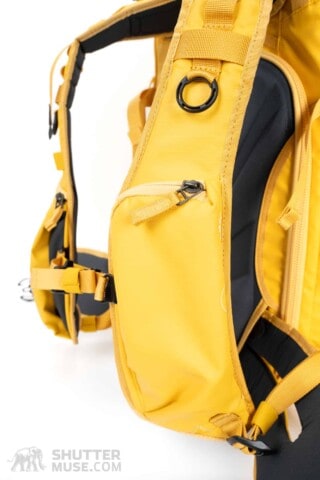 On the wearer's right side is an expandable pocket. This can be used for a small water bottle, a phone too big to fit into the other pocket, or even a can of bear spray. I find the latter option particularly useful since I live in a place called Grizzly Valley in the Yukon. There are no prizes for guessing how it got its name!
Sternum Strap
The sternum strap has an emergency whistle and an elasticated section to allow your chest to move while huffing and puffing up the next mountain.
Hip Belt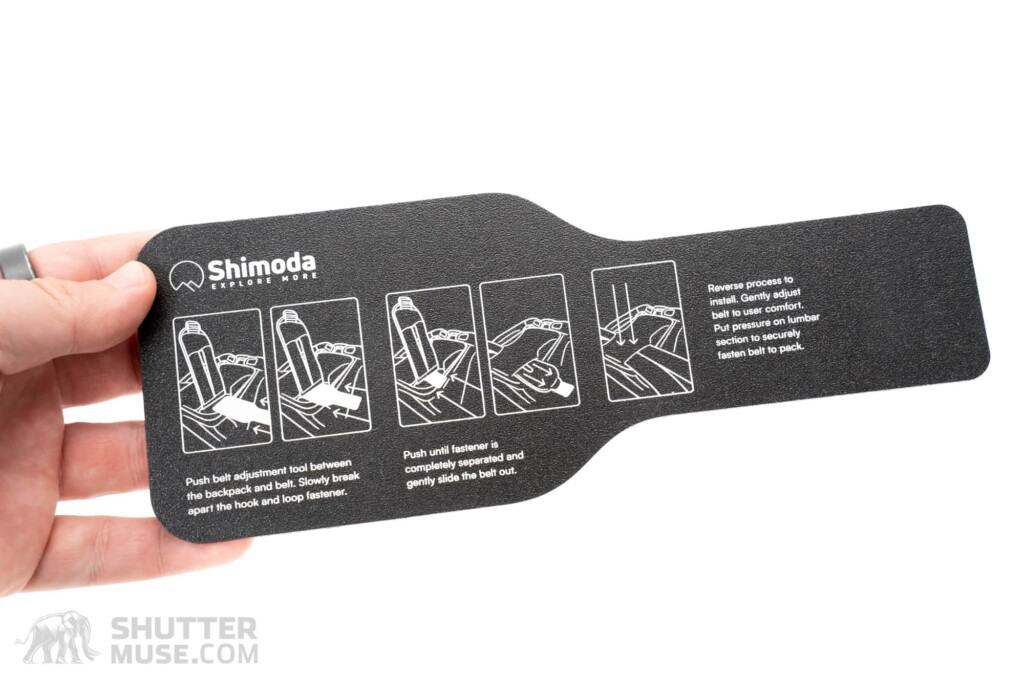 The hip belt is removable, and Shimoda has made this easier by providing a small plastic tool to slide into the back panel and loosen the hook-and-loop. Once removed, you'll notice that the hip padding is in two sections, joined by a small adjustable nylon webbing. Loosening or tightening the webbing adjusts the positioning of the padding on your hips, and Shimoda says this will add comfort for people with smaller hips.
Handles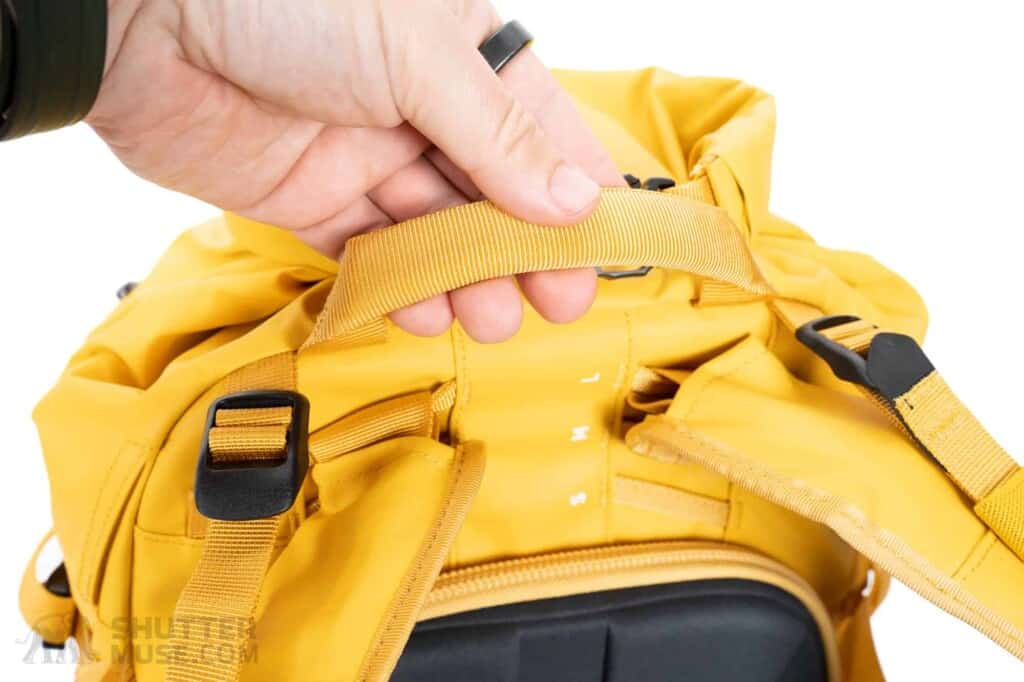 The Action X v2 has three padded handles on the top, side, and bottom to help you lift the bag into vehicles or move it around on the ground at your shooting location. The side handle is wide enough to use as a luggage handle pass-through for those traveling with a roller.
Laptop Carry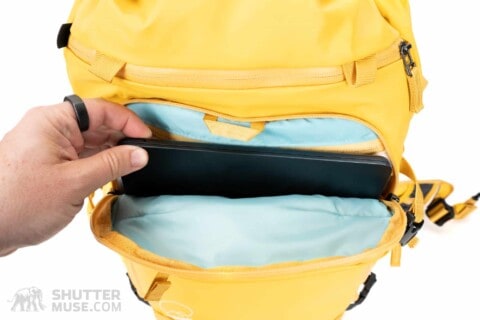 The Action X25 can carry up to a 14″ laptop, while the X30, X40, and X50 can carry up to a 16″ laptop. There are now two laptop pockets to choose from: The first is on the inside of the back panel, accessible through the rear camera access hatch. The second padded sleeve, new to the v2 bag, is in the bag's front pocket. I like having both options. The rear sleeve has thicker padding and is a better place to store a laptop if you're out in the field. On the other hand, the padded sleeve in the front is a better place to store a computer while traveling. It's much easier to access for intermittent use and extraction at airport security.
Tripod Carry
A tripod can be carried on either side of the bag by folding the Drop Pockets out of their zippered compartments. Cleverly, the strap length on the Drop Pockets can be adjusted to move them up or down, better accommodating tall tripods. If you prefer, you can also strap a tripod to the front of the bag, although this isn't my recommendation as it places the weight too far back from your center of gravity.
Water Carry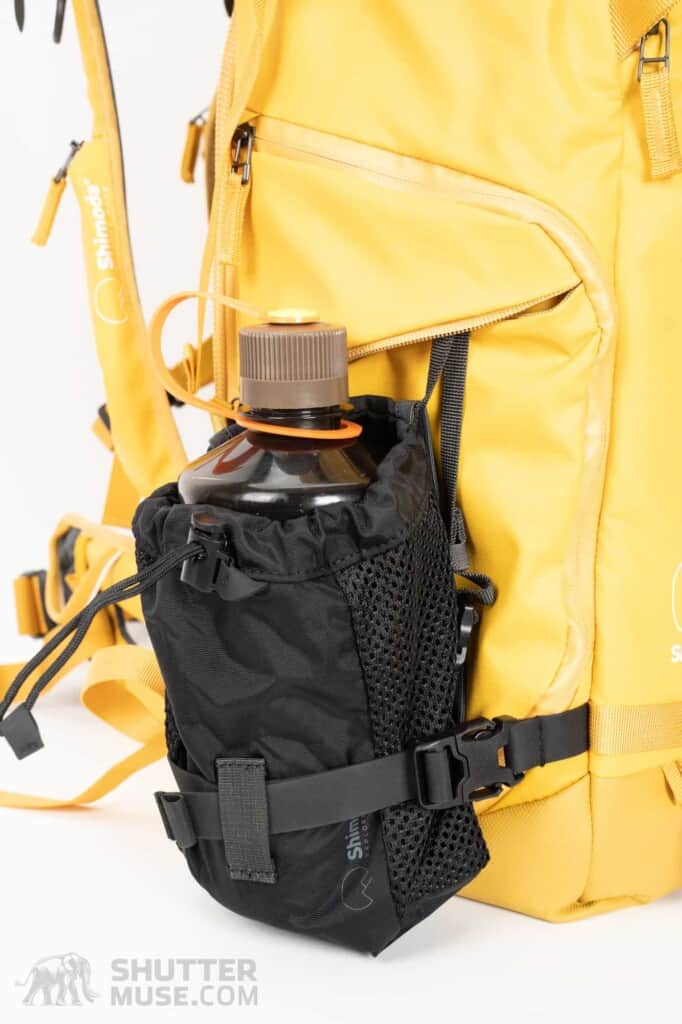 A 1L Nalgene bottle fits into the Drop Pockets on the side of the Action X v2. You can also relocate one or both of those pockets to the hip belt if you want to carry a larger water bottle up front. If water bladders are more your thing, there's a bladder hanger in the front pocket and bladder hose routing ports on both sides, letting you feed the hose to your preferred side. The third option for carrying water is to use a small collapsible bottle stashed in the expandable pocket on the wearer's right-hand side of the shoulder straps.
Rain Cover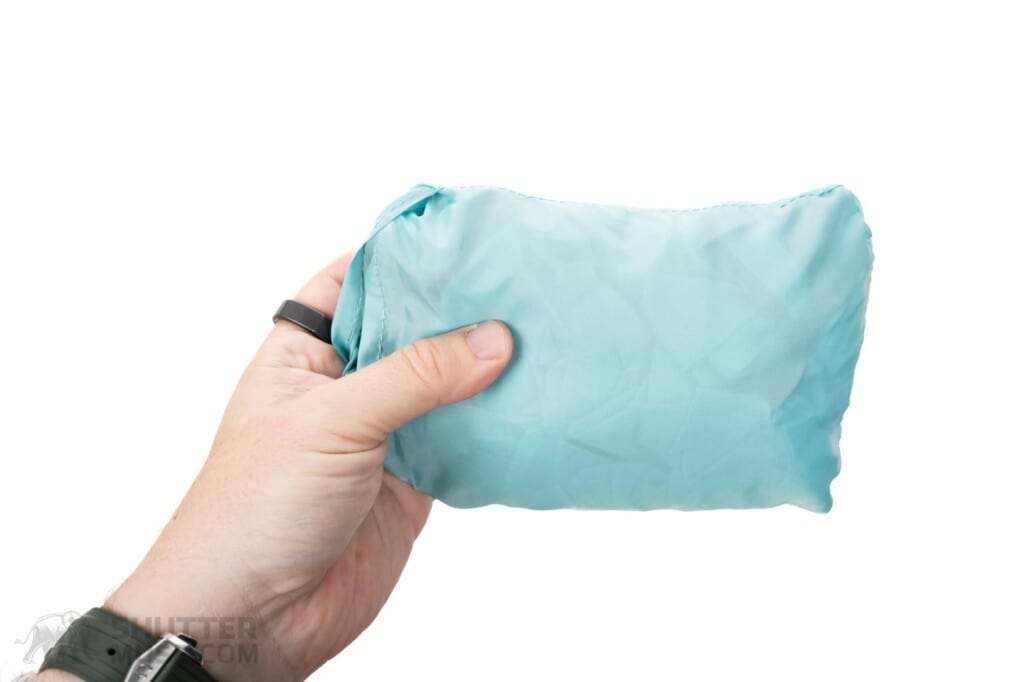 Every Action X bag comes with a rain cover, and now there's also a dedicated rain cover pocket on the inside of the main compartment beneath the Core Unit. Although the bag's exterior materials are DWR coated for water resistance, it doesn't hurt to have a rain cover if you get stuck in a prolonged downpour that would otherwise eventually find its way through the seams and zippers to your gear.
Helmet Holder
The Action X bags come with a helmet holder made from stretchy material that clips onto the front nylon webbing. Useful for skiers, snowboarders, climbers, and bikers riding, skinning, or hiking to the next line. It can also help secure large soft items to the front of the bag, such as a sleeping bag or a heavy down jacket.
Core Unit Choices
Core Units are protective camera inserts designed for Shimoda's range of photography backpacks and roller bags. By choosing different sizes of Core Units, you can customize your pack to carry varied camera gear and non-photographic equipment combinations. Shimoda's Core Units have an internal frame that gives them a lot of structure. Consequently, the walls can be thinner than many other padded camera cells, maximizing the available space in your Action X backpack.
Core Units come in multiple sizes (S, M, L, XL, XXL) and three depths (DV, DSLR, and Mirrorless). The deepest Core Units, the DV lineup, only fit in the Action X70 HD, so I will skip those in this discussion. If you want to see those DV Units in action, check the X70 HD review.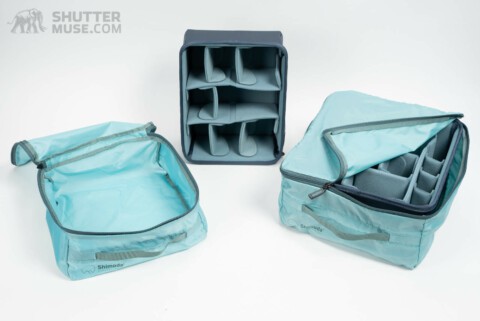 Action X25 v2 Core Unit
The Action X25 is narrower than all of the other bags in the series. As a result, the Small Mirrorless Core Unit is the only one that fits in this bag. While all other sizes of Action X bags are available as "Shell Only" or "Kit" with a Core Unit, the X25 is only available as a kit with the Small Mirrorless Core Unit. This Core Unit is sized to fit an unattached 70-200 f/2.8 and a 24-70mm attached to a body. With those in place, there's still extra room for another lens standing vertically, like a 16-35mm or 20-70mm. This Core Unit is also a good size for a DJI Mavic, alongside a camera with an attached lens.
Action X30 v2 Core Unit Choice
The Action X30 only has the depth to accommodate Mirrorless Core Units. If you buy the bag as "shell only," ensure you don't add any DSLR Core Units to your cart. They will not fit. If you buy the Action X30 kit, it'll come with a Medium Mirrorless Core Unit.
Your other options would be a Small Mirrorless Core Unit, discussed above in the Action X25, or the Large Mirrorless Core Unit. The Small can also be an excellent choice for this pack if you plan to go fast and light with a minimal kit. The Large Mirrorless Core Unit isn't my favorite option in this bag because it leaves little space in its top section and makes using the internal organizational pockets harder.
When I use the Action X packs, I'm always happiest with how they work in the field when I have plenty of room left in the top of the bag to quickly stuff clothing, store food, or stash things like filter cases. Only choose the Large Mirrorless Core Unit for the Action X30 if you don't need much room for non-photographic gear.
Action X40 v2 Core Unit Choice
The X40 is deep enough to carry DSLR depth Core Units, which means you can carry a gripped or a pro-sized camera body. You could still opt to use a shallower Mirrorless Core Unit, but be aware that there is no mechanism in an Action X packs for securing the Core Units in place. When you pick a Core Unit that matches the bag's depth, this doesn't matter. They wedge nicely in place. However, if you choose a shallower Unit, it will float around inside the bag unless you are wedging it in with other gear. If you do that, you should leave the dust cover on the Core Unit to prevent things from falling out into the pack's main body.
If you buy the kit and not the "shell only" option, the Medium DSLR Core Unit comes with the X40. This takes up almost exactly half the bag's interior volume, leaving plenty of room in the top half of the bag for multiple layers, a drone, or other supplies for a day of hiking, biking, climbing, or skiing in the mountains.
The Large DSLR Core Unit (v3) will also fit in the Action X40. When the Action X v2 series was launched, Shimoda updated the length of that Core Unit to work better with a few popular telephoto lenses used by wildlife photographers. If you use a Sony 200-600mm lens, you can fit that into the Large DSLR Core Unit attached to a camera. If you shoot with the Nikon Z 800mm lens, this will fit unattached into this Core Unit. The new Canon RF 100-300mm f/2.8 L IS and the Olympus 150-400mm, along with older lenses like the Canon EF 300mm f/2.8, EF 400mm f/4 DO II, and Nikon 120-300mm f/2.8 will also fit.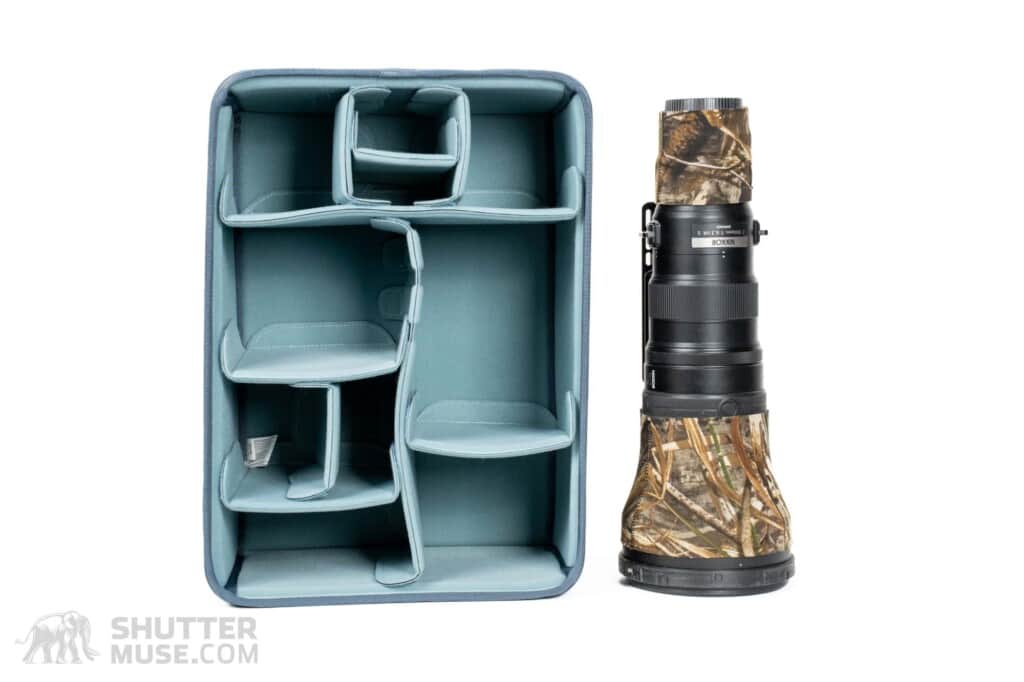 If you use the Large DSLR Core Unit in the Action X40, be aware that it will consume 15.7″ of the bag's 20.7″ internal height. This doesn't leave you much room in the bag's top section. Still, this combination is an intriguing option as it represents a very efficient way to travel with a large amount of camera gear while still remaining within international carry-on baggage limits.
Action X50 v2 Core Unit Choice
The Action X50 v2 has the same width and depth as the Action X40 but is 1.1 inches taller. The same Core Units will fit in the X50 as the X40 and the pros and cons are largely the same. The biggest difference is the extra 1.1 inches of depth in the bag's top section when pairing the bag with the Large DSLR Core Unit.
The Large DSLR Core Unit is an excellent fit for this bag, and I'm surprised that it is not the Core Unit that comes with the X50 if you buy the kit. If you buy the kit, it comes with the Medium DSLR Core Unit.
Is There a Missing Core Unit?
The Shimoda Action X lineup and Core Unit selection create one of the most comprehensive camera bag choices for landscape, adventure sports, and nature photographers. Still, after my testing, I couldn't help feeling one option was missing, albeit a relatively niche one.
How things are currently set up, if you shoot with a 600mm f/4 lens, you need to jump up to the Action X70 HD to use the XL DV Core Unit. The problem is the huge X70 HD isn't carry-on compliant for any airline. A 600mm lens is roughly 18″ long, so theoretically, it could fit into the Action X40 or Action X50 if an XL DSLR Core Unit was available with the same 18.9″ length as the XL DV Core Unit.
One good reason I know this could work is the existence of F-Stop's XL Pro ICU (F-Stop's version of a Core Unit) for their Tilopa backpack. That ICU is 19″ long, and I happen to have one on my shelf. Its width is the same as a Shimoda Core Unit, so it fits into the Action X40 or X50 with no issue. I tested my Sony 600mm f/4 in it and discovered that it fits very nicely.
The simple trick is to slip the lens in with its hood at the top. While the hood sits slightly above the edge of the ICU, placing it at the top means the subsequent slight bulge doesn't go into your back. Instead, it sits unnoticeably in the space above the Action X's back panel. If you swap the native lens hood for an aftermarket, lower profile hood from Zemlin Photo or use a collapsible LensCoat TravelHood, the lens fits perfectly. So, if you'd like an XL DSLR Core Unit to be added to the Core Unit lineup, shoot me an email, and perhaps we can petition Shimoda to make one 🙂
Shimoda Action X v2 vs. Explore v2
If you're considering a Shimoda Action X v2 pack, there's a good chance you're also considering a Shimoda Explore v2 pack. The Action X v2 is available in 25L, 30L, 40L, 50L, and 70L capacities, so there is a considerable size crossover with the Explore v2 lineup's 25L, 30L, and 35L sizes. Women's versions of the Action X v2 are available in 25L, 30L, and 40L, compared to the Women's Explore v2, which is available in 25L and 30L sizes.
On the face of it, these two bags are very similar. Both bags are ruggedly built, weather-resistant backpacks for outdoor and nature photography. They both feature a similar harness system with torso length adjustment and the same back panel camera access for use with Shimoda's range of Core Unit camera inserts. Dig a little deeper, though, and some differences stand out. If you're on the fence, I recommend you read my Explore v2 review once you're done with this one or read this detailed Action X vs. Explore comparison. A feature summary and comparison can also be found in the table below.
Action X50 Vs X70 HD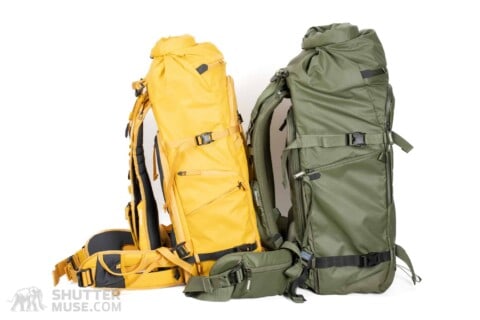 I don't think comparing all Action X v2 sizes to the Action X70 HD is necessary. There is too much of a size difference between most of them. However, some people will undoubtedly try to decide between the two largest models, the X50 v2 and X70 HD. If you are looking at the X50 v2 and thinking it might not be big enough, I would first encourage you to read my dedicated review of the Action X70 HD. Unlike the Action X25, X30, X40, and X50, which all have the same features, the X70 HD does have enough differences to warrant its own review. I'll summarize some differences here if you're unsure if you should consider the X70 HD.
Stepping up to the Action X70 HD from the Action X50 gives you thicker, more comfortable shoulder straps that use Air Mesh instead of EVA foam. You also get a thicker, more comfortable hip belt featuring more Air Mesh and two large zippered pockets. What you lose by choosing the X70 HD are the second laptop pocket in the front of the bag and the side camera access. Instead, the X70 HD has two substantial side pockets to carry large tripods.
Looking at the Core Unit compatibility, the significant change is that choosing the X70 HD opens up the possibility of using the three sizes of DV Core Unit. These are deeper than the DSLR Core Units compatible with the X50. That extra depth and their extra length make them suitable for super-telephoto lenses from a 400mm f/2.8 up to a mounted 600mm f/4. The largest XXL DV Core Unit also gives you top access to a camera body mounted to a long lens.
It's also worth noting that the size of the X70 HD exceeds any international or domestic US carry-on regulations. My review contains some options and workarounds for that potential issue, but it will always be more of a consideration than trying to travel with an Action X50 v2.
Shimoda Backpack Accessories
Shimoda has excellent accessories for the Action X v2 backpack lineup.
Shimoda HD Belt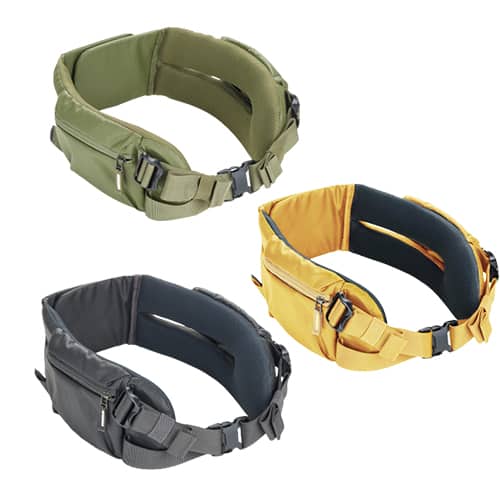 The Shimoda HD Belt is an optional heavy-duty hip belt that provides increased comfort and stability with heavy loads. It also features two zippered pockets, suitable for quick-access items such as snacks, GPS devices, thin gloves, or a winter hat. This is the same belt that comes as standard on the X70 HD and is available in Black, Yellow, and Army Green.
Shimoda Booster Kit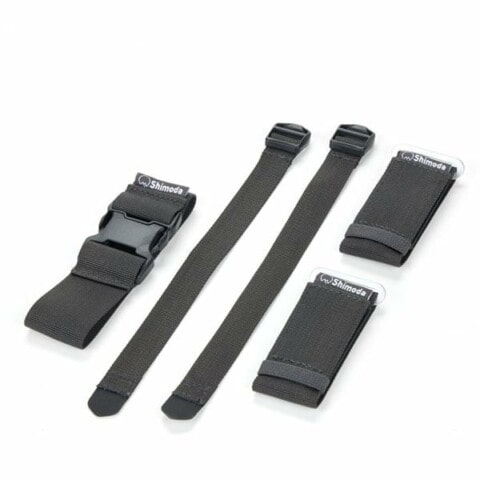 The Shimoda Booster Kit allows you to fine-tune the fit of your Action X backpack by extending the straps in three key areas. It's particularly handy for taller and broader photographers who need more room in the backpack's harness.
Shimoda Top Loader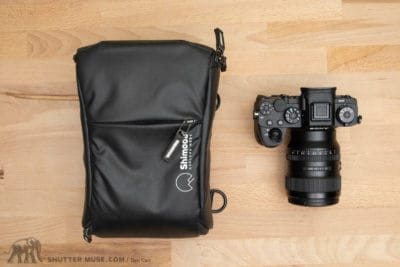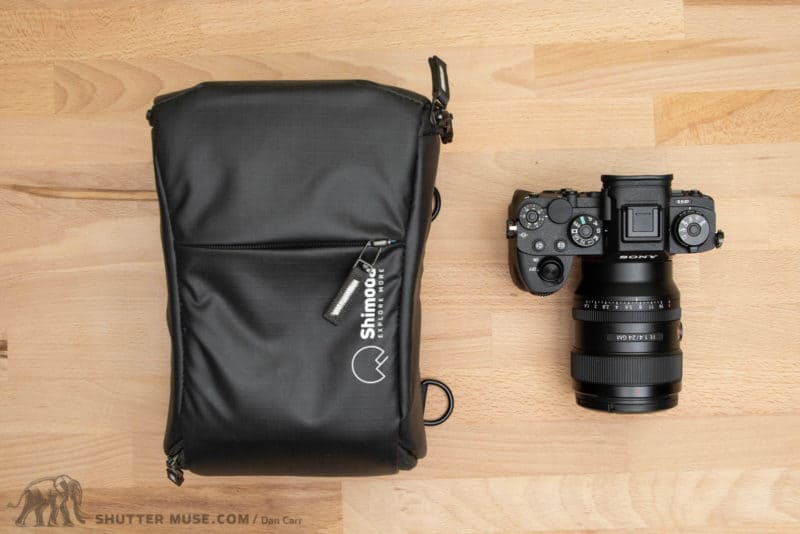 The Top Loader is Shimoda's camera holster. You can wear it as a chest harness or attach it to the hip belt. Check out our review of the Shimoda Top Loader (includes video) for more information.
Shimoda Accessory Pouch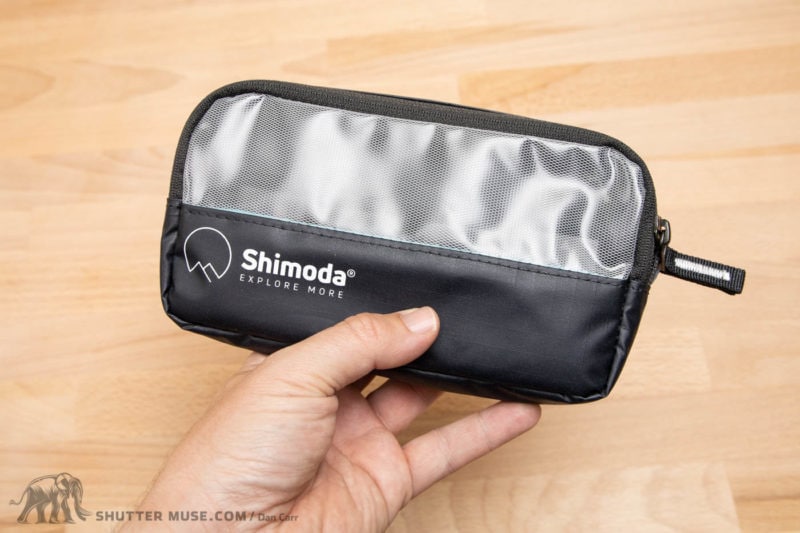 The Accessory Pouch organizes your batteries and other small items. An internal zippered pocket lets you sort dead batteries from fresh ones. Check out our review of the Shimoda Accessory Pouch for more information.
Shimoda Panel Wraps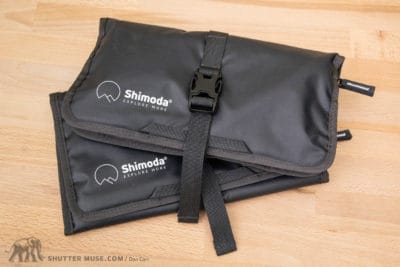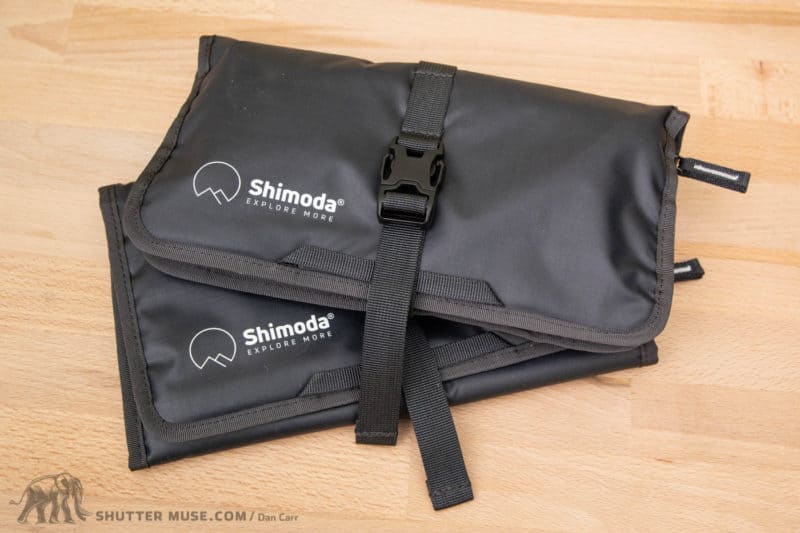 The Panel Wraps are a great way to organize sets of accessories for you to grab depending on the shoot that day. They are available in three different sizes. Check out our review of the Shimoda Panel Wraps for more information.
Conclusion
The new Action X v2 series offers an unprecedented choice for the outdoor photographer. With five different sizes and three women's specific versions, there should be a size that's right for everyone. Features such as adjustable torso length, adjustable hip padding, and the strap Booster Kit help comfortably fit the Action X packs to all body shapes and sizes. Shimoda needs to be applauded for the efforts they have gone to in this area, including several features I have never seen on any backpack before. Let alone a camera bag.
Adding this inclusive design philosophy to what was already a great backpack and then sprinkling in a long list of carefully thought-out updates makes the Shimoda Action X v2 series an easy recommendation. Whether you are a landscape, adventure sports, travel, or wildlife photographer or anyone else that ventures outside to take photos, these bags should be on your wish list.