Think Tank Photo's latest line of camera bags is called the SpeedTop Crossbody series. With a broad lineup of shoulder bags and slings already in the Think Tank catalog, I was curious to find out how this differed from existing products, so I jumped at the chance to review one when offered. In this review, we will take a detailed look at all of the features in the SpeedTop Crossbody camera bags, including the headline magnetic lid closure system and the versatile ways these bags can be carried.
Disclaimer: Think Tank Photo provided me with this camera bag for the review, but no money changed hands and they were not allowed to read the review before it was published.
Think Tank Photo SpeedTop Crossbody Specifications
The SpeedTop Crossbody bags are available in two sizes, primarily to suit different lens requirements.
SpeedTop 10 Specifications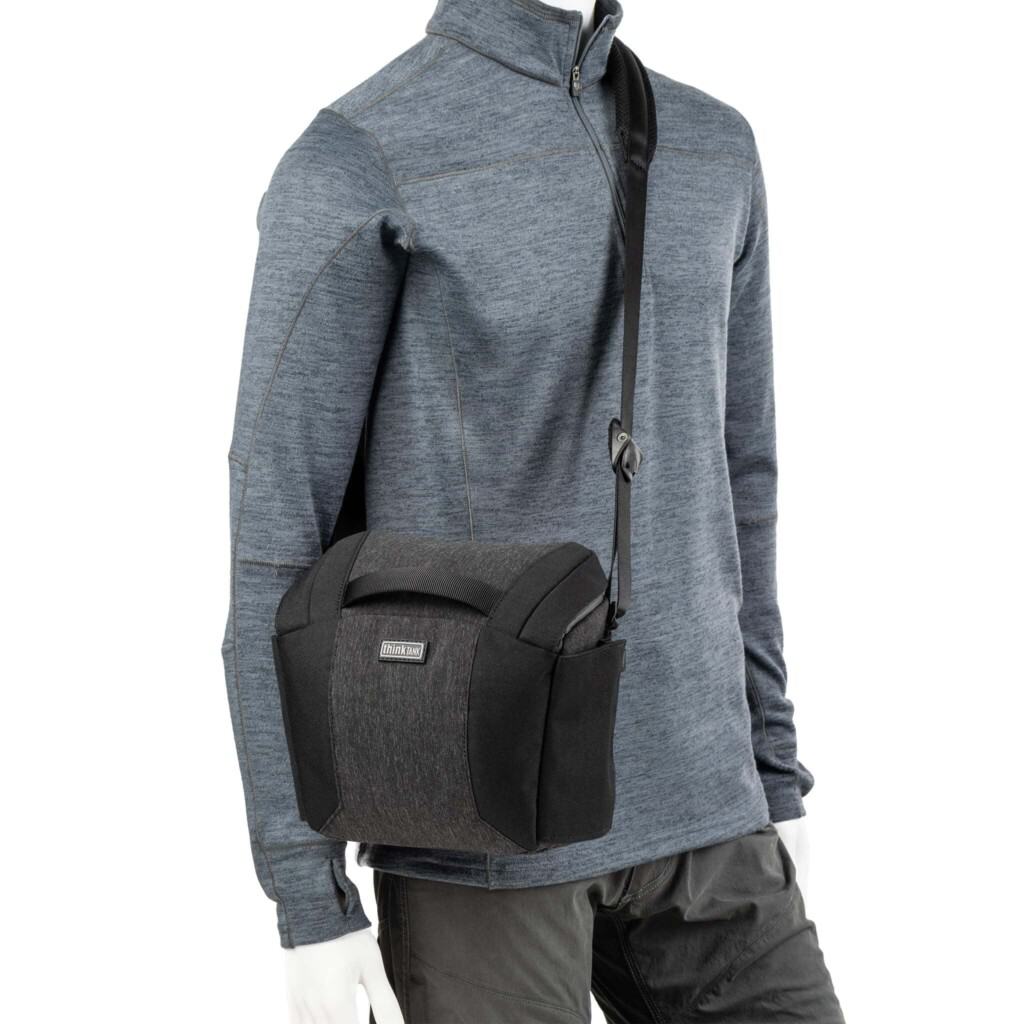 Exterior Dimensions – 9.8" W x 8.9" H x 5.5" D (25 x 22.5 x 14 cm)
Internal Dimensions – 8.5" W x 7.3" H x 3.9" D (21.5 x 18.5 x 10 cm)
Weight – 1.3 lbs. (0.6 kg), including dividers and rain cover
Camera Payload: Holds a standard mirrorless camera (Sony a7, Nikon Z6/7 , Canon R5/6) with an attached 24-70mm f/4 sized lens + a flash or one additional small lens.
Price: $129.75
SpeedTop 15 Specifications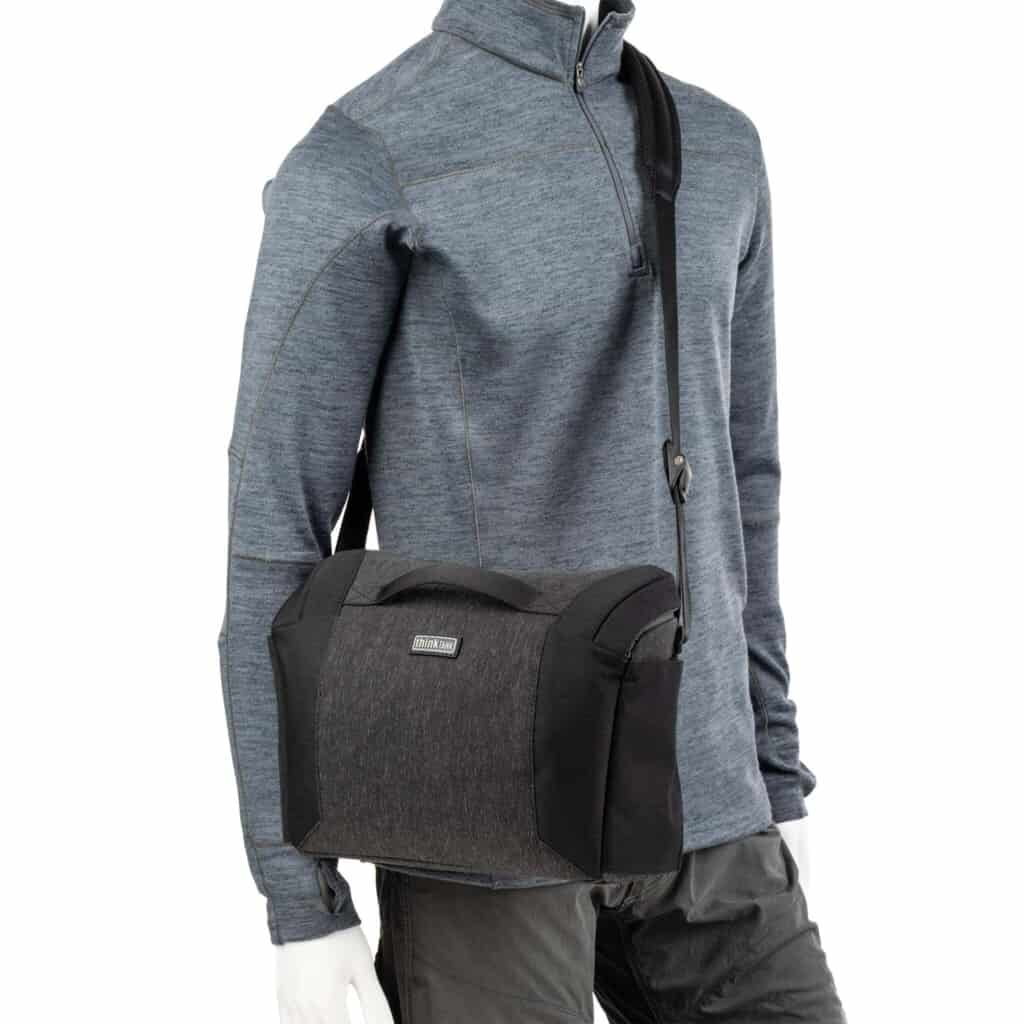 Exterior Dimensions – 12.6" W x 9.3" H x 5.5" D (32 x 23.5 x 14 cm)
Internal Dimensions – 11.2" W x 7.9" H x 3.9" D (28.5 x 20 x 10 cm)
Weight – 1.8 lbs. (0.8 kg), including dividers and rain cover
Camera Payload: Holds a standard mirrorless camera (Sony a7, Nikon Z6/7, Canon R5/6) or standard DSLR (Canon 5D, Nikon D850) with a 24-70mm f/2.8 attached, plus two additional small zooms, primes or a flash. Alternatively, the SpeedTop 15 will hold a Mavic 3-sized drone, spare batteries, and a controller.
Price: $149.75
SpeedTop Crossbody Design and Features
The Think Tank Photo SpeedTop Crossbody bag features aspects of camera sling bags, features of camera holsters, and an overall form similar to a small camera shoulder bag. It makes for a unique combination and comes with an array of well-thought-out features, which we will discuss individually.
Magnetic Closure System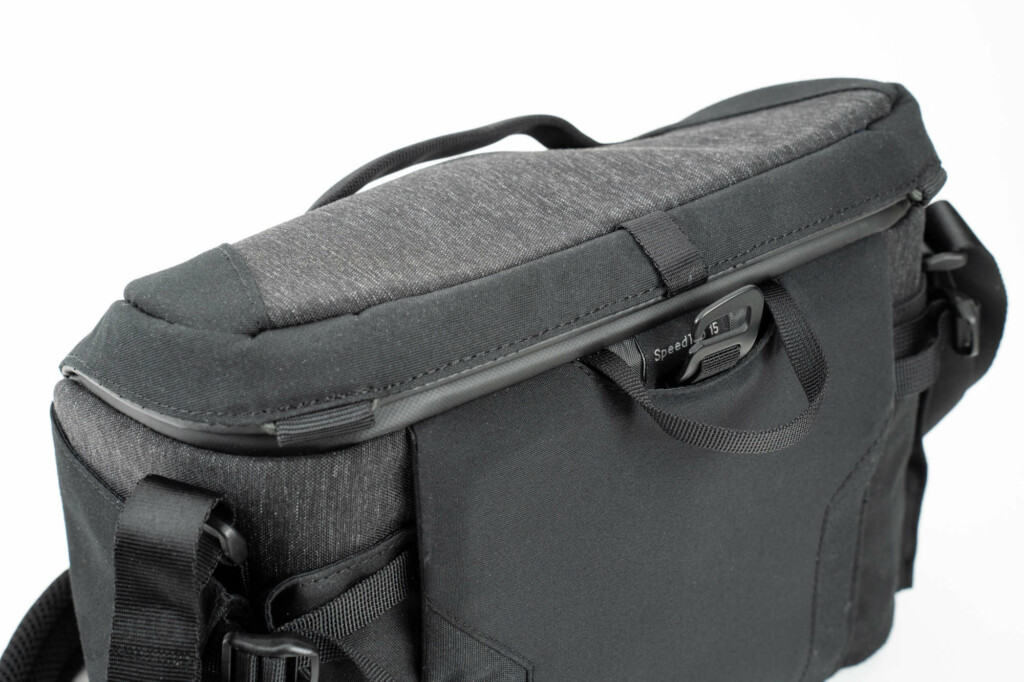 The SpeedTop's headline feature is its magnetic lid. The neodymium magnets hold the bag's lid tightly closed but allow much faster access to your camera than possible with a conventional zippered lid or flap+buckle system. The lid opens away from your body, giving you clear access to the bag, and when the lid is let go, it falls back toward the bag, getting "sucked" closed by the magnets with a very satisfying CLICK. It works brilliantly.
We have seen Think Tank use this system on the integrated belt packs on their Rotation Series backpacks, and I'm glad to see it make its way into an entirely new lineup. I guarantee that if you get one of these bags, you will spend at least a few minutes just opening and closing it!
Mesh Lid Pockets
The lid of the SpeedTop features a pair of mesh pockets with a hook-and-loop closure. The mesh gives the pockets a little stretch for chunkier objects and lets you see what's inside at a glance. In my testing, I used these for batteries, creating an organization system
Internal Organization Pocket (SpeedTop 15 only)
The larger SpeedTop 15 model includes an internal organization pocket in front of the camera compartment. The pocket is secured closed by a magnet and has a flat profile suitable for thin objects such as a phone, an iPad Mini, a small guidebook or camera manual, or one of Think Tank's memory card wallets. Within this pocket are two additional pockets, lined with a soft material and suitable for screw-on camera filters.
Side Pockets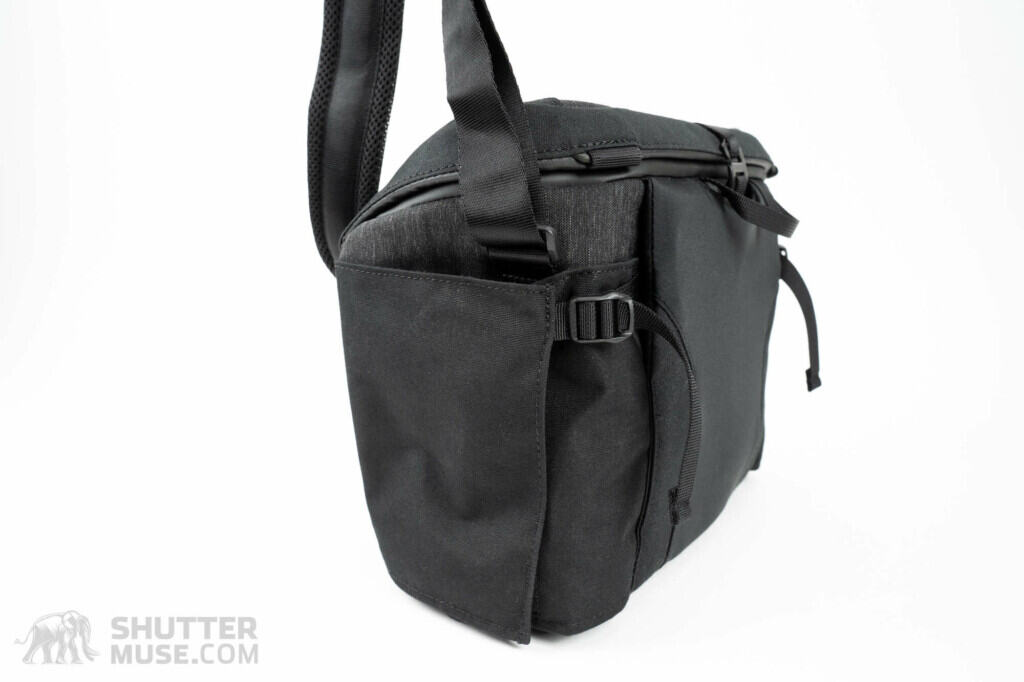 The SpeedTop bags have expandable side pockets on both sides. When not in use, magnets (yes! more magnets) neatly hold the flaps closed. A strap and buckle at the top of the pocket can be used to cinch things tight when you have stored things like a water bottle or small clothing items such as photography gloves in the pockets. Equally, if you're feeling brave and don't plan to be doing extreme sports while wearing the bag, you could use the side pockets for a flash or additional small lenses.
Top Handle
Not a lot can be said about a handle aside from its existence, although I did note that I could pick up the fully-laden bag by the bag by its handle and the magnets still held everything closed. Good stuff.
Shoulder Strap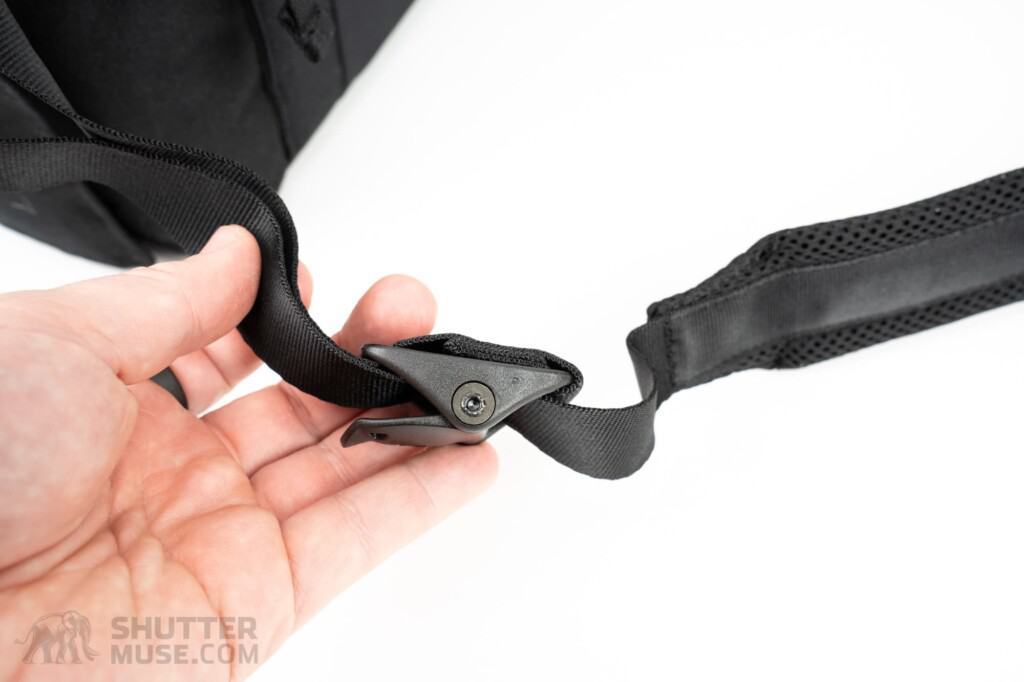 The SpeedTop Crossbody's shoulder strap is not very wide, but it is well-padded. Both sides of the strap feature a cam-style quick-adjust buckle that allows you to shorten or lengthen the strap in seconds. When carrying the bag, it's more comfortable to carry it a little higher, with a shortened strap. To access your camera, push the spring-loaded buckle open and pull on the strap to lengthen it, placing it at a more comfortable height for flipping the lid open and rummaging for gear.
Rain Cover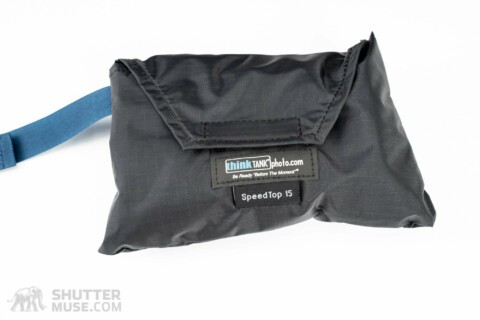 The SpeedTop Crossbody bags include a waterproof rain cover. A large elastic band holds the rain cover around the bottom of the bag, and two small plastic clips can be undone to allow access to the bag's contents while the cover is still in place. I always like it when a good quality rain cover is included with a bag at no extra charge. As an optional extra, covers typically sell for $15-20, so there is value in having the cover that should be considered when comparing prices of similar products.
Hip Padding and Belt Carry
Unlike typical camera shoulder bags, the Think Tank Photo SpeedTop Crossbody features a generously padded rear panel and a belt pass-through to allow you to wear the bag around your waist. Wearing it on your front or side works best for ease of camera access. If you are carrying a heavier load in the bag, wearing it on your hip allows you to continue using the shoulder strap in a crossbody position to take some of the load off the belt. One thing to be aware of is the non-removable shoulder strap. You will either have to wear it over your shoulder, or tuck it into one of the side pockets.
Think Tank Photo used to have a whole range of large hip packs for cameras, and I was sad to see them fall by the wayside some years ago. Pairing the SpeedTop bags with one of the Think Tank belts goes some way to filling that historical hole in the lineup, and you could add additional pouches to the belt from their Modular Belt System range to expand your options.
Using the SpeedTop Bag With a Think Tank Belt
While you could theoretically use any belt with the SpeedTop Crossbody series, Think Tank Photo's belts are designed with extra padding and a broader width for a more comfortable carry. The Pro Speed Belt V3 is the thicker, more padded variation, while the Skin Belt V3 is lighter and easier to roll up into a bag for travel. Having tested both belts on the SpeedTop, I think the Skin Belt is absolutely fine to use on the smaller SpeedTop 10, but a full-loaded SpeedTop 15 does benefit from the extra padding of the Pro Speed Belt.
Is the SpeedTop Bag a Holster?
After receiving a comment on a review of a camera holster, I had to ask myself this question. The comment explicitly lamented that there aren't any camera holsters on the market that have a quick and easy access method. They all require a zipper to be unzipped. As I was replying to this comment, the SpeedTop Crossbody bag was sitting on my desk, and I found myself recommending it to the reader who left the comment.
What is a camera holster? Typically a camera holster is a small bag that holds a camera with an attached lens and can either be attached to a belt, hung over a shoulder with a shoulder strap, or clipped to the shoulder straps of a backpack as a chest mount. Although the SpeedTop calls itself a Crossbody bag and doesn't market itself as a holster, it still confidently ticks two standard holster definitions. For many people, that will be enough. In fact, the least used carry method for a camera holster is the chest mount option, so its absence on the SpeedTop is unlikely to bother many people.
While the SpeedTop Crossbody series doesn't call itself a holster, it can certainly be used the same way most people would use a camera holster. The key feature is the heavily padded, very comfortable rear panel with its belt pass-through. The generous padding conforms nicely to the shape of your hips and, particularly when paired with either of the Think Tank Photo belts, carries more comfortably around your waist than most actual camera holsters.
The significant difference between the SpeedTop Crossbody bags and a holster is, firstly, the lack of any way to attach the bag to the backpack's harness for a chest mount, and secondly, that the bag is a little larger than many holsters. Where most holsters are designed to hold a single lens attached to a camera body, the SpeedTop Crossbody bags have room for one or two additional lenses.
This added size might benefit some people, but it does come with a bit of added bulk and bag weight, so you'll have to weigh up those specifications. Personally, I think they make an excellent alternative to a traditional holster, particularly the smaller SpeedTop 10, and there's no doubt that the magnetic opening is much more convenient than the zippers found on typical camera holsters.
Camera Capacity
Please take a look at the specifications section of the review for Think Tank's take on what the SpeedTop Crossbody capacity is. Still, the simple version is that the SpeedTop 10 will carry a mirrorless camera and 1-2 lenses, while the SpeedTop 15 will carry a mirrorless camera and 2-3 lenses. Of course, there are limits to the length of the lens that can be accommodated. Since I was testing the SpeedTop 15, I went into more detail with some configuration options and that larger version of the bag.
Conclusion
When I first heard about the SpeedTop Crossbody bags, I was curious why Think Tank had chosen the term "Crossbody" to describe them. Was this not a shoulder bag? Or perhaps a sling bag? Maybe even a camera holster? Those three types of camera bags are far more common. On closer inspection, with the bag in my hands and testing completed, I understand their choice. The SpeedTop Crossbody is all three things. To have given it one of those labels would be an injustice.
The SpeedTop Crossbody bags have an overall form similar to a small shoulder bag, a quick-adjust shoulder strap more in line with a typical sling bag, and a thickly padded hip panel with a belt pass-through similar to a camera holster. The bag will typically be worn with the strap across the body in all three uses, so now I see the Crossbody name makes perfect sense. Moreover, the SpeedTop picks the good points from all three types of bags and manages to create something unique and incredibly versatile. With Think Tank Photo's usual level of build quality and attention to detail, of course.
Though the bag's overall versatility is one of its strongest attributes, the magnetic SpeedTop lid makes this camera bag stand out from the crowd. I love how easy it is to access a camera in this bag, and the strength of the magnets in holding the lid closed was such that I never even bothered to use the safety latch. If you're looking for a small camera bag to carry a body and a couple of lenses, the Think Tank Photo SpeedTop Crossbody bags should be on your list.