The recent SanDisk SSD debacle forced me to remove the SanDisk Extreme SSDs from my list of recommendations in our photography backup storage guide. I own several of those troublesome SSDs, two of which failed and have now been returned for warranty replacement. How long SanDisk will take to send me replacements remains to be seen. Based on my experience trying to start the warranty process, I guess it will take quite some time. Either way, I don't trust those drives anymore and won't be using the replacements when they arrive.
SanDisk SSD Alternatives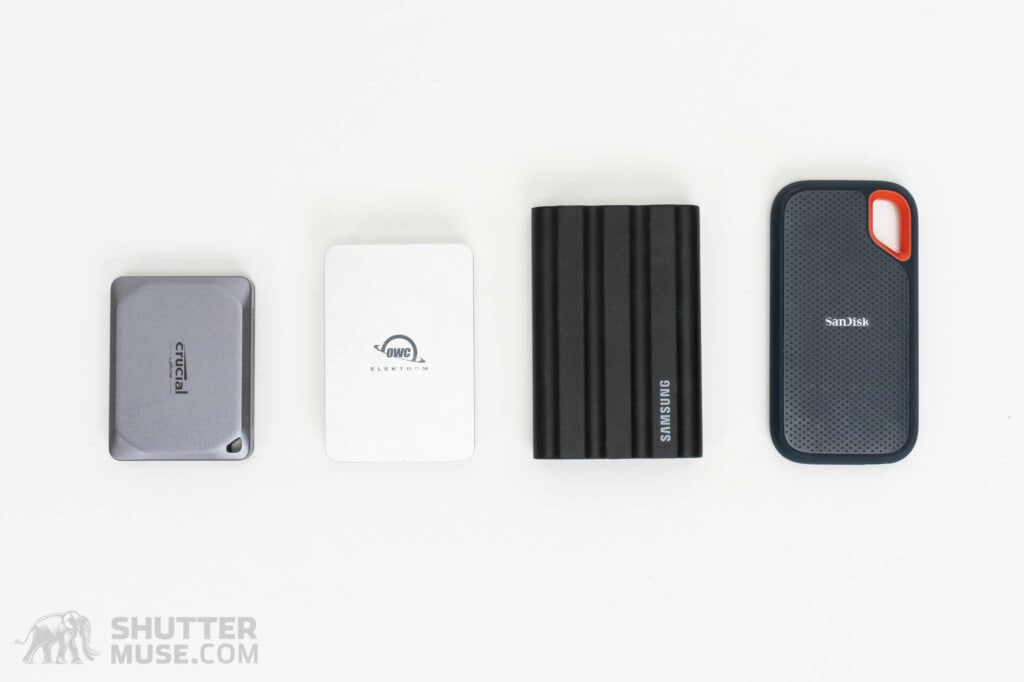 So now the question is, what should I replace them with? What should you replace your SanDisk SSDs with? Photographers generally gravitate towards large-capacity SSDs. Modern cameras shooting 40-60MP images and 4K or 8K video will chew through a few hundred gigabytes of data daily. For this reason, 4TB SSDs are usually the way to go, but this narrows the possible options as not everyone is producing drives with that capacity.
I spent a little time researching the options for portable 4TB SSDs, and I plan to get my hands on the best ones to test and compare them. The obvious candidates are the 4TB Samsung T7 Shield and the 4TB Crucial X9 and X10. As I write this, those drives are already on my way to me, and once I return from a trip to Europe in a couple of weeks, I'll get to the testing.
There's also the astoundingly quick but slightly less portable OWC Envoy Pro FX. I tested the 1TB version for my review of that drive, but it is available with a 4TB capacity and should be at the top of anyone's list if they are editing 8K video on the road. The Thunderbolt interface makes it more expensive, but the speed is incredible! That said, you don't need to spend that money if you're not editing video footage from the drive, so one of the new drives I'll be testing soon will likely be a better option.
Update: The first candidate on my list was the Samsung T7 Shield. Click here to read my review and learn how it stacks up to the SanDisk Extreme Portable SSD.
There's a Price War Right Now
It hasn't escaped SSD manufacturers that SanDisk is in trouble right now, and many people are looking for alternatives. In the past couple of weeks, I have noticed aggressive price drops from the likes of Crucial, Samsung, Kingston, and Glyph Technologies. Looking through the 4TB SSD section on B&H Photo, almost every SSD I consider a possible SanDisk replacement has a heavy discount. These other SSD manufacturers are trying to pick up the pieces from SanDisk's failures. They want you as a customer, and that's great for us as consumers! Now is the right time to buy new SSDs. Just be careful because SanDisk also has heavy discounts on their drives, and you should avoid them at all costs!