The CFexpress memory card format is gathering momentum, and appears to be the logical successor to Compact Flash, CFast and XQD cards. By the end of 2019 there will be cameras from Nikon, Sony, Panasonic and Canon that use this card format. Something which never happened with the half-hearted partial adoption of the CFast and XQD formats.
ProGrade Digital were first out of the gate by demoing a 1TB CFexpress card at several earlier trade shows, and now Sony have joined in by unveiling the TOUGH series CEB-G128 (CFexpress Type B).
Whilst the ProGrade Digital card has the edge in terms of capacity, it appears as though Sony is going for speed – and the specifications are eye-popping: 1700MB/s read and 1480MB/s write. For comparison, Sony XQD cards are currently reaching "just" 440MB/s while ProGrade Digital's Cobalt Class and Gold Class CFexpress cards read at 1600MB/s.
As part of Sony's TOUGH line, featured before in the form of SD cards, we can expect these new CFexpress cards to withstand some serious punishment. Whilst the aren't fully waterproof like these Sony TOUGH SF-G SD cards, the CFexpress cards are X-Ray proof, temperature proof, anti-static and include a UV guard. They are also rated to withstand 5m falls and a bending force of 70N.
I would expect to see the surely-upcoming Nikon D6 and Canon 1D X Mark III camera's adopt this card technology, as well as Canon's third full frame (and first truly professional grade) mirrorless camera towards the end of this year. But what will Sony launch that will use CFexpress in the short-term? If I were a betting man, I'd say their first compatible camera will come in April for NAB and be a video camera.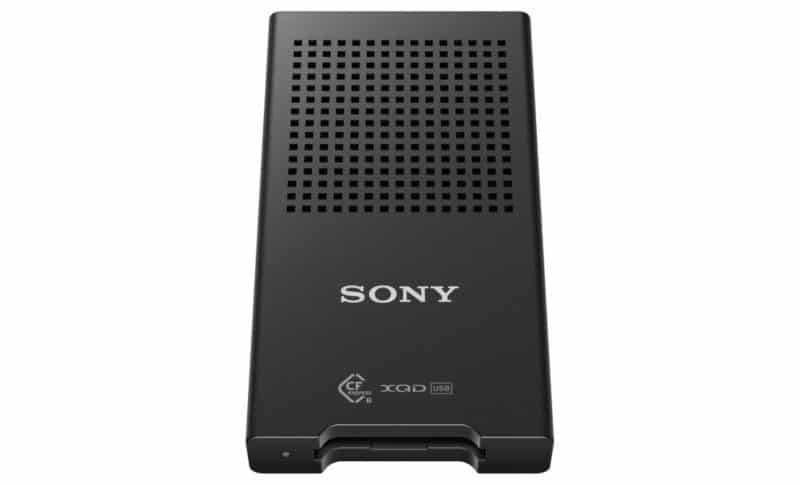 Nikon Z6 and Z7 users should expect a firmware update in the coming months to allow them to use CFexpress cards in their XQD card slots, and the same goes for Panasonic S1 and S1R users.
Initially the card will be available with a 128GB capacity, although rather obviously the press release also informs us that 256GB and 512GB capacities will be available in the future as well. Look for the 128GB cards in stores this summer (if you have a camera that can use it).