There's still time to place some last minute orders before Christmas! This is always one of the most popular posts of the year, and there's still some great gift ideas in the lists from last year and the year before as well. If you've got any additional ideas, please leave them in the comments at the bottom of the page 🙂
Happy Holidays to all!
The Quick List Of Gifts For Photographers
I know there's some of you out there who are short on time and would prefer a simple, quick list of ideas with no commentary so I offer you guys this list. For everyone else, please keep scrolling for more in-depth commentary on my choices and who these gifts would be good for.
Lilly Deanne camera bag by Think Tank (get a free gift at checkout with this link) – $199-$299
Lumecube – $79.99
Rode VideoMicro – $59
Canon 50mm f/1.8 STM – $125
MindShift Action Cases – $17+
GoPro Hero 4 Session (they just slashed the price of this in half!) – $199
DJI Phantom 3 Standard – $699
EyeFi Mobi Pro – $90
Bokeh Masters Kit – $25
Film Toilet Roll Holder – $14
Peak Design Clutch strap – $39
Trigger Trap iPhone camera trigger – $37
Foldio 2 portable studio – $75
Tamrac Goblin lens cases – $13-$25
Fuji Instax Mini – $80-$170
(BONUS) Atmosphere In a Can (use coupon "SHUTTERMUSE20" for a 20% discount) – $12
The Main Event
1. Goal Zero Venture 30 Battery Pack – BUY – Amazon
I reviewed the Venture 30 battery pack earlier in the year and it's a rare day when you'd find me without one in a pocket or camera bag. So many things can be charged via USB these days, and photographers do tend to have a lot of toys! In fact, even my Sony cameras and GoPro can be charged directly with the built-in micro USB cable on this thing. The rugged construction means I don't have to worry about it in wet weather, and there's a useful flashlight on it for emergencies. Out of all the things I've purchased this year, I'd have to say this one probably gets the most use in my photo bag. Any photographer is going to love this addition to their bag, I'm positive!
2. Lilly Deanne camera bag – BUY – Think Tank (get a free gift at checkout with this link)
This was an awesome Kickstarter project from last year and now they are shipping to customers. You can control the light, or a group of them from your phone using Bluetooth, and they make great little lights for mobile photography, GoPro videos or DSLR photography in low light. Small, portable and designed to be weatherproof. Very cool.
Rode always seem to come out with cool innovations in the run up to the holiday season, and this year was no exception. The new VideoMicro microphone is under $60, and it doesn't need a battery at all! Just plug it into your mic jack and you're good to go. Amazingly, it comes with a dedicated dead cat (wind muffler) as well, which is kind of unbelievable for this price point. This thing is so tiny that anyone could find a place for this in their bag and if you shoot video, it'll really level up your audio. Also works for getting better audio on a GoPro, cell phone or the DJI Osmo Pocket!
5. Canon 50mm f/1.8 STM – BUY – Amazon, B&H Photo
The previous Canon 50mm, the "nifty fifty", was a bit long in the tooth. This year Canon launched its predecessor and improved upon the classic in several areas. This is the first prime lens I always recommend to people when they are looking to learn more about photography and move beyond the kit lens that came with their camera. The nice wide f/1.8 aperture really allows for a shallow depth of field. There are of course similar lenses for Nikon and Sony as well, although the Canon one has always been great value.
6. MindShift Action Cases – BUY – MindShift Gear
Whilst MindShift Gear pitch this range of cases directly at the GoPro market, they're just awesome organizational cases in general.  I have a stack of them and they keep all my cables tidy, my batteries and charges organized and of course my GoPro accessories protected.  They sell the pieces individually, but they also have three different bundles which make perfect gifts.
7. GoPro Hero 4 Session – BUY – Amazon, B&H Photo
The Hero 4 Session is the first cubic GoPro design and it packs an awesome camera into a tiny waterproof housing. The reason that this is on the list is because GoPro slashed the price of this camera in half recently, even though it's a relatively new product. This is one of the hottest items this year. Just look how small it is!
8. DJI Phantom 3 Standard – BUY – Amazon, B&H Photo
I accept that this is a pricey item for a gift, but at the same time I think it's phenomenal value. I shoot with the more expensive Phantom 3 Professional, but whilst the video specification are a bit better on my one, the photography side of things is essentially the same. The Phantom 3 Standard is a great way to get into aerial photography, and you'll just never believe how easy these things are to fly. Plus, it's so much fun! Getting a drone this year was one of the best things I did.
9. EyeFi Mobi Pro – NO LONGER AVAILABLE
EyeFi cards have made it onto my lists in the past as well, but this year they added the new Mobi Pro to the lineup which allows wireless transfer of Raw photos from a camera to your smartphone. If you know someone that would love to share their DSLR photos on social media just a few seconds after they have taken the shot, this is an awesome gift idea. I still think it's a wizard's work that somehow there's a WiFi transmitter INSIDE an SD card…but there is! And it works a treat.
10. Bokeh Masters Kit – BUY – B&H Photo
A great little stocking stuffer that allows you to alter the shape of the bokeh in out of focus areas of an image.
11. Film Toilet Roll Holder – BUY – Amazon
There's always one silly item on my list as well, because laughter is something everyone needs. In previous years we've seen camera-shaped ice cubes and coffee mugs shaped like lenses! This year I found this hilarious toilet roll holder shaped like a roll of film. I'm chuckling again just typing this. I kind of want this for my office…
12. Moment Wide Angle Lens For iPhone – BUY – Moment
Over the summer I tried a variety of 3rd party lenses for the iPhone, and the Moment wide-angle lens came out on top. I spend days testing lenses in the Canadian Rockies, and this was always the one I came back to. It's by far the sharpest wide-angle lens adapter for the iPhone, and it is built beautifully! This is a gift that's sure to make someone go "WOW", and they have adapters to mount it on all kinds of phones.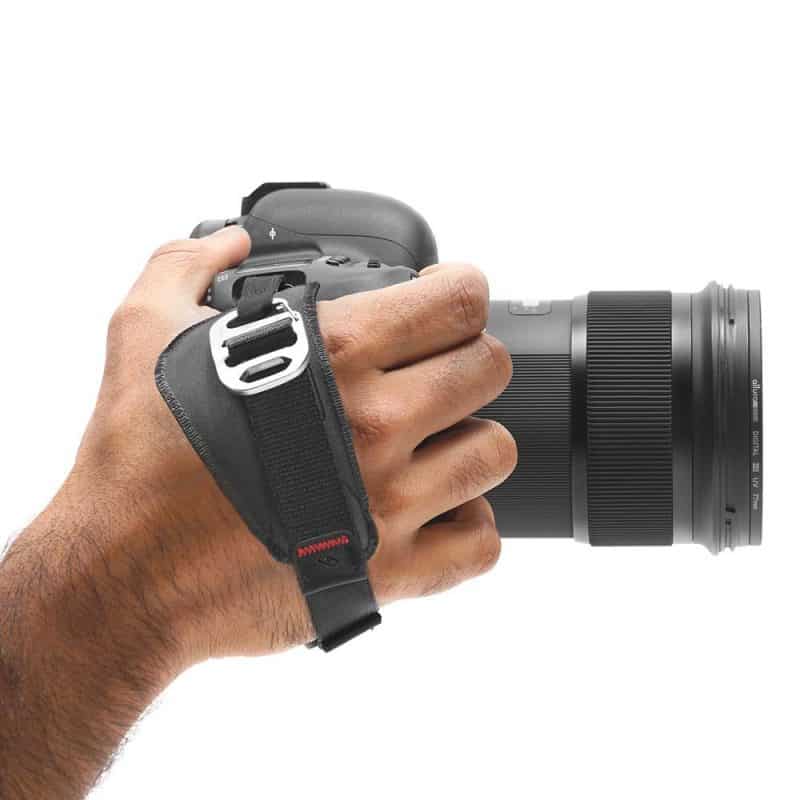 I reviewed the Peak Design Clutch earlier in the year, and it hasn't left my camera since. It's great when you don't want the bulk of a full shoulder strap, but just need something for a little extra security.
14. Trigger Trap iPhone Camera Trigger – NO LONGER AVAILABLE
This is something else that has become a permanent fixture in my bag, the Trigger Trap. It allows you to control your camera with your smart phone, and they have adapters for a ton of different cameras. It'll allow you to shoot time lapses and long exposures with minimal effort, and minimal weight in your bag!
15. Foldio 2 Portable Studio – BUY – Amazon
A popup tabletop softbox with built-in LED lighting! Use it to take great product photos with your DSLR or smart phone. The LEDs provide a nice even lighting, and the collapsible design makes it easy to store when not in use.
16. Tamrac Goblin Lens Cases – BUY – Amazon, B&H Photo
Sometimes you don't need a full camera bag, and all you want is a way to protect a lens or two inside a regular shoulder bag, suitcase or backpack. That's how I usually use lens cases, and these new Tamrac Goblin cases look pretty cool. They come in all sorts of sizes and colours, and the brightness helps to make sure they are easy to keep an eye on in the bottom of a bag. Tamrac are going through a bit of an image overhaul at the moment, having been purchased by Gura Gear, and I love the look of these things!
17. Goal Zero Light-A-Life Mini – BUY – Amazon
This is actually a wonderful complimentary gift to the first item on the list, the Venture 30 battery pack. This little thing is a USB powered LED that you can chain together to make a string of lights. Photographers are always going to end up in the dark at some point, whether it's waiting for sunrise, or packing up after sunset. Usually I include a head torch on this list, but this year I thought this was too cool (for only $30!) to pass up. Combined with a small battery pack like the Venture 30, or the Flip 10 and you've got a perfect little light to hang on a tripod while you work in the dark.
18. Fuji Instax Mini – BUY – Amazon, B&H Photo
B&H Photo is the biggest online camera retailer in the world, and the Fuji Instax Mini is the #1 photography item that has been purchased as a gift this holiday season. Think about that for a second… this right here is the most popular photography item this Christmas. Actually this was on my list long before I knew that, I've reviewed Instax cameras before and I just love them. I have one myself and it's so much fun to actually get that instant print right from the camera. You should see people's faces when they see them! It's such a novelty to have prints these days. Simply brilliant fun for a Christmas gift, but make sure you buy at least a pack of film for it as well so that the lucky person can take some photos at your Christmas party!
19. Ruggard Memory Hard Case – BUY – B&H Photo
Everyone needs a memory card case and this one really caught my eye earlier in the year. The thing that makes this one really cool is that it has slots for MicroSD cards, SD and CF cards. My Canon cameras take CF cards, my Sony ones take SD and my GoPro and Phantom 3 drone uses MicroSD so I needed something just like this. It's also a tough, rugged design so it'll protect the cards from dirt and moisture.
(BONUS) 20. Atmosphere In a Can – BUY – Atmosphere – (use coupon "SHUTTERMUSE20" for a 20% discount)
Ok yeah I know this is item 20, but it was a last minute addition to the list! I've been piecing this list together all year, I keep a note on my phone and add things to it as I discover them. Just when I thought I was done, I found out about this awesome product. Essentially, this is smoke in a can! Great for adding some drama and atmosphere to your photos! At the moment (Dec 2015), they only ship within the USA as they are waiting on their licence to ship it internationally. I'm told this won't be too far off, though. You can spray each can for over 5 minutes, so that's plenty of time to set up lots of different photos. As soon as they ship to Canada, I'm ordering a case of this stuff!