The Sirui PH-20 is a carbon gimbal with a 40lb load rating, making it easily capable of holding the largest super-telephoto lenses. In this review, we'll take a detailed look at the gimbal's features and performance to determine whether it's worth your money.
Disclaimer: Sirui provided the PH-20 gimbal for this review. No money changed hands, and they were not allowed to see the review before it was published.
Why Use a Gimbal Head?
A gimbal tripod head allows 360-degree rotation and a significant degree of upwards and downward tilt. When the gimbal is perfectly balanced for your camera and lens, you can remove your hands without tightening the locking knobs, and your camera will maintain its position. This is particularly useful for wildlife photographers who might spend hours waiting in the same place for their subject. When the wildlife does appear, the camera is ready to go.
A perfectly balanced camera on a gimbal also feels completely weightless while you pan and tilt to track wildlife. The camera and lens might weigh 15lbs, but on a gimbal, you can push it around all day long with your pinky finger. While a monopod can be a helpful way to support a telephoto lens, nothing beats a tripod and a gimbal head if you are willing to carry the additional weight to your shooting location. With that in mind, let's take a look at the Sirui PH-20 gimbal and see how it performs.
Sirui PH-20 Gimbal Head Specifications
High strength, lightweight 8-layer Carbon Fiber for the curved arm and forged aircraft aluminum for the L-platform.
360° Panorama rotation – Tilting angle between +150° and -60°
Max. load: 20kg/44lbs
Weight: 1163g (899g in side mount mode) – My measurements. Sirui quotes lower weights, but I disagree.
Dimension (BxLxH): 120 x 230 x 230mm
Scales for tilt, rotation and height – allows adjustment of nodal point setting
Arca-compatible 120mm Quick Release plate with rubber surface and with 1/4 and 3/8 screw.
In the Box
The PH-20 gimbal comes in a nylon padded case. The case contains the main body of the gimbal, an additional Arca-compatible clamp (more on this later), an Arca-compatible dovetail plate, some hex wrenches and the gimbal cradle. The case might be helpful for long-term storage, but since it is designed to hold the individual pieces unassembled, it's not a practical case for in-the-field use.
Honestly, I'd prefer to see brands doing away with these sorts of temporary cases that will probably end up in a landfill. A simple cloth bag would be better, as this can be used to protect the gimbal when installed on a tripod and is far more likely to be used throughout the product's life.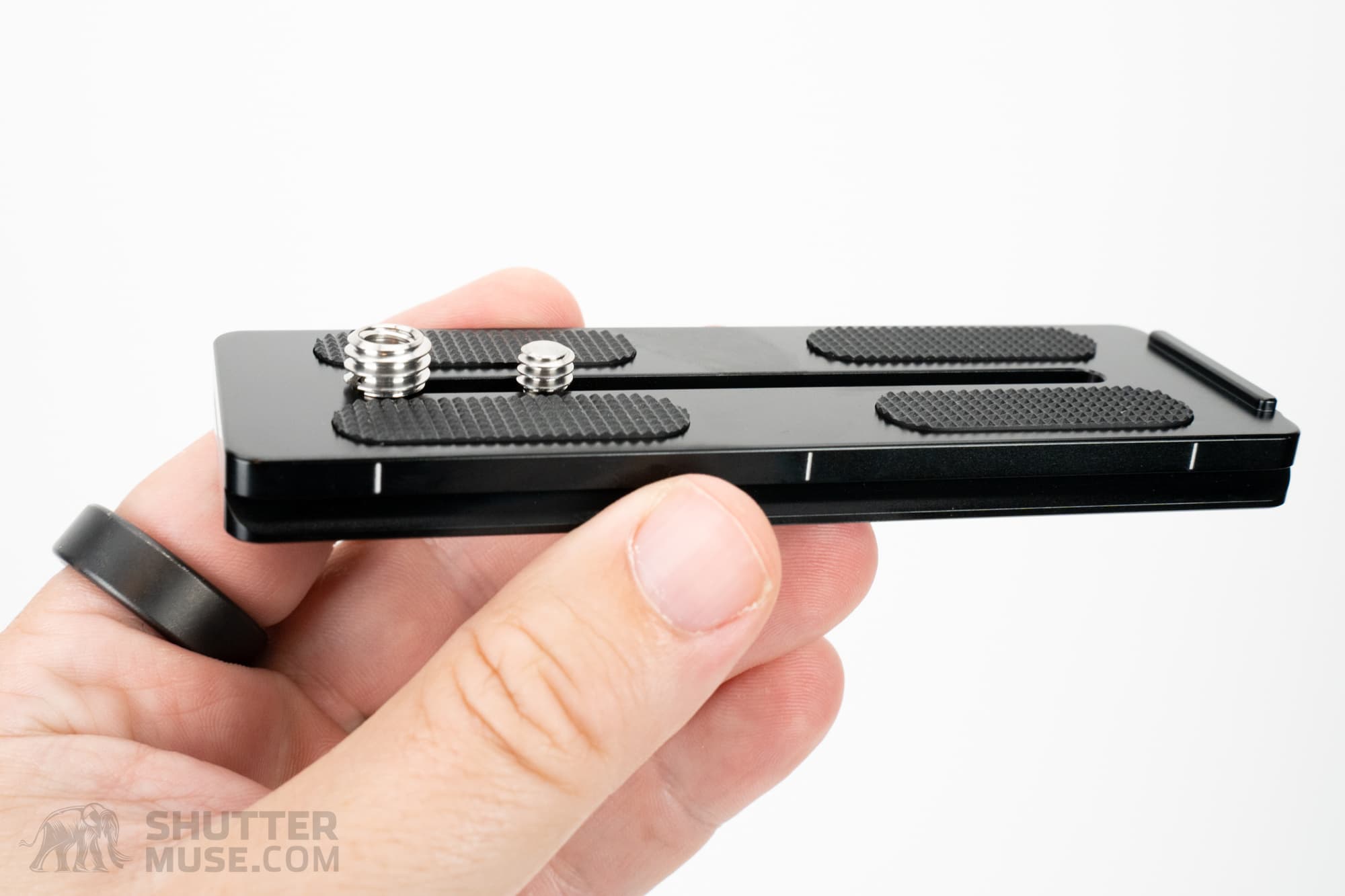 Features and Design
The main body of the PH-20 gimbal is made from 8-layer carbon. Though carbon fibre is often associated with lighter-weight products when it comes to tripods, the use of eight thick layers of carbon on this gimbal lands it firmly in the middle of the pack when comparing the weight of similar products. The total weight of 1163g (2.56lbs) makes it lighter than a Wimberley WH-200 or ProMediaGear Katana Pro, the same weight as the ProMediaGear Katana Pro Jr, and slightly heavier than Fotopro Eagle E-6H.
While the choice of carbon fibre doesn't deliver a lighter weight in this instance, the smooth carbon tube is comfortable to hold and looks great. It also doesn't feel as cold in winter while providing excellent rigidity and vibration dampening.
Laser-etched scales can be found on the tilt and pan axis, as well as the vertical arm of the gimbal cradle. The tilt knob is a large, glove-friendly size with a rubber coating that provides good tactile feedback. A surprise was the tilt knob only required about 15-20 degrees of rotation to move from the locked to the unlocked position.
This is not necessarily a negative thing; I'm sure some people would say it's a positive thing. It just happens to be less rotation than I have seen on other gimbal heads, and it took me a little while to get used to. I would rather have a short throw than a too-long throw, so I have no complaints about this.
My review unit has a slight misalignment of the laser-etched scale. Setting the indication arrow directly in line with the 0-degree marker made it clear that the gimbal arm was not vertical. It was not out by a long way, perhaps 2-3 degrees, but it was enough that it was noticed immediately when I set up the studio photos. In practical terms, such a thing makes no difference to how I use a gimbal for wildlife photography, but it could have been annoying if I used it for multi-row panoramic images. The misalignment was immediately evident to me, so this is something that Sirui's quality control should have caught.
Most gimbal users will be wildlife photographers wanting to track moving wildlife with telephoto lenses. In motion, I was very impressed with the smoothness of the pan and tilt axis on the Sirui PH-20. It is at least as smooth as my regularly used ProMediaGear gimbal, and resistance felt similar on both the pan and tilt axis, suggesting the same bearing cartridges are used in each. A pet peeve of mine is a different feel for both axis, but the PH-20 passed this test with flying colours.
As suggested by the inclusion of the laser-etched scales on the pan and tilt axis, gimbals are sometimes used to create single-row or multi-row panoramic images. Gimbals may also be used for landscape photography or any other type of photography that would ordinarily call for the use of a ball head. Sometimes it's not practical to carry both a ball head and a gimbal. When used in this way, the pan and tilt knobs will need to be locked before the shot is taken.
An often-seen problem with gimbal heads is a shift in composition when tilt and panning knobs are locked for static images. While I saw no perceivable change when tightening the panning knob on the PH-20 gimbal, a relatively sizeable diagonal shift was visible when tightening the tilt knob. This is a problem that would affect only a minimal number of people because the majority will use this head unlocked while tracking wildlife. Still, it's worth considering if you are thinking of using this head for multi-purpose shooting.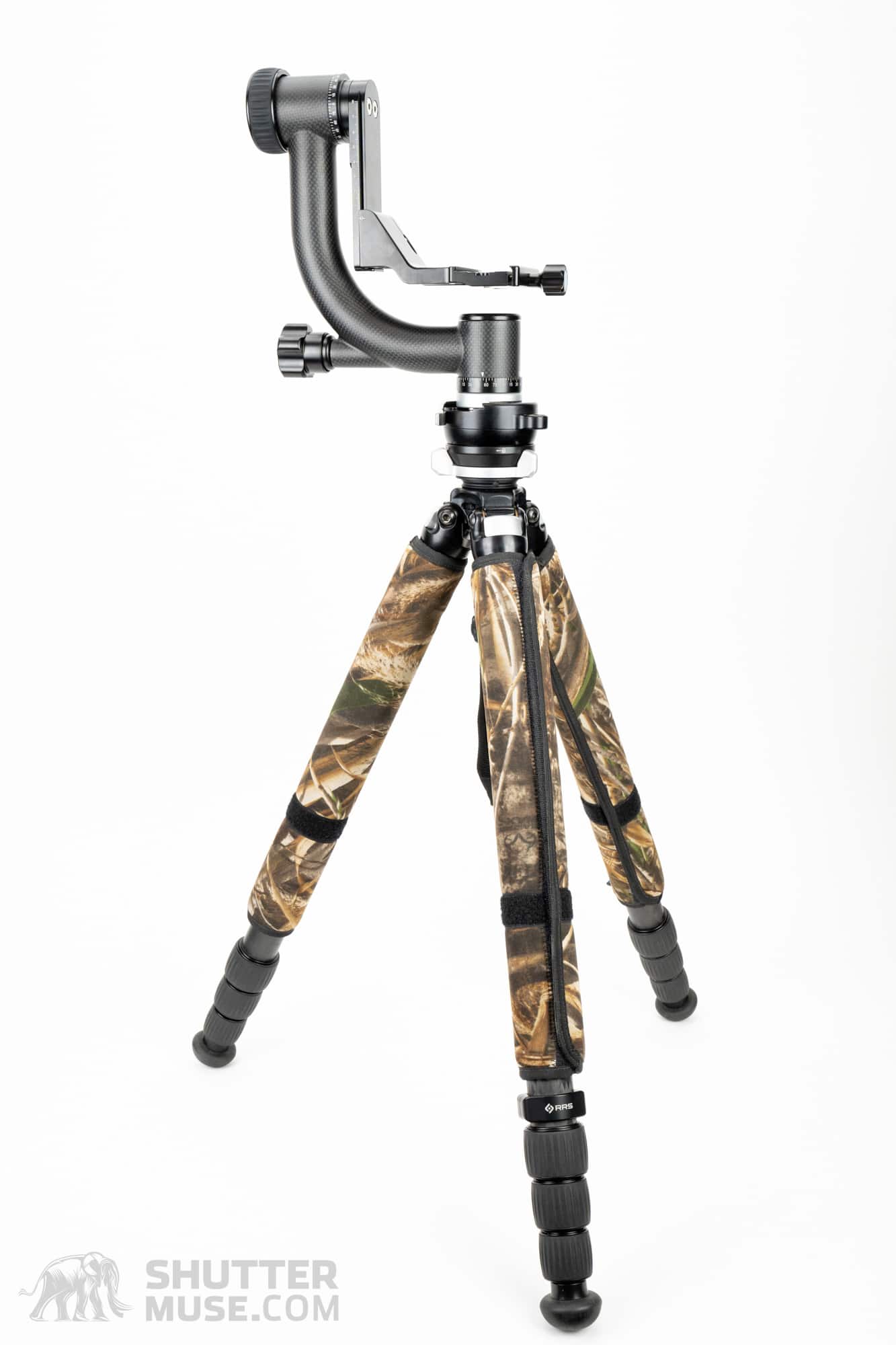 Missing from the PH-20 is a bubble level to ensure perfectly horizontal panning. Although few manufacturers include them on gimbals, I find them a handy feature. If the top plate of your tripod is not perfectly level, it will cause tilted horizons that need to be corrected by rotating the lens in its collar. The amount of rotation necessary for correction will vary as you rotate the gimbal, making this, at best, a tricky thing to contend with if you have a visible horizon line.
Many people will pair a gimbal with a levelling head for a more straightforward setup with a perfectly level panning platform. A levelling head will always have a bubble level; alternatively, you can look for a tripod with a bubble level on its top plate.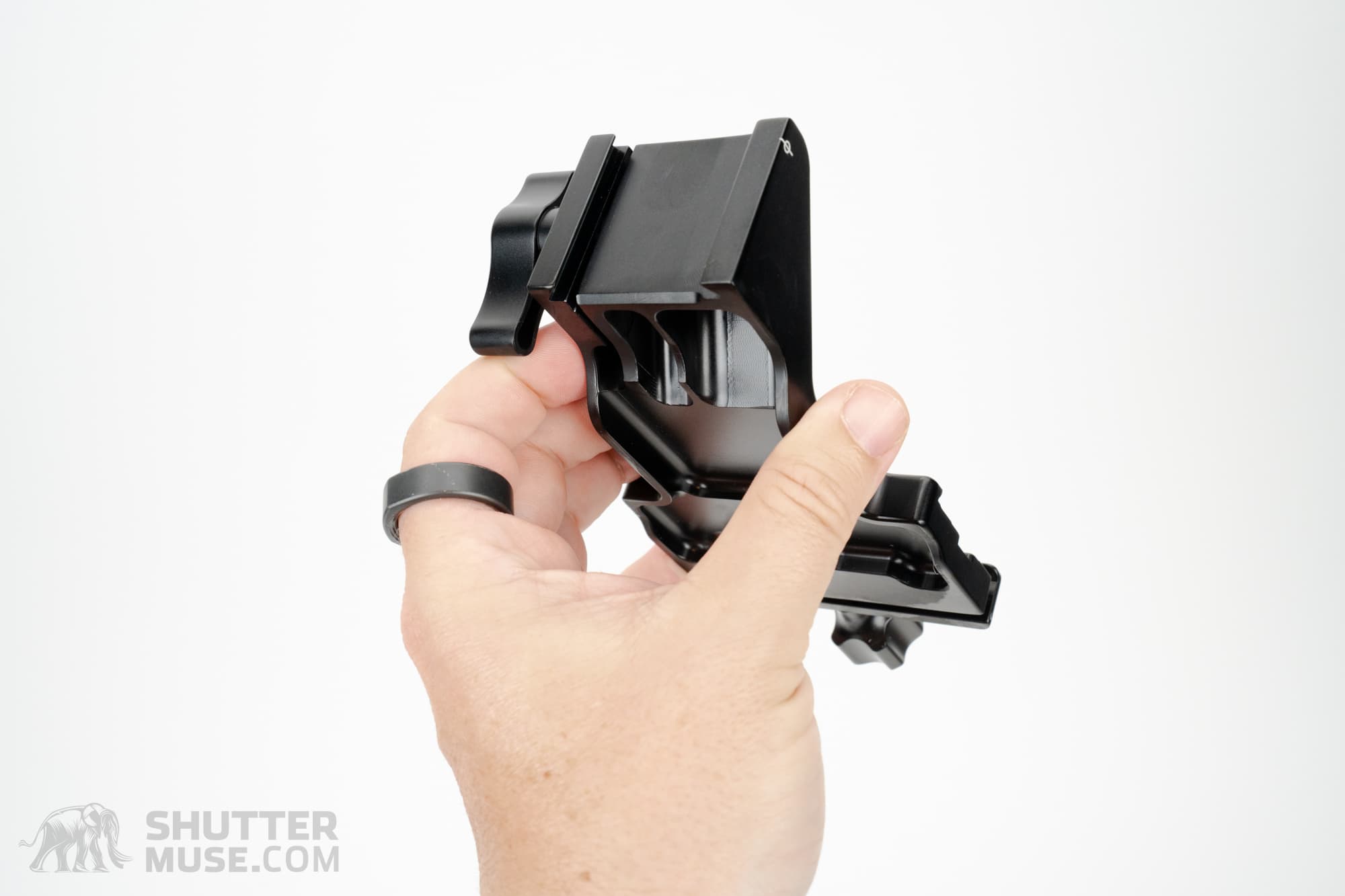 The cradle clamp is a big chunk of metal, but attempts have been made to remove unnecessary material from the underside to save weight.
Side Mount Mode
For those that want to save some weight and bulk while hiking or travelling with their gimbal, the Sirui PH-20 can be converted from a full cradle gimbal to a side mount gimbal using the included Arca-compatible clamp. I'm a big fan of side mount gimbals, so this was a very pleasant surprise. There is no mention of this feature on the Sirui website, or in any product literature I on the major online retailer product pages. I'm not sure why they do not make more of this feature.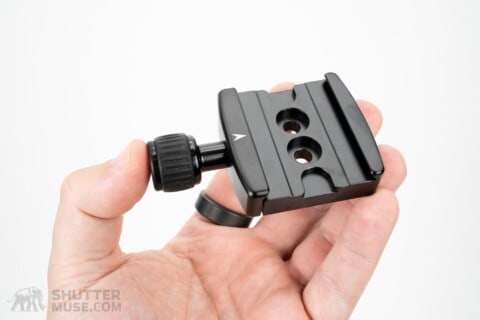 I weighed the PH-20 gimbal on my digital scales to determine the weight saving when using this simplified gimbal mode. In its standard cradle mode, the full gimbal weighs 1163g or 2.56lbs. When the cradle is removed and the smaller side mount clamp is installed, the gimbal weighs 899g or 1.98lbs, representing a 23% weight reduction.
The weight saving is the primary advantage of a side mount gimbal, but with fewer angular parts protruding from them, I also find them much easier to pack into a camera bag. Using the fore-aft adjustment of your lens foot in the side clamp, a balance point can still be found, and from this perspective, there is little practical difference in how the gimbal is used once the lens is mounted.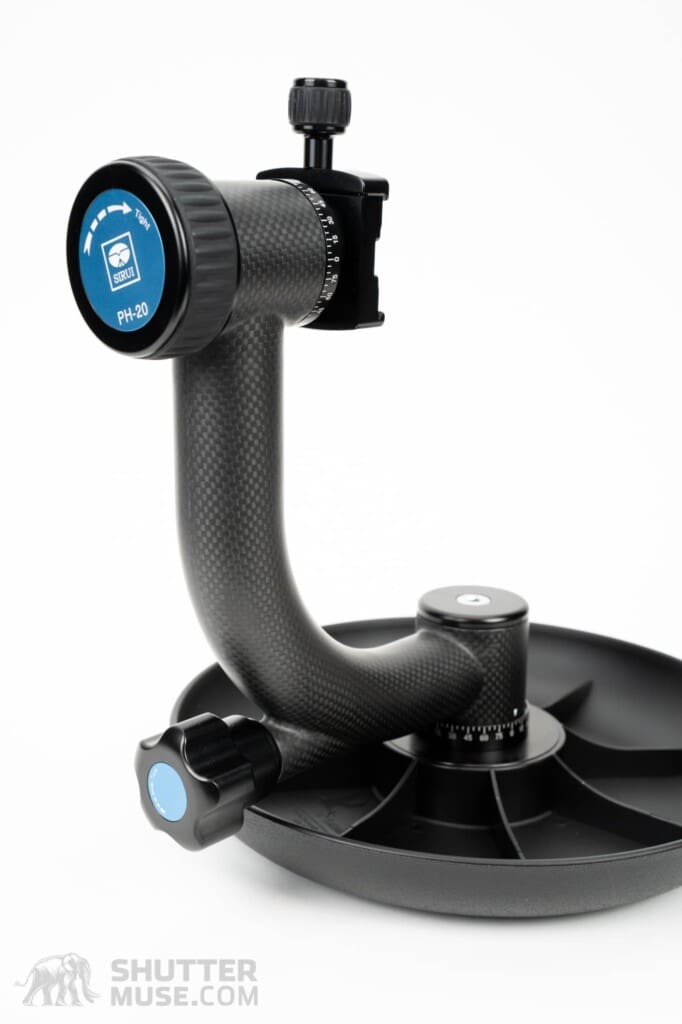 The downside of the side mount gimbal is that some people find it harder to mount the lens foot into the clamp. With a cradle, gravity is on your side, but with a side mount, you must support the weight of the lens while you tighten the clamp. If you have trouble holding the weight of your telephoto lens, a side mount gimbal might not be a good choice. However, with the PH-20, this is not a problem as you are presented with the choice.
RRS Cradle Upgrade
Most gimbal manufacturers, Sirui included, use a screw-knob clamp on the gimbal cradle. When lifting large, heavy telephoto lenses onto a gimbal, many people prefer the quick action of a lever-release Arca-compatible clamp. The only cradle clamp on the market with a lever-release clamp is from Really Right Stuff, and people have been using it for years to retrofit gimbals from the likes of Wimberley and ProMediaGear.
Unlike Gitzo, who used a non-standard dovetail on their gimbal cradle, thus preventing the use of the RRS cradle clamp, the vertical arm of the Sirui PH-20 is a standard Arca width and works just fine with it. If you are comfortable spending an additional $215, the RRS PG-CC cradle can be found at B&H Photo or Adorama.
Quick Release Plate Upgrade
If you regularly switch between a gimbal head and a ball head, it can be helpful to add an Arca dovetail to all your tripod heads so that they can be easily swapped back and forth without running the risk of cross-threading your tripod stud. For this purpose, Kirk Photo makes circular dovetail plates in two different sizes. The small size, available from B&H, is a perfect match for the Sirui PH-20 gimbal.
Conclusion
The Sirui PH-20 is an excellent gimbal with silky smooth pan and tilt mechanisms. I was impressed by the gimbal's overall build quality and performance in my testing, given its mid-tier price point. Slightly misaligned laser-etched degree markings on the tilt mechanism were a minor quibble and showed that quality control and tolerances could be improved. Still, I was pleased with the gimbal's capabilities and never felt it held me back from creating sharp wildlife photos.
At the time of this review, the recommended price of the PH-20 is $399, undercutting rival products from ProMediaGear and Wimberley by at least $200. The popular Benro GH2 gimbal is priced similarly to the Sirui PH-20, but its all-aluminium design is much heavier. Extending your budget to more expensive gimbals will give you that ultimate precision with little things like the laser-etched etched degree markings, but little more performance can be gained. If you're looking for a gimbal tripod head that doesn't feel cheap yet doesn't break the bank, I think you'll be pleased with the Sirui PH-20.
Where to Buy (Discount Available)
The Sirui PH-20 gimbal is available from the following links. As always, if you found this review useful, it is greatly appreciated when you use our links for your shopping.