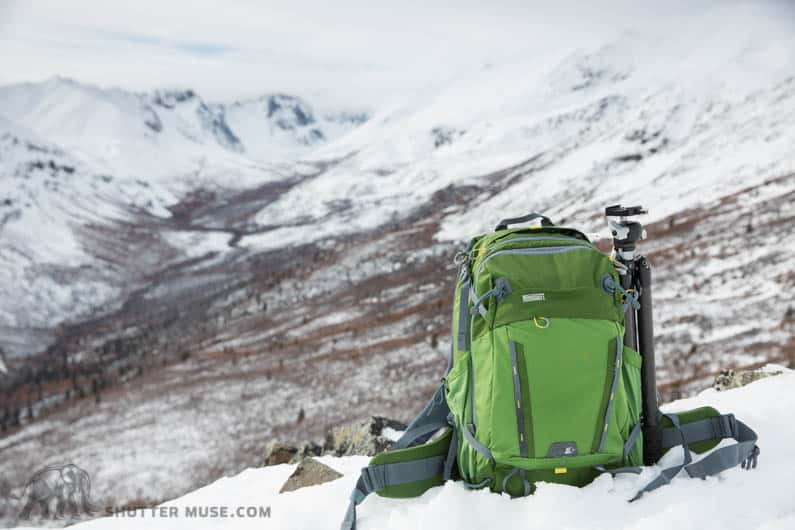 MindShift Gear have been extremely busy recently, to the benefit of all those that like to be outdoors when they take their photos.  If you aren't familiar with the brand, MindShift is the sister company to Think Tank Photo, except that they concentrate primarily on camera bags for outdoor, adventure and wildlife photography. Their patented Rotation 180 system (see here in R180 Trail review) put them on the radar of lots of photographers, myself included, and they released a strong series of bags based around that unique rotating system.  The original R180 Pro (review) is probably still my favourite, and a bag I reach for a lot of the time when I'm pulling gear from my closet for an adventure. After the Rotation series, we saw the FirstLight+ series which I reviewed in great detail. This series was all about maximizing available volume for long lens users, so it featured a front panel opening system. With the new BackLight 26L, MindShift is now offering the another pack entry method with this back panel access design. Something for everyone! I'll be discussing the pros and cons of back panel access further into the review.
Table of Contents
Specifications & Dimensions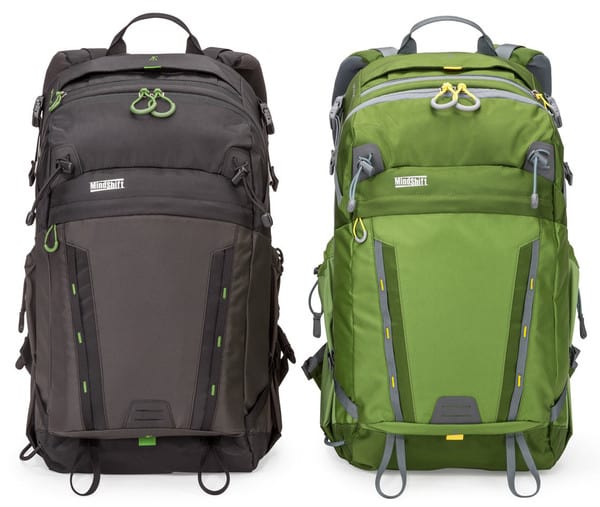 Exterior Dimensions:
11.4" W x 20.3" H x 7.9" D (29 x 51.5 x 20 cm)
Interior Dimensions:
10.2" W x 19.3" H x 5.9" D (26 x 49 x 15 cm)
Laptop:
10" W x 15.3" H x 1"D (25.5 x 38.8 x 2.5 cm)
Tablet:
9.3" W x 10.2" H x 0.6" D (23.5 x 26 x 1.5 cm)
Weight:
3.9lb (1.8kg)
Volume:
26 Liters
Back panel access
Holds up to 15″ laptop & 10″ tablet in front pocket
Side stretch pockets
Tripod straps on front and side
Included rain cover
Internal mesh pockets
Spacious front pocket for outdoor gear
Available in black or green for about $275
Video Review
If you'd rather watch a video than read about it, this covers pretty much everything!
Camera Payload
The three photos above give a pretty good idea of the camera and lens capacity of this bag. What's important to take note of, and is less obvious from the photos, is that the depth of the bag is not designed for pro-sized bodies like a Nikon D5 or Canon 1D X. Having said that, when I tested this bag for a couple of months, I used it with a Canon 7D Mark II that had a battery grip attached. A setup that's essentially the same size as a pro body. Using a camera of this size is possible, but it does stick up a little bit and push into the back panel of the bag. The thickness of the back panel absorbs the bulge, but if it's your plan to use a camera of that size then it might be a good idea to test it out in a store beforehand to make sure you are comfortable with it. If you're not, you should definitely check out the previously reviewed FirstLight 35L+ instead.
A Discussion On Back Panel Access Packs
When it comes to choosing a photography backpack, the two major differentiating factors between them all are size, and access method. The BackLight 26L is MindShift's first pack that features what I would call back panel access. The majority of camera backpacks have front panel access, whereby the opposite side to the padded back panel is the section that unzips to reveal your camera gear. These aren't the only two access methods, though. Even just within the MindShift lineup there are bags like the Ultralight series that feature side panel access, and the Rotation 180 series that feature their patented rotating belt pack. Understanding the pros and cons of these various access methods is the key to choosing the right pack for your needs.
This disadvantage of front panel access bags, like the FirstLight series, is that to open the bag, you have to lie the pack down with the back panel and shoulder straps touching the ground. If the ground is wet and dirty, this dirt and moisture is then transferred to you as soon as you put the pack back on your back. Most photo packs aren't specifically designed for outdoor photography usage, and this is why front panel access is still the most common type. In the outdoor market though, back panel access is a bit more common, but whilst it solves that one particular problem, it presents its own challenges.
Back panel access packs have limitations in the complexity of the rear harness system because obviously that whole part of the back has to be able to unzip and open up. This makes it difficult to have things like adjustable torso length, and impractical to do fancy things with suspended mesh panels to ventilate the back. Back panel access is always a bit more constricted as well, because zippers can't run around the extremities of the bag's back since that would leave no room left for the shoulder strap and hip belt attachment points. In other words, when you have a back panel access pack, the "hole" to put your camera gear through is going to be smaller than if the same pack had the opening on the front. This is why the FirstLight packs are front access, because they are designed with large super telephoto lenses in mind. They need the biggest opening possible to fit the lenses in, and they also need a more substantial harness system with adjustable torso length to ensure total comfort in carrying such heavy lenses. In other words, despite the most obvious shortcoming of front access bags for outdoor work – the dirt issue – sometimes other factors influence the choice much more. It's good to have options, and I guess this variety of access options is one of the huge reasons why I'm such a big proponent of the MindShift packs.
Another advantage of back panel access packs is that it leaves more room on the front of the pack to add large pockets for other gear. This is a hard thing to do with front access packs because if that front section is too big and complex, and filled too much with other gear, it becomes a really clumsy operation to open and close it. In fact this ended up being one of the biggest problems I had with the design of the Lowepro X400 roller I posted about just two days prior to posting this review. The front access FirstLight packs have slim and simple pockets on the front that allow for a minimum amount of gear to be loaded into the opening section, whereas the BackLight 26L, with its back panel access, has a huge and complex front section with multiple small internal pockets as well as a laptop and tablet sleeve. When it comes to using the pack, this giant front pocket, and its collection of smaller internal pockets, is really the defining feature. More than all the other packs in the MindShift lineup this pack allows you to easily carry, and organize your laptop and all its associated accessories like cables, hard drives and tablet.
Normally when I fly I would take a backpack, and then a separate shoulder bag to carry all that extra stuff. While testing the BackLight 26L I challenged myself to just fly with one single bag, and put all that "office" gear into the front of the backpack instead. It worked very well, and I was surprised by just how much you can fit in that front section of the bag. Laptop, Wacom tablet, hard drives, tablet and cable bag all fitted without issue. There was even room left for my plane snacks!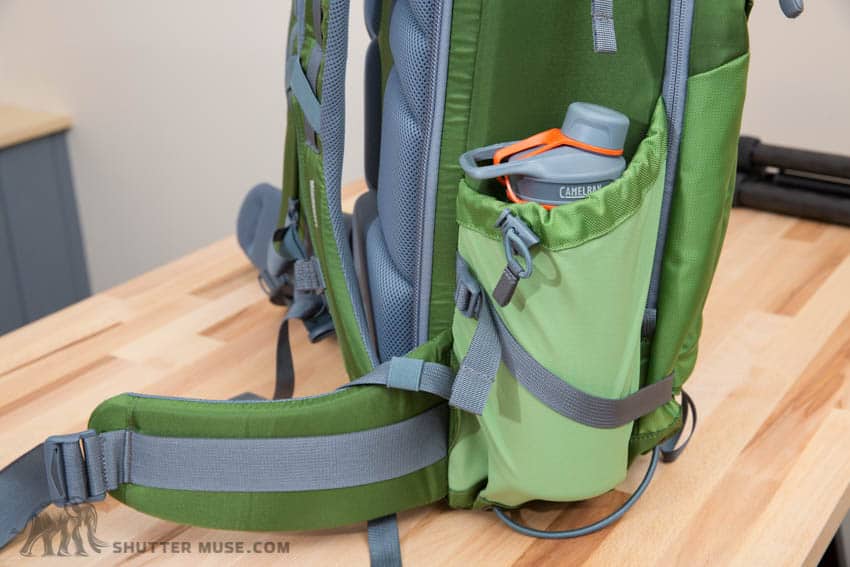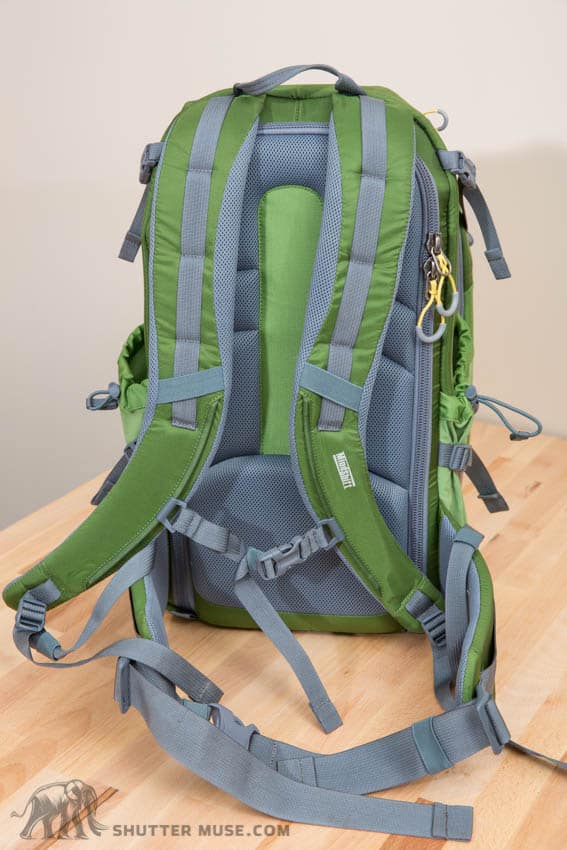 Tripod Carrying Options
Like all the other MindShift packs, there's at least a couple of ways to carry a tripod. The first is a a fold-away tripod "cup" on the front of the bag that you use in conjunction with a hidden strap at the top of the bag. the issue with this is that the top strap isn't part of the bag's front flap. That means that if you really want to open up the front pocket of the bag, you have to unstrap the tripod. I definitely found this to be a bit of a pain in the ass. With the front pocket being so large on this bag, you end up stashing all sorts of things in it from gloves to food, jackets and other camera accessories. I didn't want to unclip the tripod every time I wanted to get to that stuff, so I simply ended up using the option to carry a tripod on the side of the bag instead.
On the side of the BackLight packs is the most generously sized side pockets of all MindShift packs, so this makes up for the shortcoming of the other tripod mounting options, and you can easily use it with even the largest tripods. I absolutely loved the large size of these stretchy side pockets! I wish they had them on all of their packs.
Elastic Neck Strap
When I first saw photos of the BackLight, I was intrigued by the elastic strap in the back panel that apparently allowed you to keep it open while using the bag hanging off your waist on the waist strap. To me, this seems like it's really overcomplicating things, and it's not a feature I ever used in the several months of testing I did on this bag. It seems highly gimmicky, and as you'll see in the video, it's just not comfortable to wrap elastic around your neck, nor is it at all comfortable to rest a fully laden bag on your groin, hanging off the hip straps. Any back panel access pack can do this, I just don't think it's necessary to try and turn this into a "feature" as they have. It's far more hassle to rotate the bag around like this and then deal with the elastic, than it is to just take the pack off, throw it on the ground and unzip it. Sorry MindShift, this just isn't a feature that I got on with at all.
The good news is that the features is so simple that it's not like you are paying a lot for something you don't end up using. It's just a piece of elastic, I'd just cut it off and be done with it.
Compared To Other MindShift Packs
If you're looking at this 26L pack then the most likely candidates for competition are the FirstLight 30L, the Ultralight Dual 25L and the Rotation 180 Panorama 22L.
If you have more than a couple of lenses for your camera then the Panorama should really be taken off the table. The Rotation 180 system is great, but room in the rotating belt pack is limited (no pro bodies), and even if you step up to the larger Horizon 34L, it still doesn't hold as many lenses as this smaller BackLight pack does. None of the R180 packs can hold a laptop either, so that's another decision making factor.
If you narrow it down to the FirstLight 30L, the Ultralight Dual 25L and the BackLight 26L, your decision might be made for you by the size of your lens and camera body. Taller bodies can fit in the BackLight, and as I showed, you can squeeze a 200-400 in there as well, but ultimately these will be more comfortably used in the FirstLight. Larger pro-size bodies don't work well with the UltraLight Dual 25L, you need to step up to the 36L size for that.
If you want to carry a laptop with you then technically those three bags will do this, but really the BackLight wins that fight hands down. The FirsLight laptop sleeve is unpadded, and there's no easy place to store all of the additional ancillary accessories. The Ultralight Dual 25L does a commendable job of carrying a laptop, but the bag loses some of its carrying comfort when you do this because the padding is thin and the laptop is positioned right up against your back.
When it comes to carrying large amounts of non-photographic gear, like general outdoor adventure kit, the Ultralight Dual 25L wins the fight. Firstly, the soft-sided top section of the pack can really be stuffed full to make use of every cubic inch of volume. Secondly, you can actually remove the central divider of the bag along with the camera compartment, and just turn it into a regular, everyday top-access backpack.
In summary:
Pros & Cons
Pros
Excellent value for money
Spacious multi-purpose front pocket works well
Many attachment options for tripods and other items
Rain cover included
Cons
No "key clip" anywhere to attach an SD card wallet… or keys
Tight fit for gripped cameras or pro bodies
Front tripod strap is awkward with main zippered front pocket
Only available in one size (26L)
Conclusion
I'm really glad that MindShift added a bag of this style to their lineup, there's definitely room for a bag with this kind of access and they took the main benefits of that access and really ran with it in the design of the huge front organizer pocket. If you want to carry a laptop in your camera bag, this is the best bag that MindShift make to accomplish that. Don't be fooled into thinking that you must want to carry a laptop in order for this to be the right choice for you, though. Whilst I carried a laptop in it on a plane a couple of times, I didn't carry one in it for the majority of the testing period. What's nice is that they didn't go too overboard with the laptop padding. Some bags have laptop sections that are so padded you can hardly tell if theres a computer in there or not. Those kinds of bags can be frustrating because you feel like you're carrying around a lot of unnecessary bulk and weight when you aren't using it for a laptop. I'm happy to say that this isn't the case at all with the BackLight.
Apart from the great design of this front section, the second thing that really stuck with me about this pack was the value. That's interesting because it's not usually something I bring up with MindShift products. Generally speaking their products fall in the middle to high end of the pricing curve for outdoor photo packs. That's fine, because most of them provide some very unique features and excellent build quality, but I don't generally walk away from the test period thinking they represent truly great value. I think of them as being priced correctly for the features and quality they deliver. The BackLight isn't cheap at $250, but there's just so much going on with it, and it's all built so exceptionally well, that this one just seems like great value to me.
Where to Buy + Get a Free Gift
US Customers get a free gift when they spend over $50 in the Think Tank/MindShift online store after clicking this link. For more details, or if you have any issues, see this post.
I appreciate it when you use our links for your purchases.