Think Tank Photo's new FirstLight 35L+ and 46L+ are carry-on compliant camera backpacks designed for extended travel days with outdoor photography gear that includes pro-sized camera bodies and super-telephoto lenses. Available in two sizes, these new packs build on the design of the original MindShift FirstLight series, adding critical new features such as an expandable volume, a removable top pocket, and a range of internal organizational updates.
Eight years had passed since I reviewed the original FirstLight packs, so you can bet that I was excited to see what Think Tank had been working on when they let me in on their latest secret. Disclaimer: A FirstLight 46L+ was shipped to me in the Yukon for two months of testing before the bag's official launch. No money changed hands, and Think Tank did not get to read the review before it was published. In this review, we will take an in-depth look at my findings and this bag's many features. I'll also compare it to a few other packs in the Think Tank Lineup to help you make your purchasing decision.
Table of Contents
Think Tank FirstLight+ Key Features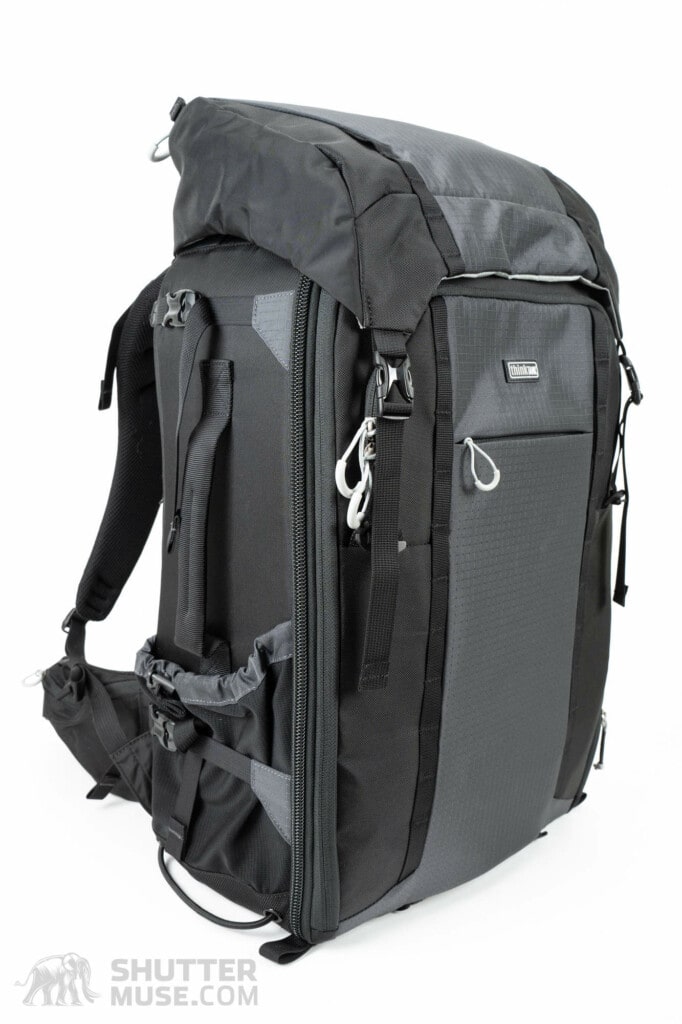 Each of these features will be discussed and demonstrated in the review.
Available in two sizes: 35L+ and 46L+.
Expandable front pocket that adds significant volume to the bag.
Removable floating top pocket that can be converted into a belt pack.
Storage for up to a 16″ laptop.
11-point harness that included adjustable torso length.
Three different ways to carry a tripod.
Carry-on compliant capacity large enough for super-telephoto lenses.
Travel-friendly dimensions and design features.
More than ten different organizational pockets that are sized and placed for various purposes.
Intrigued? You should be. This is one of the most feature-rich camera bags ever to cross my desk or carry my gear. Let's dig in!
Think Tank FirstLight+ Specifications
The Think Tank FirstLight+ backpack is available in two sizes, with the "+" in the name denoting an expandable volume. The smallest, the FirstLight 35L+, expands from 35 to 38L. The largest, the FirstLight 46L+, expands from 46-50L. Removing the floating top pocket can further adjust these bags' volume and external size. Later in the review, I'll discuss this feature in more detail, particularly in the context of traveling with the bag by air.
| Specification | FirstLight 35L+ | FirstLight 46L+ |
| --- | --- | --- |
| Volume | 35-38 litres | 46-50 litres |
| Exterior Dimensions (inches) | 12" W x 19" H x 8.7" D | 13.8" W x 21.7" H x 9" D |
| Exterior Dimensions (cm) | 30.5 W x 48.3 H x 22 D cm | 35 W x 55 H x 22.9 D cm |
| Interior Dimensions (inches) | 11.2" W x 18.1"H x 7.1" D | 13.4" W x 20" H x 7.3" D |
| Interior Dimensions (cm) | 28.5 W x 46 H x 18 D cm | 34 W x 51 H x 18.5 D cm |
| Weight | 5.4 lbs. (2.4kg) | 6.0 lbs. (2.7kg) |
| Max Lens Size | 500mm detached or 400mm f/2.8 attached. | 600mm f/4 lens detached* or a 500mm f/4 attached |
| Laptop | Up to 16″ | Up to 16″ |
| Price | $399.75 | $425.75 |
* – I was able to fit my Sony 600mm f/4 in the bag with a camera attached. See photos further down the page.
Materials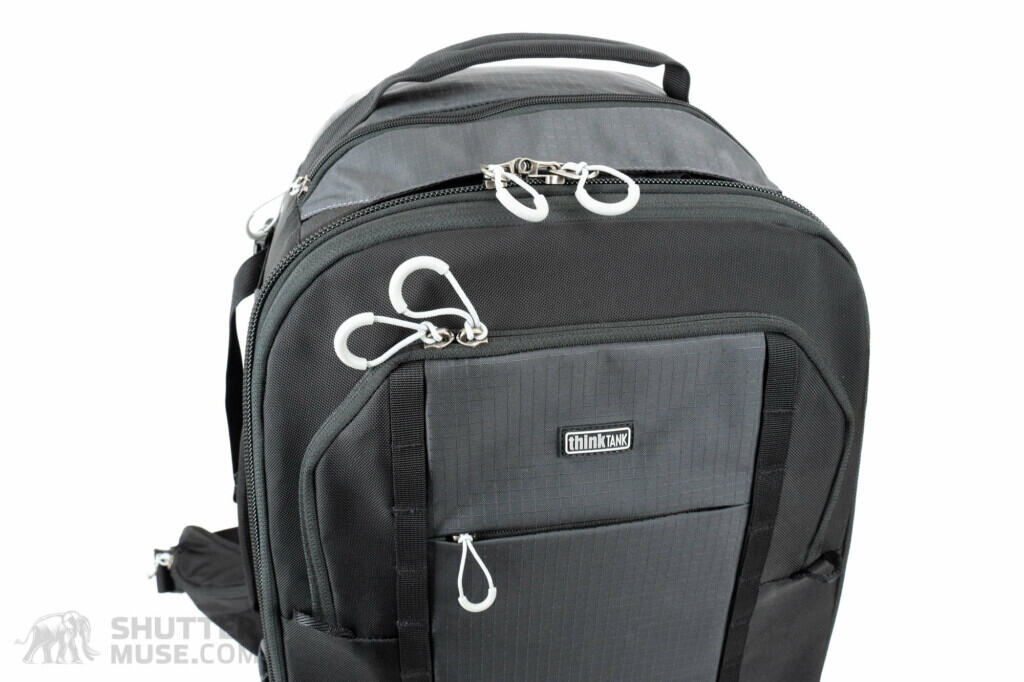 The Think Tank Photo FirstLight backpacks use a range of materials. Notably, the exterior materials range from 420D to 1680D, making them extremely durable.
Exterior
For superior water resistance, all exterior fabric has a durable water-repellant coating; the underside of the fabric has a polyurethane coating. It also has the highest quality abrasion-resistant YKK® RC-Fuse zippers, 420D Velocity nylon, 420D high-density nylon, 420D R/S Nylon, 1680D ballistic nylon, 840D matte TPU Dynatonic nylon, nylon webbing, and 3-ply bonded nylon thread.
Interior
210D silver-toned nylon lining, Hexa mesh pockets, Nylex nylon, high-density closed-cell foam, PE board reinforcement, 3-ply bonded nylon thread
What's New in the FirstLight+ Backpacks?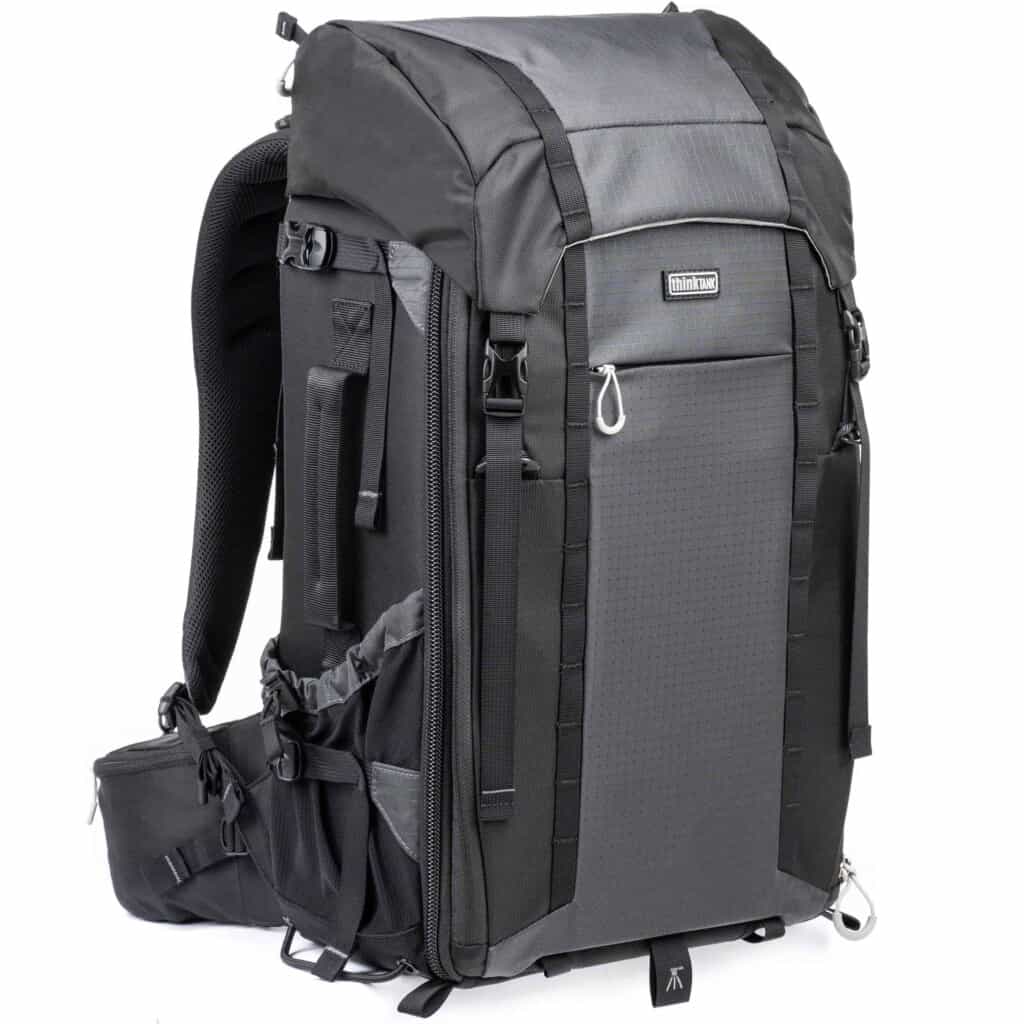 The FirstLight+ backpacks are an evolution of the original FirstLight packs launched under Think Tank's sister brand, MindShift Gear. The MindShift brand has now been folded into the Think Tank Photo brand, so it makes sense that the new FirstLight+ packs no longer feature the MindShift badge. The FirstLight+ backpacks are not just a rebranding exercise, though. Considerable upgrades to the original FirstLight packs have taken place.
Below is a simplistic list of the changes between the original MindShift FirstLight packs and the new Think Tank FirstLight+ packs. This will be useful for existing FirstLight owners to gauge whether they want to upgrade. Consider this a starting point. These features will all be covered in greater detail during the review.
The new version of the FirstLight backpacks offer the following improvements:
New sizing: 35L+ and 46L+ options instead of 20L, 30L, and 40L.
Addition of a removable (floating) top pocket that doubles as a lightweight belt pack.
Expandable front stash pocket adjusts overall volume and improves storage for bulky non-photographic items.
Improved top and side pockets for easier access to small items.
The laptop sleeve is now padded and separated within the front section of the bag.
Better weight distribution for more comfortable all-day use on the trail.
Re-designed internal organization pockets.
Zippered side pocket added to the waist belt.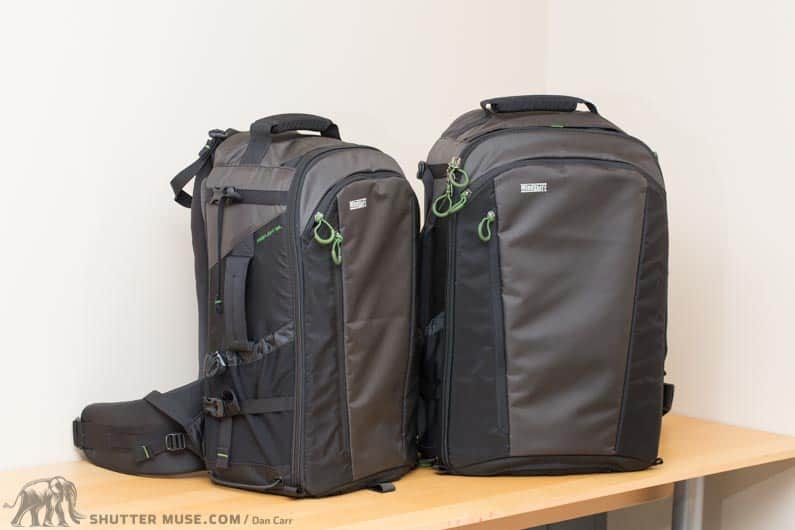 The original FirstLight bag was popular due to its carrying comfort with heavy loads and its efficient use of camera carrying volume. Where it fell short for some people was a lack of space and organization for smaller quick-access photographic items or adequate storage space for the non-photographic items so often needed during a day outdoors.
For the new FirstLight+ backpacks, Think Tank's designers have solved this issue by including the new floating top pocket and an expandable front stash pocket with far more internal organization. What's clever about this is that the added space and organization are there when you need them on the trail. However, when the front pocket is zippered into the compressed position and the top pocket entirely removed, that bag still maintains the travel-efficient size and shape people loved in the original. If you've already had a few years of use from the original FirstLight and are thinking of upgrading, I think you will be very happy with the new features.
Think Tank FirstLight Design and Features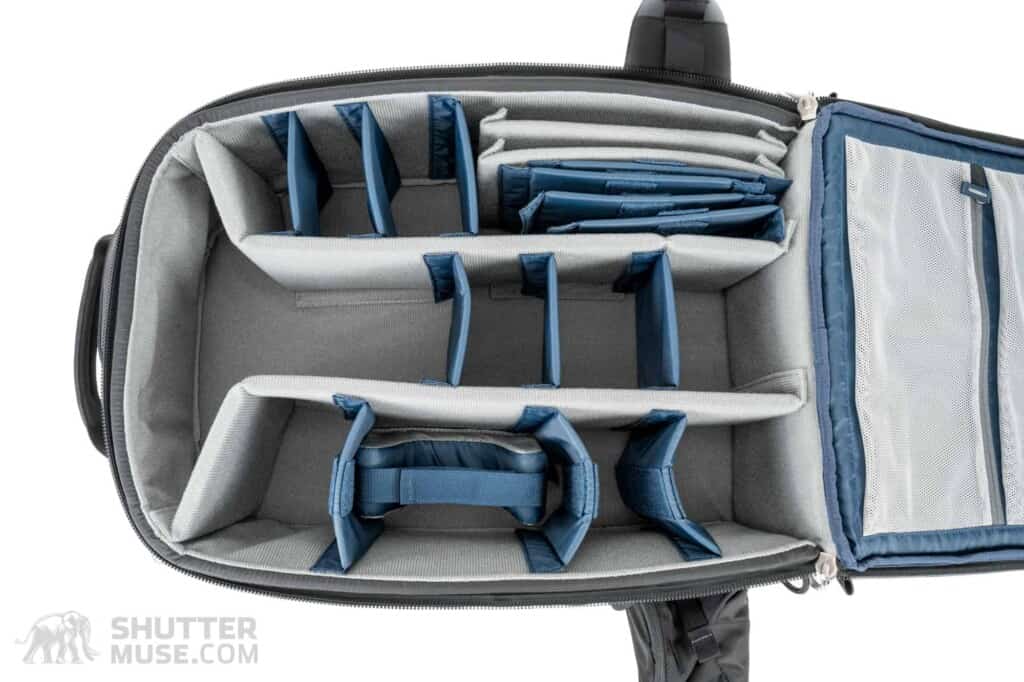 Camera Compartment and Capacity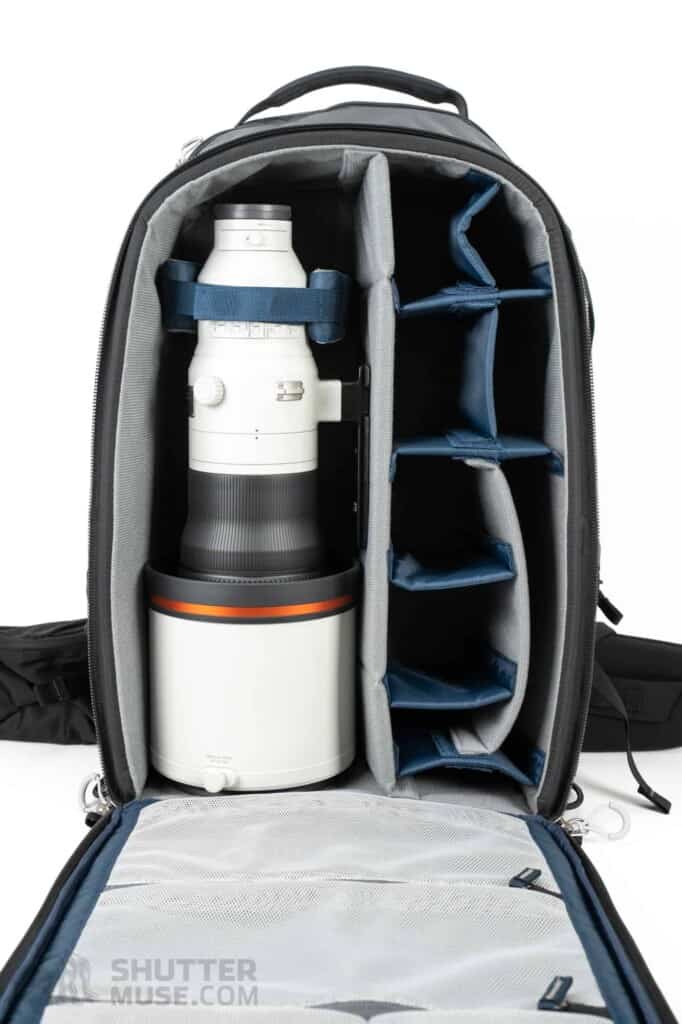 Note: Think Tank initially provided me with a FirstLight 46L+, so my testing of the bag's capacity is currently limited to that model. Eventually, I hope to get my hands on the 35L+ model, at which point I will add some additional images comparing the two sizes.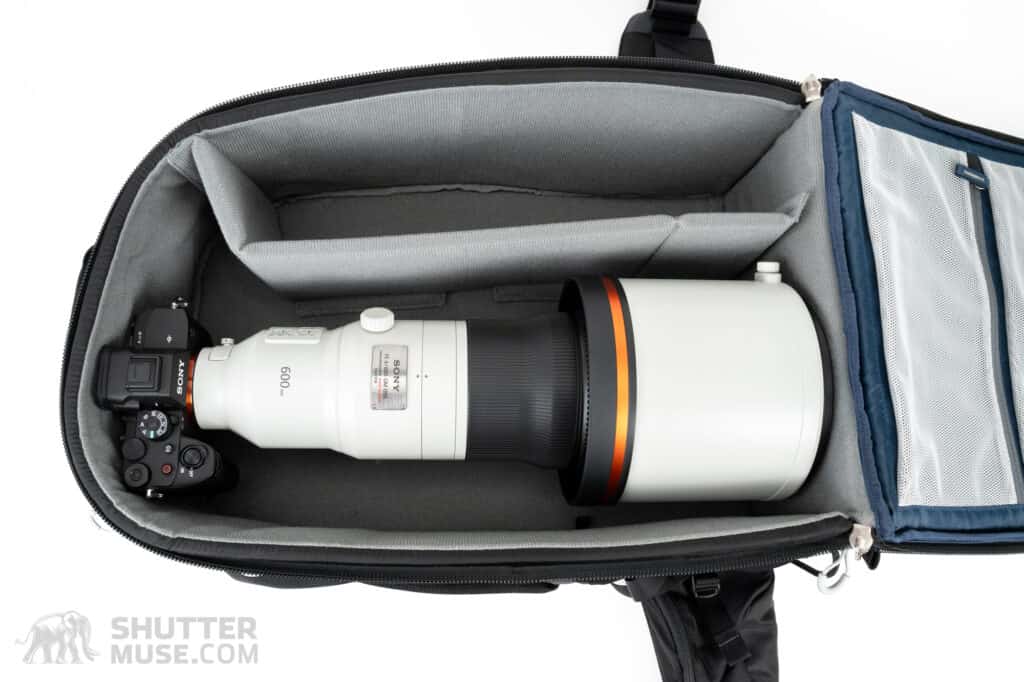 These bags are designed to hold a lot of gear, particularly super-telephoto lenses with or without a pro-sized camera body attached. The efficient use of space has always been a big selling point for the FirstLight series. To demonstrate the capacity capabilities of the FirstLight 46L+, I loaded it up with my Sony 600mm f/4 GM lens and my Nikon 800mm f/6.3 to give you a sense of scale. I was pleasantly surprised that a camera could remain attached to the Sony 600mm lens with only a minor squeeze to get it into the bag.
FirstLight 35L+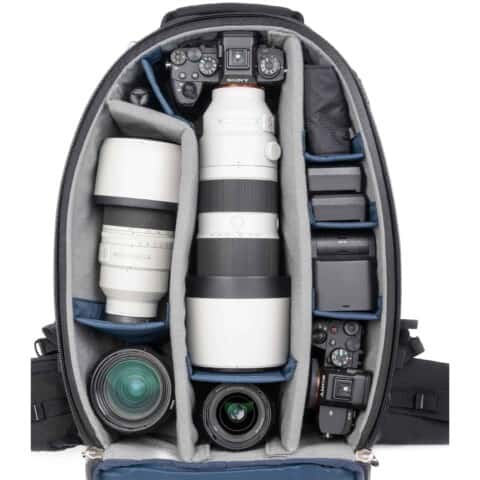 FirstLight 46L+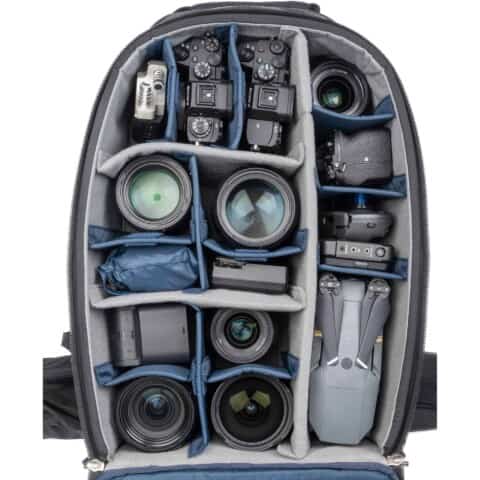 Long Lens Collar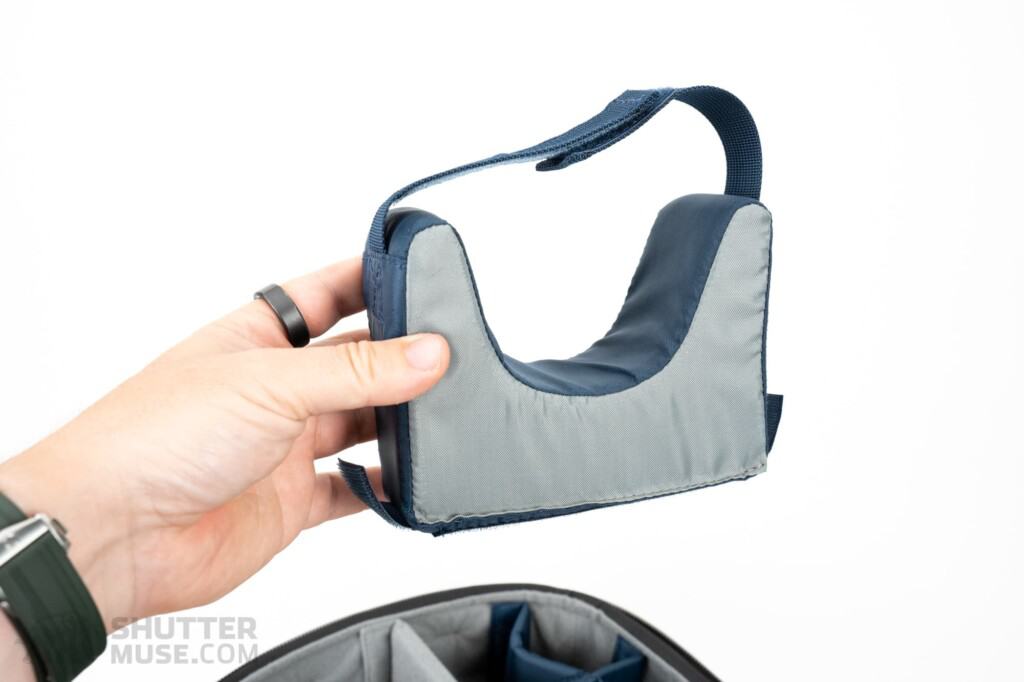 Cementing the idea that the FirstLight+ bags are Think Tank's best backpacks for super-telephoto lenses is the inclusion of a padded long lens support collar. When a large telephoto lens is attached to a camera and placed in a pack, the camera tends to hold the lens steady. On the other hand, when you put a long lens into a bag without an attached camera, the tapered shape of the lens gives it a lot of jiggle room at one end. The included support collar holds the lens firmly in place so you don't feel it constantly shifting position and wobbling back and forth while you walk with the pack on.
Front Panel Internal Organization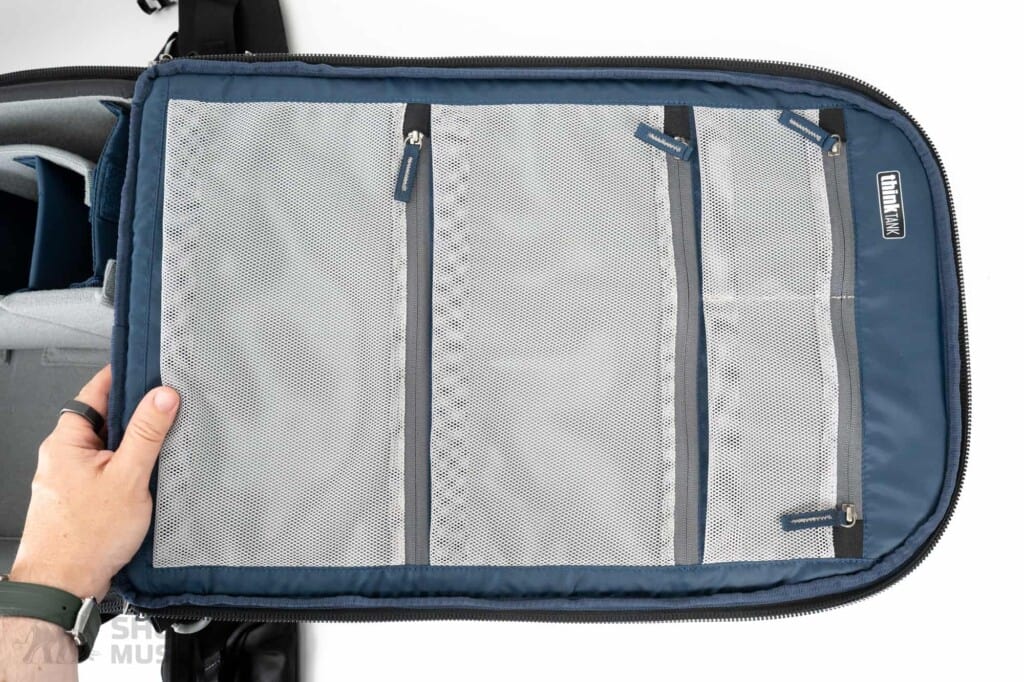 On the inside of the main compartment, there are four differently-sized mesh pockets. They're great for storing batteries, filters, cables, and camera cleaning supplies. The mesh has some good stretch, allowing you to store pretty large items so long as they don't bump your camera gear.
Floating, Removable Top Pocket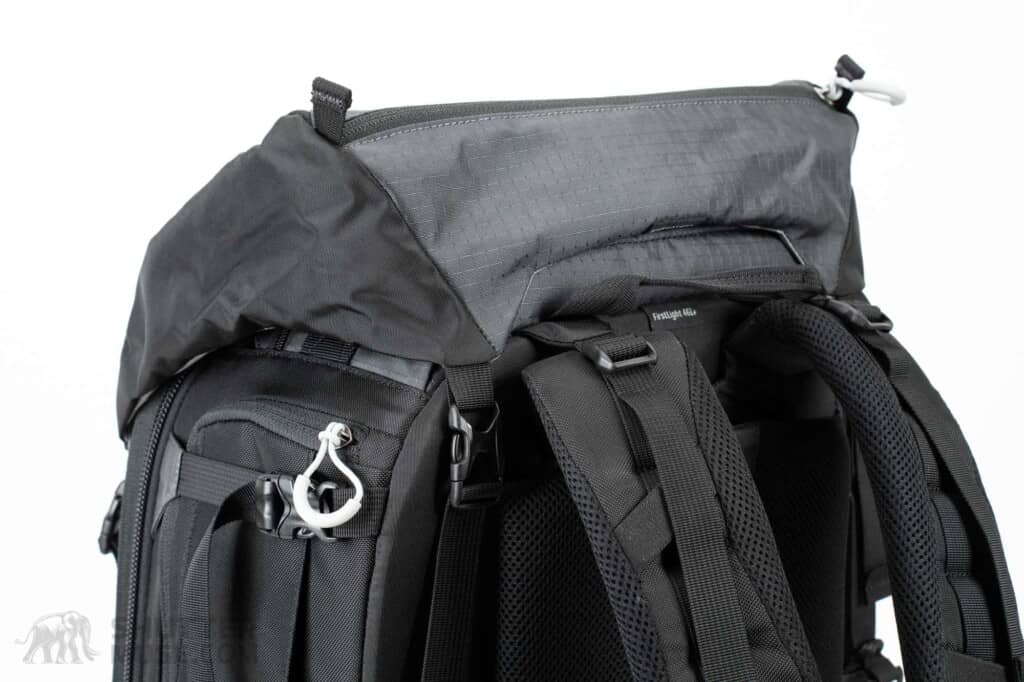 The FirstLight+ packs have a removable, floating top pocket offering approximately 3.5 L of accessory storage space. The zippered pocket is large enough for your rain gear, gloves, and hat. Or, if you prefer, your filter kit and quick-access camera accessories such as batteries and one of Think Tank's memory card holders. The floating design of the top pocket also means you can raise it to secure large items to the top of your bag, such as a tent, sleeping bag, or a large down jacket. When set down on the ground, the FirstLight+ packs stand upright, so this additional storage space comes in handy throughout the day.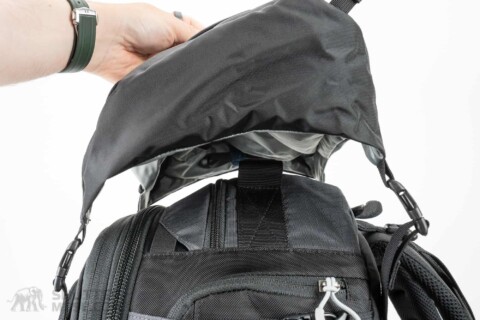 Belt Pack Use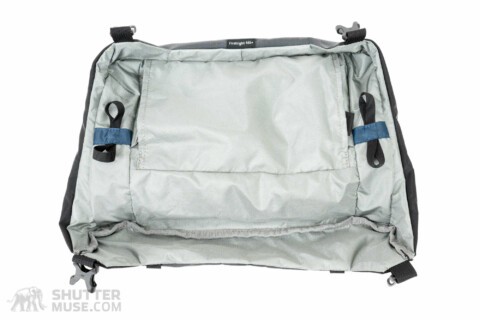 Perhaps the most surprising feature I found on this bag was the waist belt on the top pocket, allowing you to create a quick, lightweight fanny pack or a cross-body sling. After playing around with this feature for a few weeks, I discovered two ways I think people will find this helpful. Firstly, if you are traveling by air with your camera gear and laptop in the FirstLight pack, the removable top pocket becomes a great little "personal item" for the plane. Put your headphones in it with your changing kit and anything else you need on the flight. The main pack goes in the overhead locker; the fanny pack goes under the seat in front of you or into the seat pocket. Once you reach your destination, clip the top pocket back onto the bag and return to a one-bag travel setup.
The second way I used this top pocket was on a few wildlife walks with my big 600mm lens. Quite often, I'm not out for a whole day with my bag, or I'm not walking too far from my car. In those cases, I often throw my big lens on my shoulder on a tripod and just grab a spare battery, teleconverters, and binoculars. In the past, I have used a dedicated belt pack for this purpose, and I know some that use Think Tank's belt system. While the skinny waist belt of this removable pocket isn't as comfortable as a dedicated solution, it greatly simplifies things. Due to size and weight constraints, I have never bothered to travel with a separate belt pack, but traveling with the FirstLight+ bag means you've always got one there should you need it. Cool stuff!
Expandable Front Pocket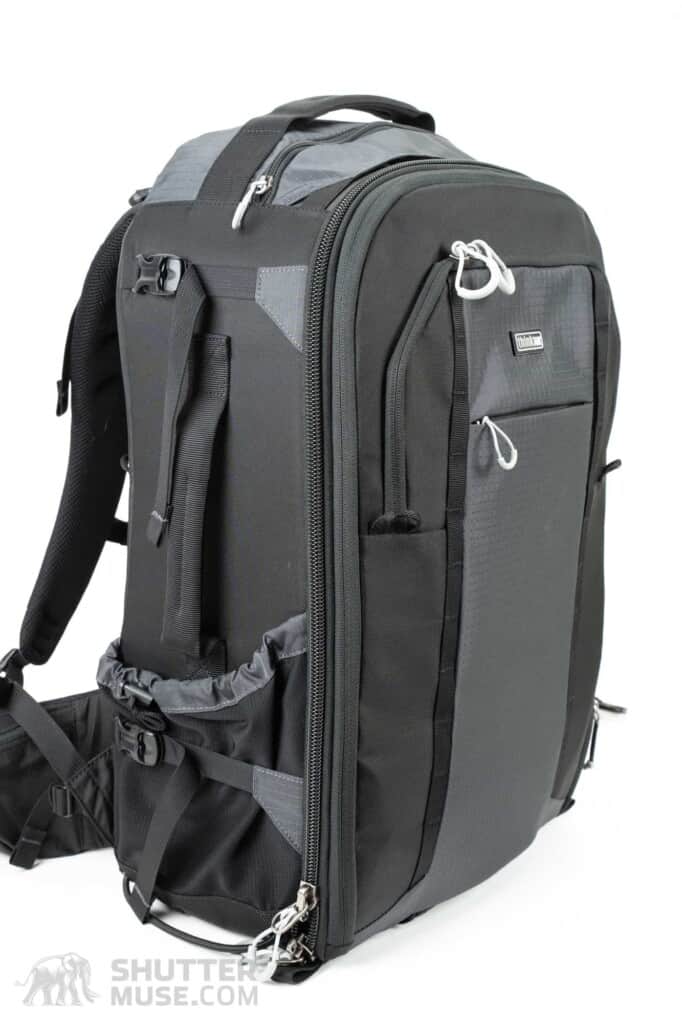 Alongside adding the removable top pocket, the FirstLight+'s expandable volume is the second headline improvement from the first-generation bags. To add 3-4 liters of additional volume, unzip the expansion zipper. What was a relatively slim front pocket for a laptop and perhaps a couple of packable layers suddenly becomes capable of carrying bulkier items such as an oversized winter jacket and thick winter gloves.
While I would always recommend zippering the expansion section closed for air travel to keep within dimensional restraints, I found myself leaving it open at all other times. Even if you don't need the added space to hold bulkier items, having that extra room in the front pocket makes accessing any item in that pocket or within the smaller organizational pockets a little easier.
Front Pocket Organization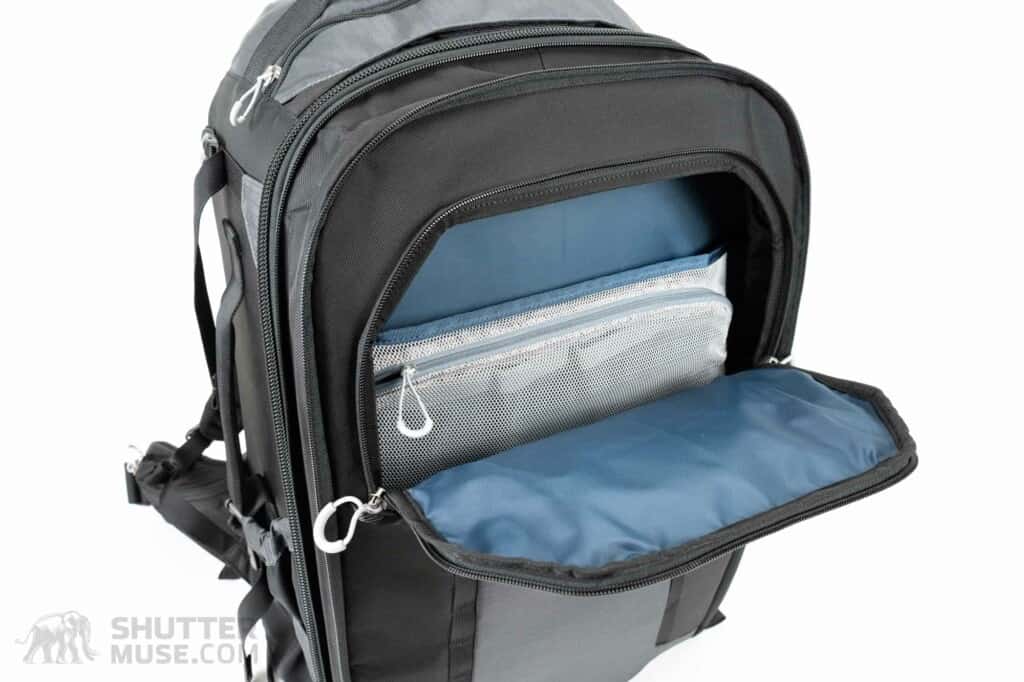 Inside the main front pocket, there's a zippered mesh pocket that spans the width of the bag. Inside the mesh pocket are two more non-zippered pockets lined with a soft material. Suppose you're traveling without the bag's top pocket in place (to keep the bag's overall size to a minimum). In that case, these front organization pockets are the place to store essential travel tech like your power bank, earbuds, and laptop charger. I also like to throw in a couple of pens and a Field Notes notepad.
Laptop Carry
Both the 35L+ and 46L+ have plenty of room for a 16″ laptop in the dedicated padded laptop sleeve. Although the padding on the sleeve is relatively thin, it sits at the back of the bag's front section and would be additionally protected by objects in that pocket and the padding on the front of the bag.
Front Zippered Pocket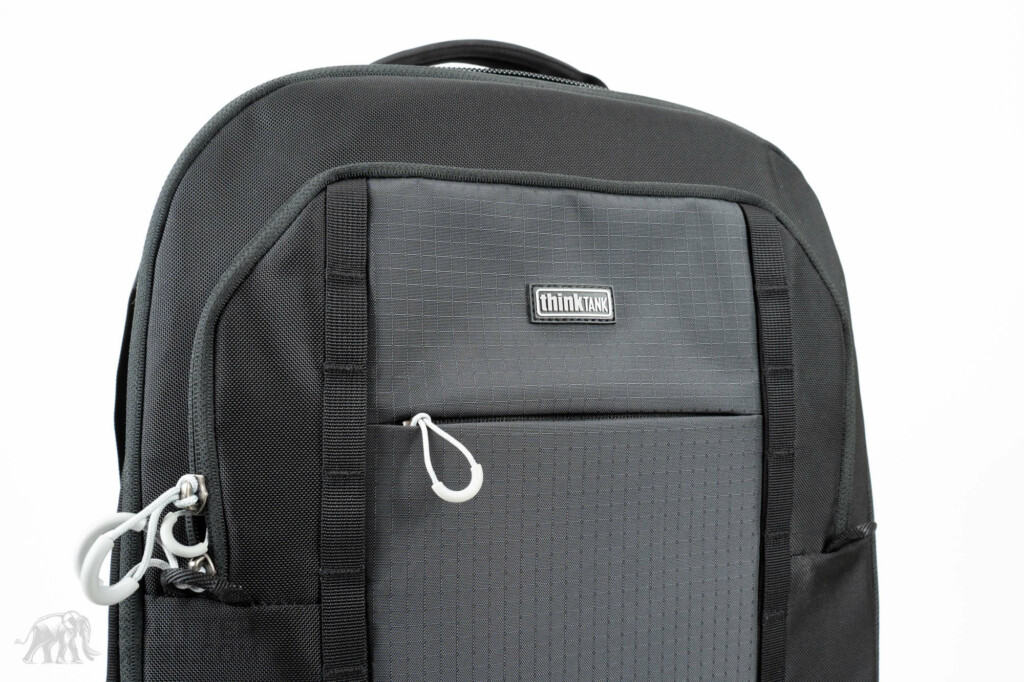 On the front of the bag is a zippered pocket with a soft felt liner. While Think Tank's intention is for you to use this pocket for your phone or sunglasses, I also found myself putting a 1.4x teleconverter in there. The soft lining of the pocket means I didn't need to bother with lens caps and kept it always within easy reach.
Top Pocket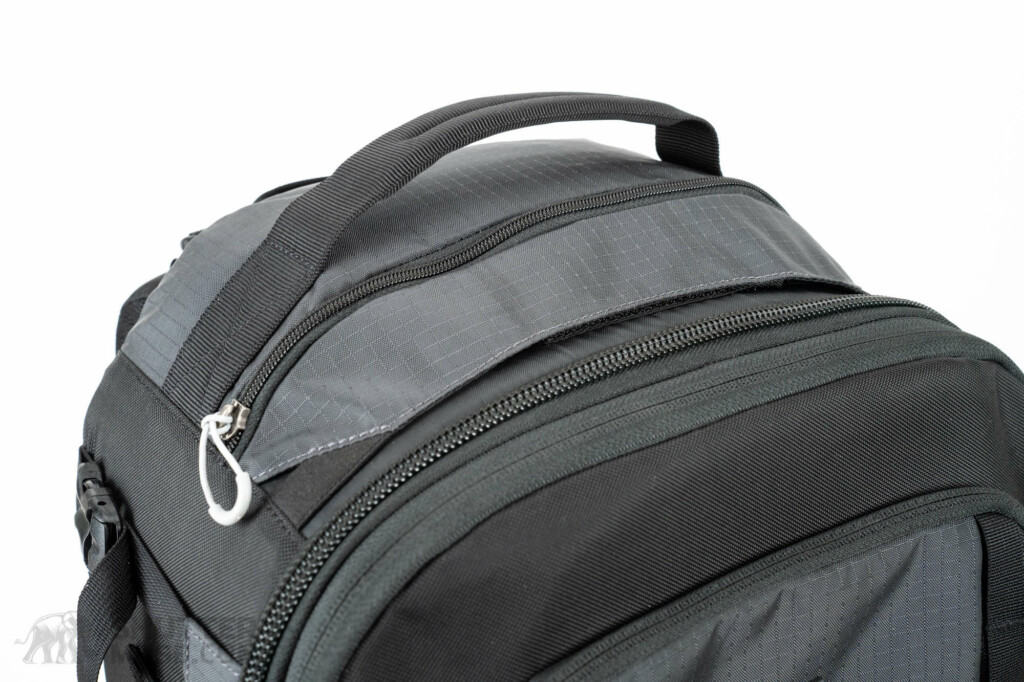 The top of the bag features a zippered pocket beneath the grab handle. Although the removable floating pocket hides this pocket, most people will not use the floating pocket during airport travel. Thus, this zippered pocket will be easy to access and makes the perfect place to store your passport and any small items you need to remove from your pocket while passing through airport security.
Side Mesh Pockets
Both sides of the bag feature large mesh pockets that hold items like water bottles, scrunched-up outerwear layers, or tripods. The base of each pocket is reinforced to prevent damage from your tripod feet. Sometimes on a long walk, I'll remove the gimbal head or ball head from my tripod to lower the center of gravity. The volume of the side pockets is generous enough to hold them until they are needed. The compression strap that passes right over the pocket ensures that large items do not fall out, while the elastic cinch strap keeps smaller things in place. A drain hole in the pocket's base is helpful when snow is melting from your tripod legs.
Zippered Side Pocket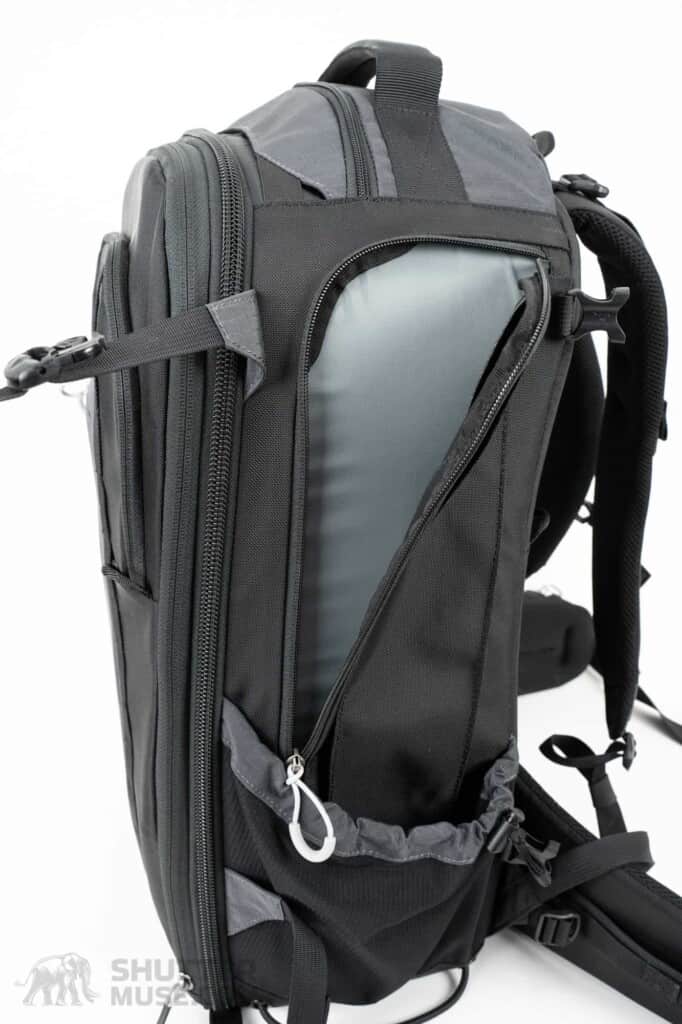 One side of the pack features a zippered pocket that runs the entire length of the bag. Although slim, the external panel of the pocket is pleated to add volume when larger items are inserted. I found this to be a great place to store the bag's included rain cover and my Think Tank Emergency camera rain cover. It is also an excellent place to store packable rain layers. As the photos demonstrate, this pocket is even wise enough and deep enough to hold a small tripod like the Peak Design Travel Tripod.
Grab Handles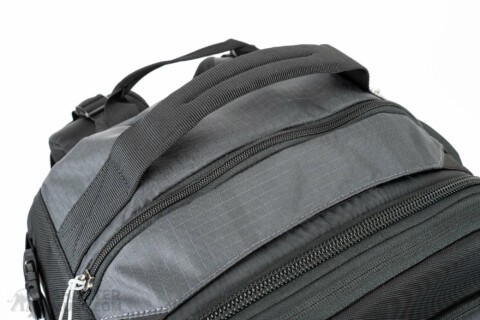 Chunky grab handles are on the top and one side of the bag, with an additional skinny handle on the bag's base. These handles help you lift the bag in and out of vehicles and into the overhead bin of an airplane. The floating top pocket obscures the top handle when attached, but I don't see this as a real issue as most people will remove the top pocket for air travel.
Harness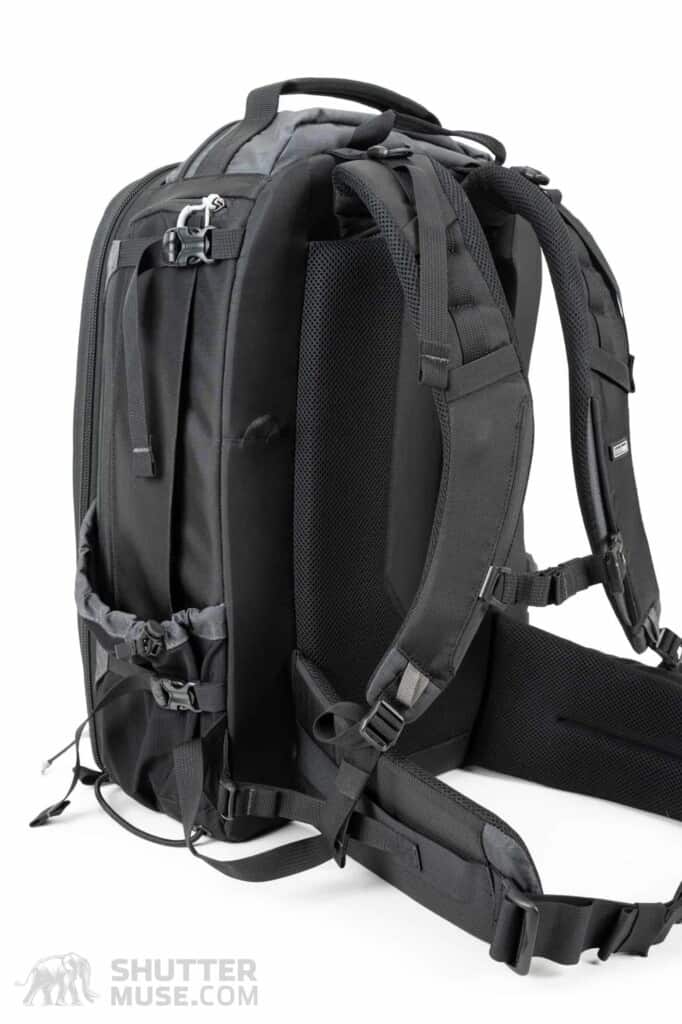 The 11-point harness is mainly unchanged from the original version of the bag, which is a good thing. It's adjustable in all the right places and even offers around four inches of torso length adjustment. A feature rarely seen in other nature photography packs.
Shoulder Straps
There's always a balance when creating a camera bag for heavy loads and travel. You can't go too crazy with the shoulder strap padding thickness, or you risk making the bag difficult to cram into the overhead locker and sticking out like a sore thumb to the gate agents. This isn't Think Tank's first rodeo, though. The padding on the FirstLight+ is aerated and comfortable, following a formula and material choice that will be familiar to existing Think Tank users.
Hip Belt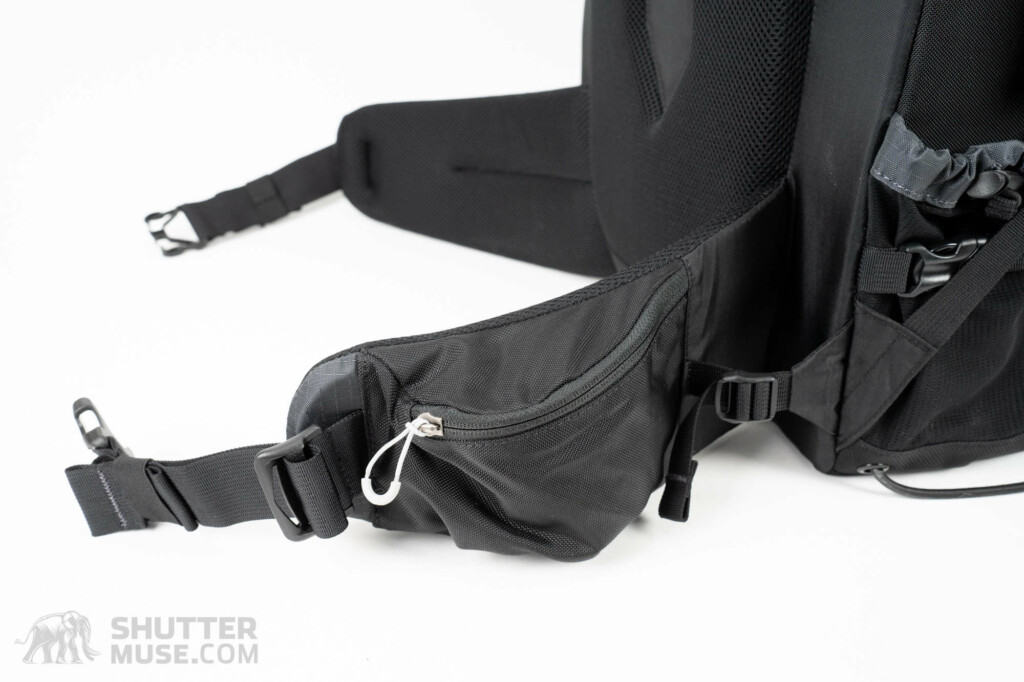 The hip padding on the waist belt is generously thick, as is the width of the padded section. You should have no trouble transferring some of the bag's weight onto your hips while hiking. While I have seen some camera bags with slightly thicker padding in this area, I'm struggling to think of another with such large hip pads. This is a good thing, and the slight contouring to the pads helps to hug your curves.
One side of the hip belt features a zippered pocket sized for small items like an InReach or GPS device, or perhaps a granola bar and some thin gloves. The other side of the belt features a blank rail that can be used to attach a small belt pouch, such as one of Think Tank's own modular belt components.
Sternum Strap
The sternum strap has a built-in emergency whistle and an elasticated section for expansion while you move. The sternum strap can be repositioned by sliding the two halves up or down the nylon piping. I prefer this adjustment method to those sternum straps that need to be entirely removed to be repositioned.
Tripod Carry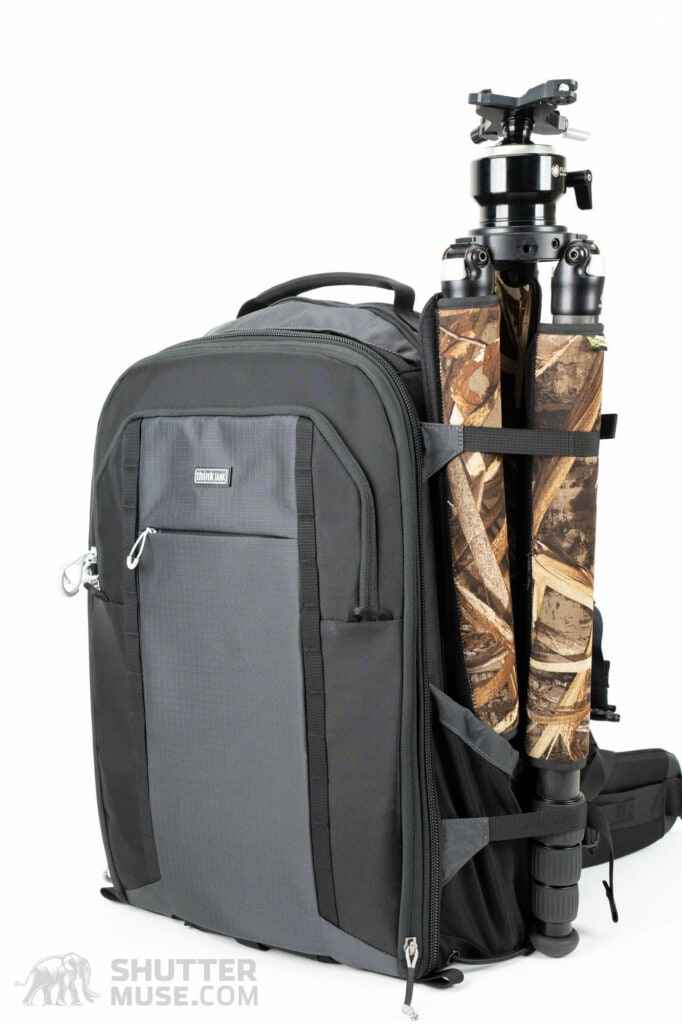 A tripod can be carried on either side of the bag using the elasticated side pockets to support the legs and the two adjustable cinch straps to keep things stable. Alternatively, a dedicated tripod strap is provided on the front of the bag, along with a fold-out tripod cup for the feet.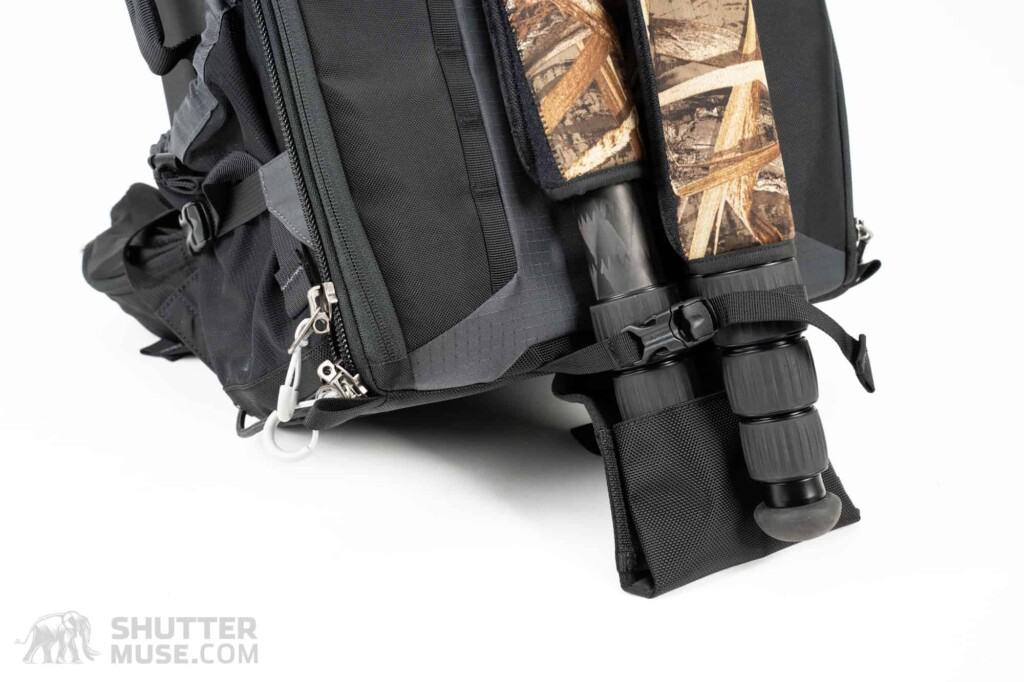 I don't fault Think Tank for including multiple options. However, I will point out several downsides to carrying a tripod on the front of the bag. Firstly, it hangs the heavy weight of the tripod away from your center of gravity, effectively pulling you backward. If you're carrying a FirstLight bag in the first place, you likely have a large lens inside it and, thus, a correspondingly large tripod to support it. Secondly, the way the front-mounted tripod system works suspends the feet of the tripod below the base of the bag in the tripod cup. This means you cannot stand the bag upright when you take it off your back.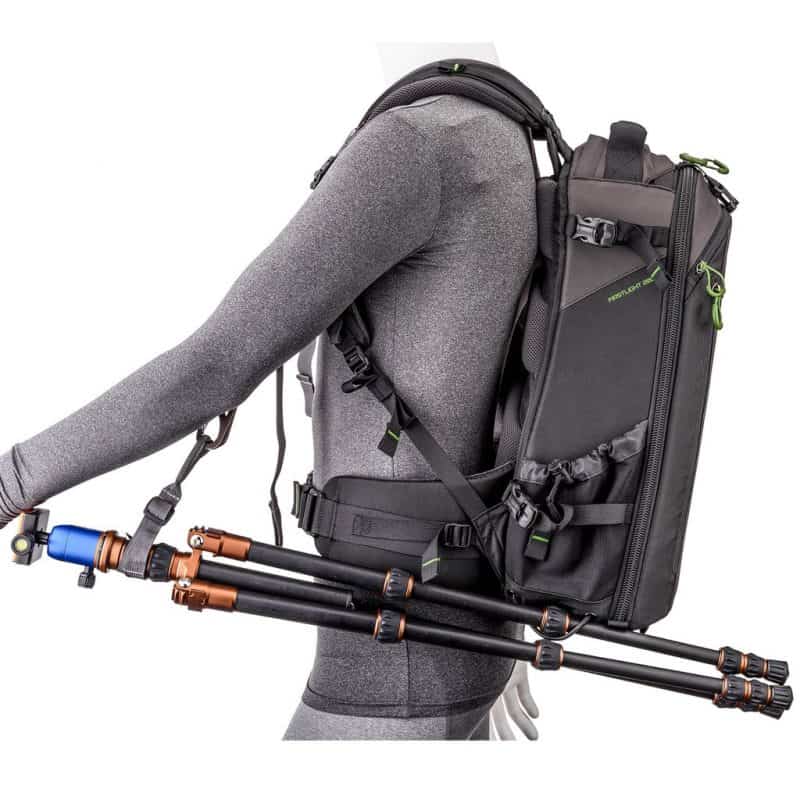 Think Tank's optional Tripod Suspension Kit is a third carrying option that directly supports the tripod's weight through the shoulder straps and stabilizes the load using an elastic loop on either side of the bag. I have owned one of these suspension kits for nearly a decade and can confidently say it is the most comfortable way to carry a tripod on a Think Tank backpack. That said, it is awkward on rough terrain where you might need a hand to steady yourself on a rocky climb. It's also (obviously) awkward in any place where you might encounter other people in a confined area. Be that a public city space or a tight footpath in a slot canyon. Around $45 is also a steep price when there are other ways to carry a tripod on this bag.
Hydration
The best way to carry water in the FirstLight+ packs is to slot 1L bottles into the side pockets. I'm also a big fan of compressible 1L and 2L Platypus water bottles, which can comfortably store in the expanded front pocket of the bag. While some may lament the loss of hydration bladder compatibility that was a feature of the original bag, I have personally moved away from them. Compressible water bottles are much lighter and far easier to clean. If you want immediate access to water without removing the bag, pick up one of Think Tank's modular accessory pouches and add it to the waist belt.
Rain Cover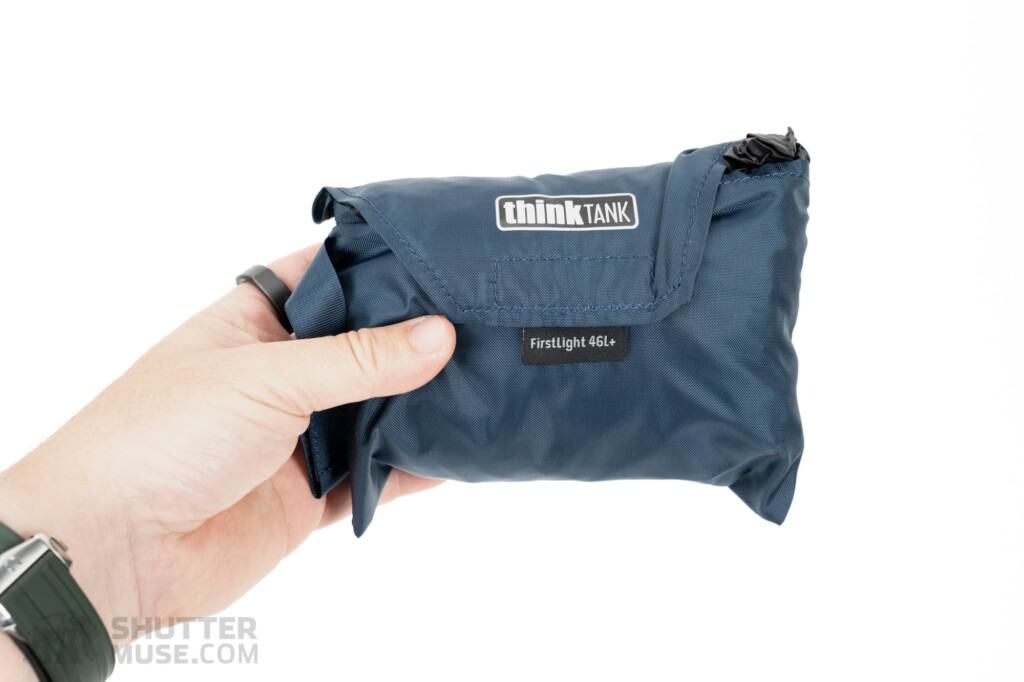 The FirstLight+ packs come with a waterproof rain cover. Although the bag's outer material is treated with a water-repellent coating, it's worth using the cover in prolonged downpours. The zippered side pocket makes a convenient rain cover storage location. With the not-insignificant price tag of these bags, I'm glad to see the rain cover included.
Air Travel With the FirstLight 35L+ and 46L+ Backpacks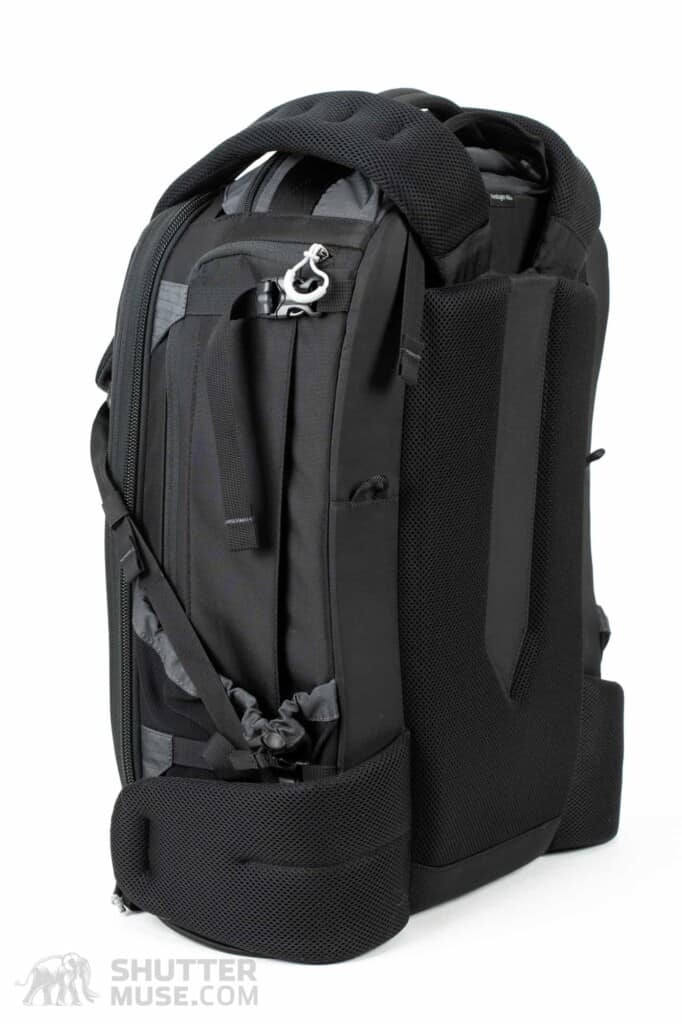 External Dimensions in Linear Inches: 35L+ = 39.7″ / 46L+ = 44.5″
While aesthetically less pleasing than the more traditional tapered shape of many backpacks, the cubic form of the FirstLight+ packs makes them highly efficient for air travel. There's almost no wasted space in the corners. This trait is shared with its version 1 predecessor and is one of the main reasons the original FirstLight was so popular with traveling photographers. Particularly those carrying super-telephoto lenses such as a 400mm f/2.8, 500mm, 600mm, or 800mm. In fact, you can quite easily carry two super-telephoto lenses in the 46L+. A feat that is not often possible in camera bags.
Of course, photographers never want to check or even gate-check their precious camera gear, so carry-on compatibility is always a concern when choosing a camera backpack like the FirstLight+. It's impossible to give a blanket statement about whether you can fly with either FirstLight+ backpack. However, a common measurement for carry-on compliance on international flights is 45 linear inches. The FirstLight 35L+ comes in well under this measurement at 39.7″, and the 46L+ measures just under, at 44.5."
When evaluating these sizes and carefully checking the carry-on specifications for your usual airlines, consider these dimensions are an empty bag with the expanded front pocket closed. If you expanded the front pocket on the 35L+ to take it to 38L and then filled the floating top pocket, you could easily reach a 45-inch measurement. Of course, the 46L+ is already borderline, so you might as well remove the top pocket for air travel. Placing anything in it would push you over the edge.
Of course, rules are different all around the world. Those traveling within the United States should have no issue with either size due to the usually more lenient carry-on regulations. In contrast, those traveling internally in Australia will struggle to get the 46L+ onto Qantas and Virgin Australia flights due to their far tighter carry-on rules. Make sure you do your homework before you fly.
FirstLight+ Air Travel Tips
Fitting within the carry-on dimensional limitations is one thing, but meeting the weight requirements is another. With a full backpack of cameras and lenses, it's impossible to stay below a 7KG limit or even 10KG. My advice when traveling with an overweight camera bag is always the same: Do everything you can to make your bag look smaller and less conspicuous. This is particularly important with the FirstLight+ bags as their boxy-looking nature, while efficient for packing, makes them look larger than a bag that tapers more towards the top corners.
With the FirstLight+ backpacks, I recommend removing the floating top pocket and checking it in your suitcase or duffel bag with your clothes if you aren't using it as your carry-on personal item. This small tweak really changes the outline of the bag and makes it look smaller and less technical. Remember, what you want to do is look like everybody else. Don't stick out, or you might hear the dreaded line, "Excuse me, Sir/Madam, can I weigh your bag, please?". (I have nightmares about this).
The second thing you'll want to do is tighten all the side straps and remove everything from the side pockets. Again, this isn't to ensure you fit within dimensional carry-on requirements. Instead, it gives the appearance of a smaller bag. I once read that one of the biggest triggers for an airline agent asking to weigh a bag or check its dimensions is whether a backpack visibly sticks out from your sides when approaching the desk or final boarding lane. That makes a lot of sense, so keep this in mind.
Usually, I also advocate removing the waist belt from a backpack and checking that in your duffle bag. This makes it easier to stow in the overhead bins on the plane and hides the fact that the thickly padded belts are designed to support a lot of weight. Unfortunately, on the FirstLight+ packs, the waist belt is not removable, which is perhaps the only real negative I could find in the overall design of this bag.
Think Tank FirstLight Vs. BackLight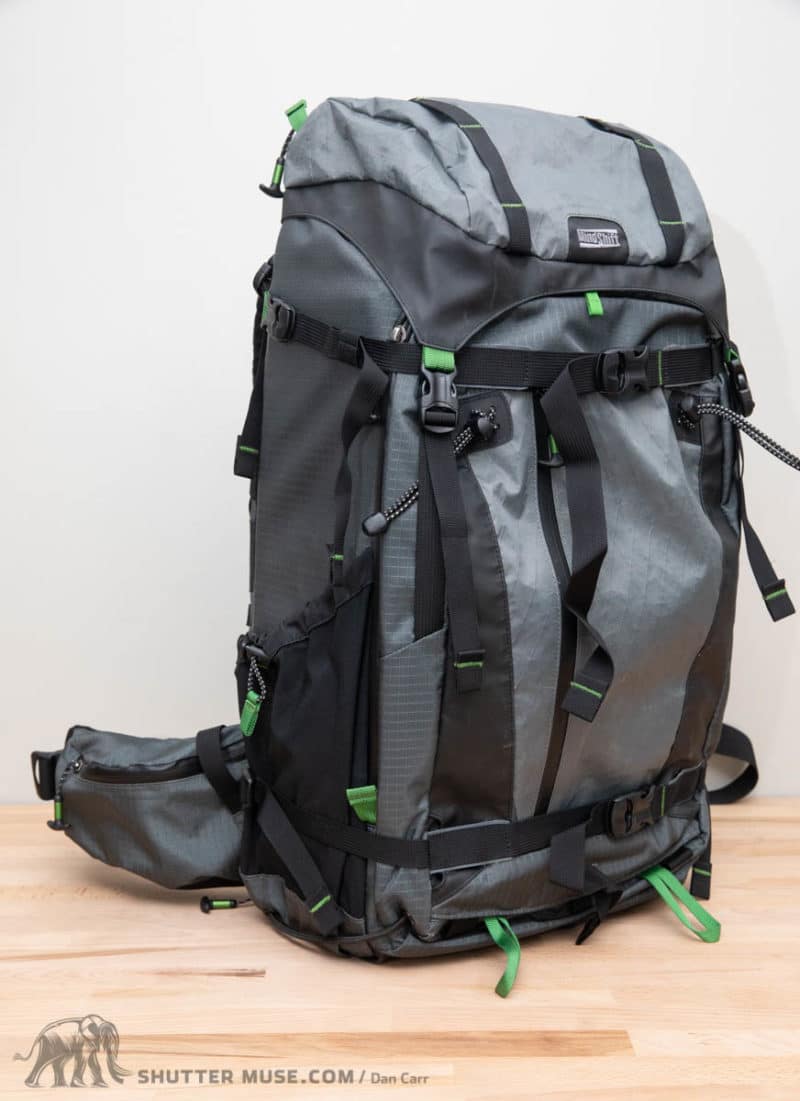 Think Tank's range of outdoor photography packs also includes the BackLight series, so it's reasonable to assume some of you may be considering one of those packs as an alternative to the FirstLight. I have reviewed the 26L, 36L, and Elite 45L FirstLight packs on this site, so I have first-hand knowledge of the key differences.
Camera gear in the BackLight packs is accessed through the back panel. This widespread access method for outdoor photography packs allows you to lie the bag on its front to access gear from the rear, thus, keeping dirt, sand, and snow off the pack's harness. The downside to this design is that you have to stitch the pack's shoulder straps onto the back of the bag, which means the opening for camera gear access can only be as big as the intended torso length. The central image above demonstrates this well. The bag can be taller than the rear opening, but the space at the top is less easily accessible due to the shoulder strap attachment point.
The Think Tank FirstLight packs were introduced to solve that problem. The front panel access allows the entire internal volume to be accessed with one zipper and one central opening, making it far easier to carry super-telephoto lenses or other bulky cameras such as video rigs. The downside is that you must watch where you open the bag to not cover the harness in the dirt that transfers to your clothing.
At their core, the FirstLight and BackLight packs have very different access methods, but if we compare specific models, we also need to consider some dimensional differences. Let's start with the bigger sizes. If you're considering the FirstLight 46L+, you might also cast an eye over the BackLight 45L. Externally, these bags are similarly sized. However, the FirstLight 46L+ has a deeper camera compartment, making it suitable for carrying super-telephoto lenses with large-diameter lens hoods (400mm f/2.8, 600mm f/4). Lens hoods with those diameters are uncomfortable in the BackLight 45. It's not deep enough and leaves a bulge in the back panel. The largest telephoto lens I would carry in the BackLight 45 is a 300mm f/2.8, 400mm f/4, 200-600mm or 200-400mm.
What about those who are looking at the FirstLight 35L+? Is it also worth considering the BackLight 36L? The answer is no, not if you're here to carry long lenses. Again, just like the larger model, the size and depth of the camera compartment make the difference. Externally, the BackLight 36L and FirstLight 35L+ have similar dimensions. However, the FirstLight 35L+ will comfortably carry a lens with a wide-diameter super-telephoto lens hood like a 400mm f/2.8, whereas the BackLight 36L should be limited to lenses like a 200-600mm.
If you haven't figured it out, the FirstLight series is the better solution for super-telephoto lens users, but it doesn't mean users of smaller lenses should avoid these bags. You can get more camera gear in the FirstLight 35L+ than in the BackLight 36L. And you can get more camera gear in the FirstLight 46L+ than in the BackLight 45L. If you want the ultimate camera carrying capacity for a bag of these sizes, the FirstLight series is the way to go. Just be aware of the differences in camera access when making your decision.
Price Point Discussion
At launch, the FirstLight 35L+ and 46L+ are priced at $399 and $425, respectively. These high-end carrying solutions will primarily be used by people carrying a significant 5-figure sum of camera gear, including long lenses worth more than your average second-hand car. As such, I doubt the price of these bags will be an issue, but I still wanted to place it in context with the rest of the market.
When it comes to carrying super-telephoto lenses in a bag designed for both travel and rugged outdoor adventures, I consider the main competition for the FirstLight packs to be from the Gura Gear Kiboko 30L+, the Shimoda Action X50 v2, and Action X70 HD, the F-Stop Tilopa 50L, and possibly the LowePro Trekker BP 550 if you don't use larger than a 400mm lens.
| Backpack Models Sized for Super-Telephoto Lenses | Price (2023) |
| --- | --- |
| Think Tank FirstLight 35L+ | $399 |
| Think Tank FirstLight 46L+ | $425 |
| Think Tank BackLight Elite 45L (review) | $439 |
| Think Tank BackLight 36L | $318 |
| Gura Gear Kiboko V2 30L+ (review) | $459 |
| Shimoda Action X50 v2 + Large Core Unit (review) | $454 |
| Shimoda Action X70 HD + XL DV Core Unit (review) | $499 |
| F-Stop Tilopa DuraDiamond 50L + XL ICU (review) | $499 |
| Lowepro Pro Trekker BP 550 AW II | $531 |
In the table above, I have sourced current pricing for the competition. Where necessary, I have added the price of a rain cover and an internal camera block to make all items as functionally equal as possible. As you can see, despite the high sticker price on these FirstLight+ packs, Think Tank has been quite aggressive with their pricing. These are the best-priced backpacks on the market for carrying super-telephoto lenses. Considering the lengthy feature list, including things like adjustable torso length, removable top pocket (convertible to waist pack), and included telephoto lens support collar, this is impressive.
Conclusion
The Think Tank FirstLight+ bags are designed for traveling photographers who want to maximize the amount of camera gear they can get into a carry-on-sized backpack. Their boxy shape and front-access design allow every cubic inch of internal space to be easily accessed and filled. Notably, for bags designed for nature and wildlife photographers, the FirstLight+ series also features a highly comfortable 11-point harness with an adjustable torso length.
For this evolution of the FirstLight series, the new 35L+ and 46L+ packs feature a new removable top pocket that can cleverly double as a lightweight belt pouch, as well as an expandable front pocket and an array of organizational improvements. While the FirstLight bags have always been great for carrying a ton of gear, including super-telephoto lenses, the older model fell short against its rivals with its pocket configuration and internal organization. With these new FirstLight+ packs, Think Tank's designers have fixed that while maintaining the carry-on sizing and comfort during a day on the trails. This is a worthy upgrade to a workhorse series of camera packs.
Where to Buy + Free Gift
US Customers get a free gift when they spend over $50 in the Think Tank/MindShift online store after clicking this link. For more details, or if you have any issues, see this post.
The FirstLight+ backpacks are available using the links below. As always, it is greatly appreciated when you use our links for your purchases. Of course, if you're in the US, I recommend buying directly from Think Tank Photo to take advantage of the special gift you will receive during checkout if you have clicked our link. Canadian customers should buy from B&H to take advantage of their free shipping policy and the option to pre-pay the duties at checkout.