The Think Tank SpeedTop Backpack is a convertible pack with travel-specific features and a clever magnetic opening. When the SpeedTop Backpack is combined with Think Tank's Stash Master camera cubes, this travel bag becomes a camera bag for small mirrorless setups. As Think Tank Photo often do, they sent this bag to me before its release so that I could test it out and write this detailed review.
Disclaimer: Think Tank sent me this bag for review. No money changed hands, and they did not get to see the content before it was published.
Table of Contents
Think Tank SpeedTop Backpack Specifications
The Think Tank SpeedTop Backpack is available in 20L and 30L models. Both sizes are well within international airline carry-on limits, and I daresay the smaller SpeedTop 20 might even fall within dimensional definitions for "personal item" with some airlines. Please don't take my word for it, though. Do your research on this point with your most-often used airlines.
| Specification | SpeedTop 20 | SpeedTop 30 |
| --- | --- | --- |
| External Dimension (inches) | 20" H x 11.5" W x 6.25" D | 21.5" H x 11.5" W x 7" D |
| External Dimension (cm) | 50.8 H x 29 W x 15.9 D | 54.6 H x 29 W x 17.8 D |
| Volume | 20 liters | 30 liters |
| Weight | 2.8 lbs. (1.27kg) | 3.1 lbs. (1.4kg) |
| Laptop Compatibility | Up to 16″ | Up to 16″ |
| UPC | 874530001086 | 874530001093 |
| Price | Check Price | Check Price |
Both bags feature the same materials: 500D Cordura, PolySpun 550D, Poly 200D, Ultra Spandex, YKK® RC zippers, Nylon web, Durable water-repellant (DWR) coating
Camera Bag Conversion with Stash Master Cubes
Think Tank created the Stash Master range of padded camera cubes for two purposes. Firstly, they are a great way to turn any regular non-photographic backpack, tote, or duffel bag into a camera bag. Secondly, they allow Think Tank to continue expanding their product portfolio into the travel space while still giving their photographer fanbase a way to effectively use bags from their Travel Series bags for camera gear.
The SpeedTop Backpacks are no exception and are designed to work with the Stash Master cubes. More specifically, the SpeedTop 20 Backpack is designed to work with the Stash Master S photo cube, and the SpeedTop 30 Backpack is designed to work with the Stash Master M photo cube. For more detail about the features of these camera cubes, I'd encourage you to check out my Think Tank Stash Master review.
The camera cubes are secured in the SpeedTop backpack by hook-and-loop fasteners and a y-shaped strap with a magnetic latch. When the bottom section of the bag is used to store clothes, this same strap is used as a compression strap. With a camera cube secured, the long, snaking zipper on the bag's front allows you to access your camera with the bag on the ground or from the side by slinging the bag around to your front.
Thoughtfully, the hook-and-loop strap attachment points are mirrored on both sides of the bag, and the main zipper also runs symmetrically around both sides. The result is those that want to use that sling-around side access method to get at their camera gear can configure the bag for right or left-handed use.
What Can These Cubes Hold?
The SpeedTop Backpacks are suitable for non-gripped mirrorless cameras or DSLRs.
The Stash Master M for SpeedTop 30: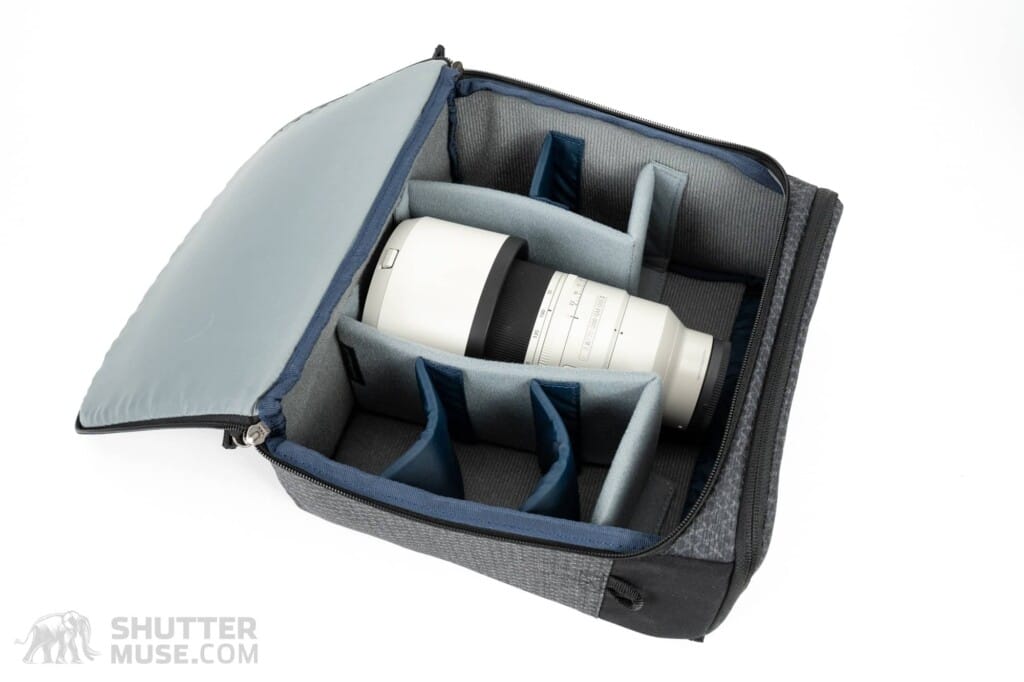 The Stash Master M will hold up to a 70-200mm f/2.8 lens. It differs from the smaller Stash Master S in that not only does it open at the top, but the entire back panel of the cube also opens.
1 – 2 standard bodies (e.g. Sony A7 series, Nikon Z7)
3 lenses (e.g. Nikon 70-200mm f/2.8, 24-70mm f/4, 35mm f/1.4, 85mm f/1.4 – Up to 70-200mm f/4 unattached)
Flash
Gripped or pro body placed flat (eg Nikon Z9)
Zippered mesh pocket: Batteries, card wallet, lens cloth
SpeedTop Backpack Features
Think Tank never makes dull bags. They are always packed with interesting and often unique features. The SpeedTop Backpack series is no different, so let's take a closer look.
SpeedTop Magnetic Top Access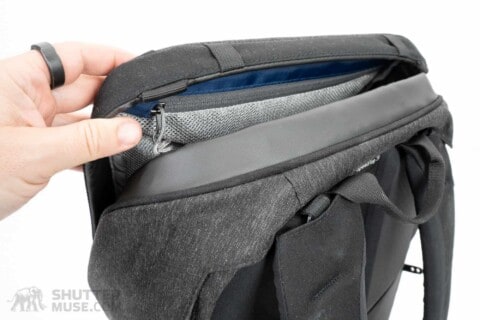 The main hatch-style lid on the SpeedTop Backpack is held closed by a series of strong magnets housed around the opening's rim. The hatch closes with a satisfying "click" when you bring it down, and the lid is secure enough to hold considerable weight should the bag be accidentally turned upside down. If you need some added security, such as while riding crowder public transport, a pair of metal hooks can hold the lid tightly shut.
Laptop and Table Pockets
The SpeedTop 20 and SpeedTop 30 can carry up to a 16″ laptop in the padded laptop pocket. In front of that pocket is a second flat, padded pocket that can be used with a large tablet or letter-sized documents. Both the laptop and tablet pockets have a floating bottom to prevent damage to your devices when you set the bag down on the ground too quickly.
Interior Mesh Pocket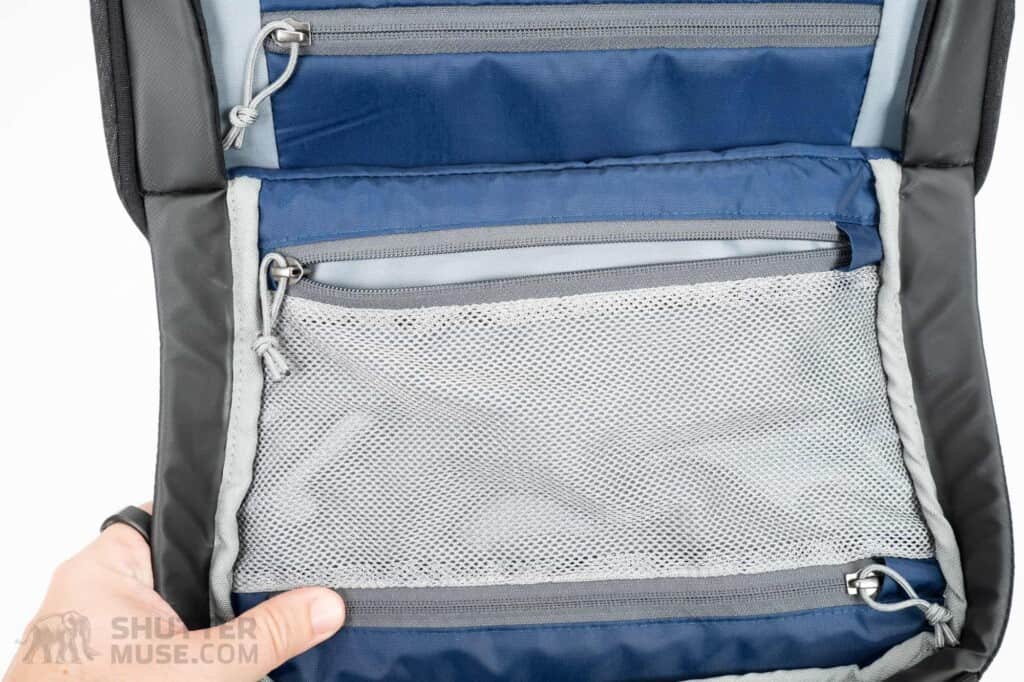 Flipping the lid reveals a mesh pocket with zippered access at the top and bottom. The dual access points to the same pocket give you access when the bag's lid is fully opened and flipped forwards or when you crack the lid a little and reach in from the top. Smart thinking. Inside this pocket is a key clip or a handy place to secure your memory card wallet if you're using the bag for photography.
Interior Accessory Pocket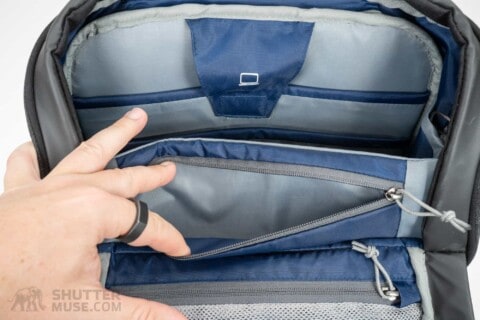 Between the Mesh pocket and the laptop pockets is another zippered pocket. This is a shallow pocket, best suited to pens or other similarly small items.
Convertible Interior Divider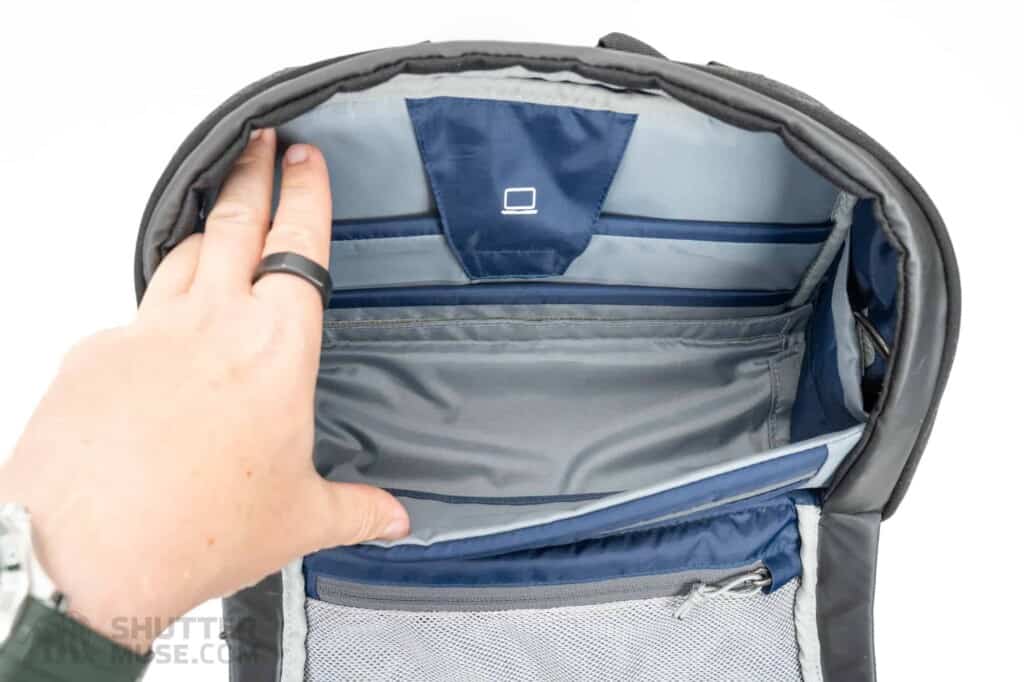 Out of the box, the bag's top section is separated from the bottom by a floating divider. If you're carrying a laptop or tablet, you'll probably want to keep it this way as the separation gives you a great place to store your laptop charger and other tech items like hard drives, memory card readers, or headphones. If you want to use the bag to carry some clothing or larger items for a few days of travel, this panel can be folded out of the way to convert the interior into one large volume.
Exterior Lid Pocket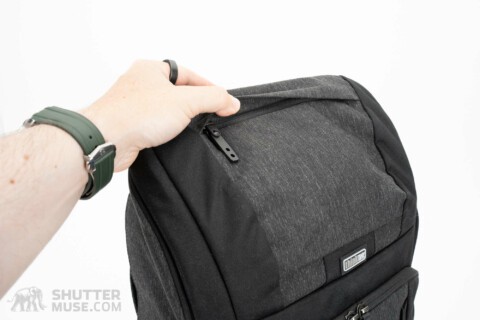 The zippered pocket on the lid's exterior is lined with a soft material, making it the perfect place to store sunglasses or your cell phone.
Exterior Bottle Pocket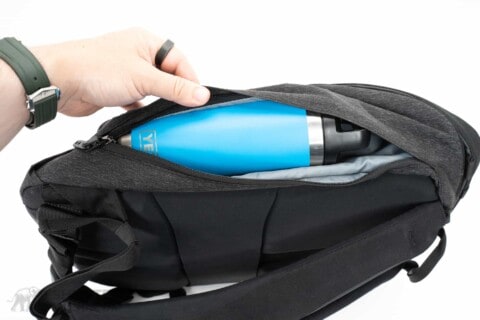 One side of the bag features a tall zippered pocket for a water bottle or rolled-up clothing. It can hold skinny-style metal water bottles. Like me, if you're a 1L Nalgene user, you can just about squeeze one into the open-topped side pocket on the opposite side of the bag. That said, if the bag's interior is already full, this becomes too tight and cumbersome. It is best to stick with metal 600-750ml bottles in this bag.
Charger Pocket with Cable Pass-Through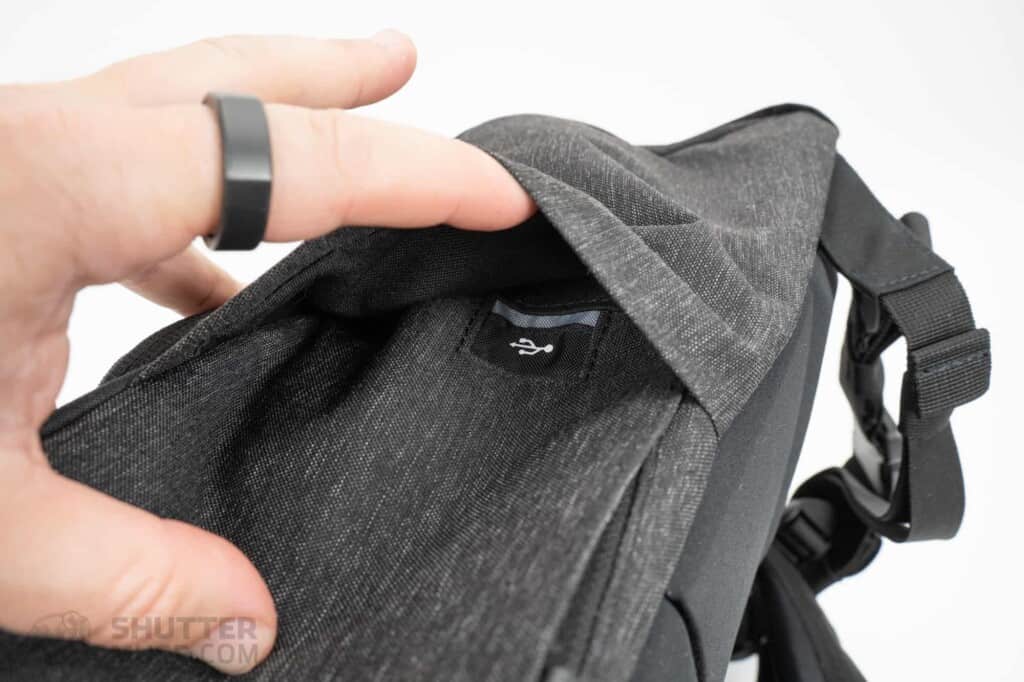 The other side of the bag features a smaller zippered pocket designed for a USB battery bank. This pocket has a cable pass-through to the bag's interior, allowing you to charge larger items, or even your laptop, inside its main section.
A second pass-through hole can send the USB cable into the open-topped side pocket. Honestly, I'm not sure what I would use this for. It would have made more sense for the cable to have a pass-through to the zippered fleece-lined front pocket, as this is marketed as a soft, semi-protected phone pocket. If anything needs charging on a day out, it's usually your phone!
Security Cable and Lock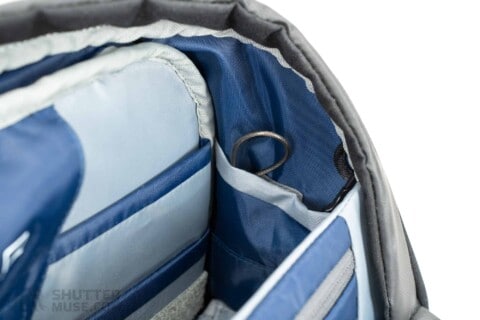 A combination lock attached to a security cable is tucked into an interior side pocket. This isn't for locking the bag's zippers. Instead, it is designed to secure the whole pack to an immovable object. Presumably, the idea is to prevent a split-second snatch-and-grab situation in a public space. If a thief had more than a few seconds to make their move, this cable wouldn't stop them from simply opening the top of your bag and stealing the laptop.
Harness and Comfort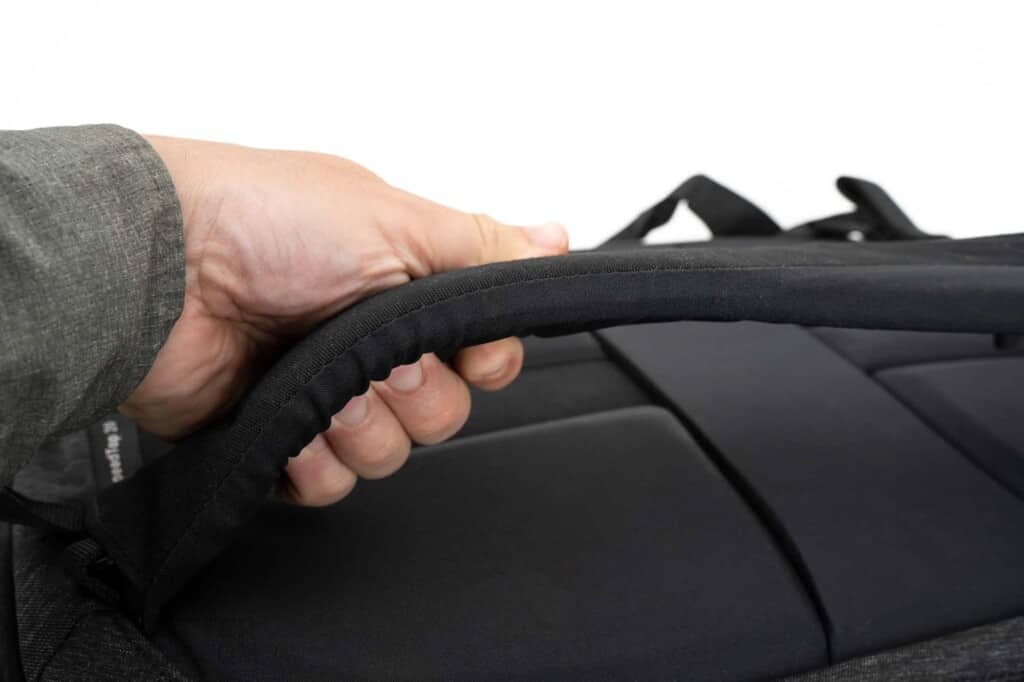 The thickness and comfort of the shoulder straps and back panel surprised me. Smaller backpacks like this are often given thinner, less impressive padding in this area, but the SpeedTop Backpack shines here. These shoulder straps are soft yet supportive with a fully loaded bag. It may seem dull to say this, but this bag's overall comfort was one of my favorite features. It's a real standout compared to other similarly sized and priced bags.
Removable Waist Belt
The bag comes with a basic, removable waist strap. The strap doesn't offer any padding, making its primary function load stabilization rather than weight transfer to your hips. When not in use, the strap can be stored in the zippered pocket on the base of the bag with the included rain cover.
Luggage Handle Pass-Through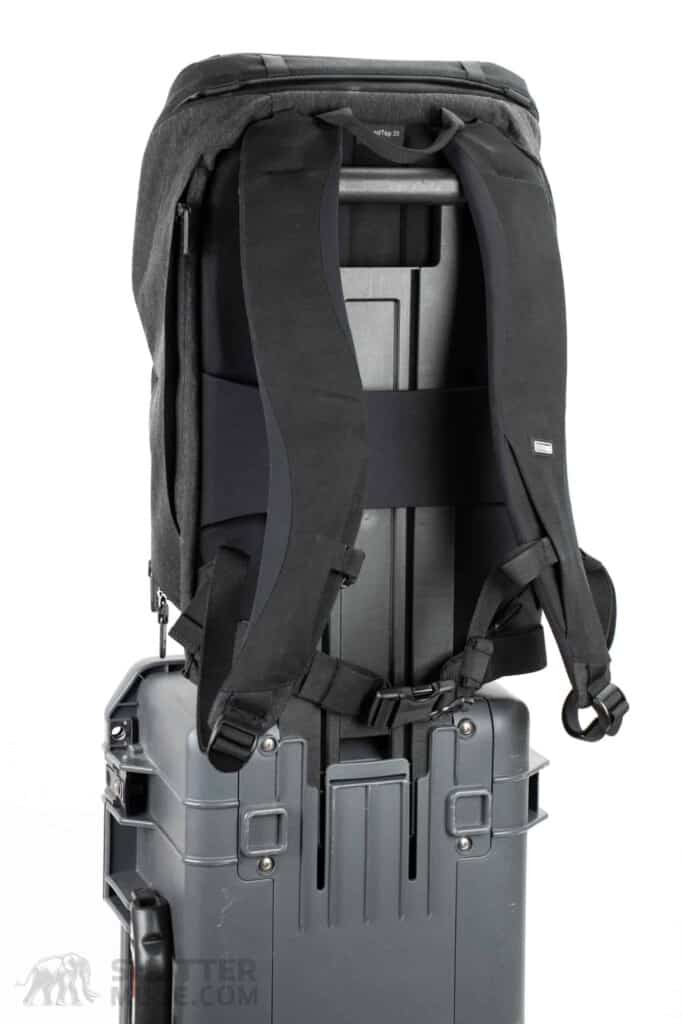 Included Rain Cover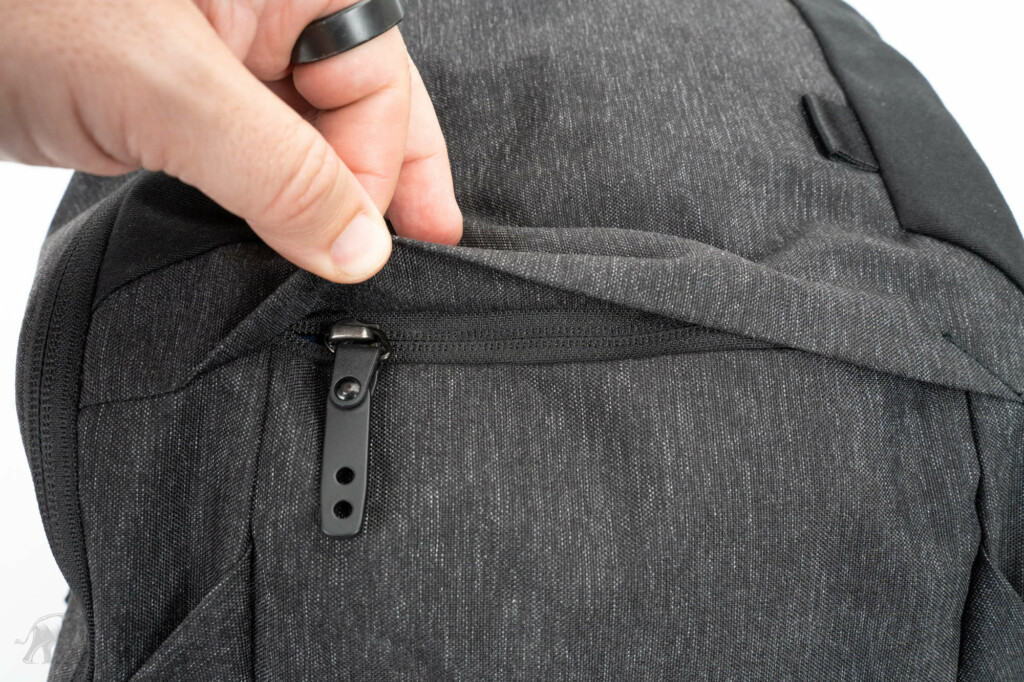 A rain cover is included with the bag and located in a dedicated zippered pocket on the base of the pack. While the exterior materials are treated with a DWR water-resistant coating, you'll want to deploy the rain cover in a heavy downpour or even a moderate shower if you wear the bag while cycling to and from work.
Can You Carry a Tripod on the SpeedTop Backpack?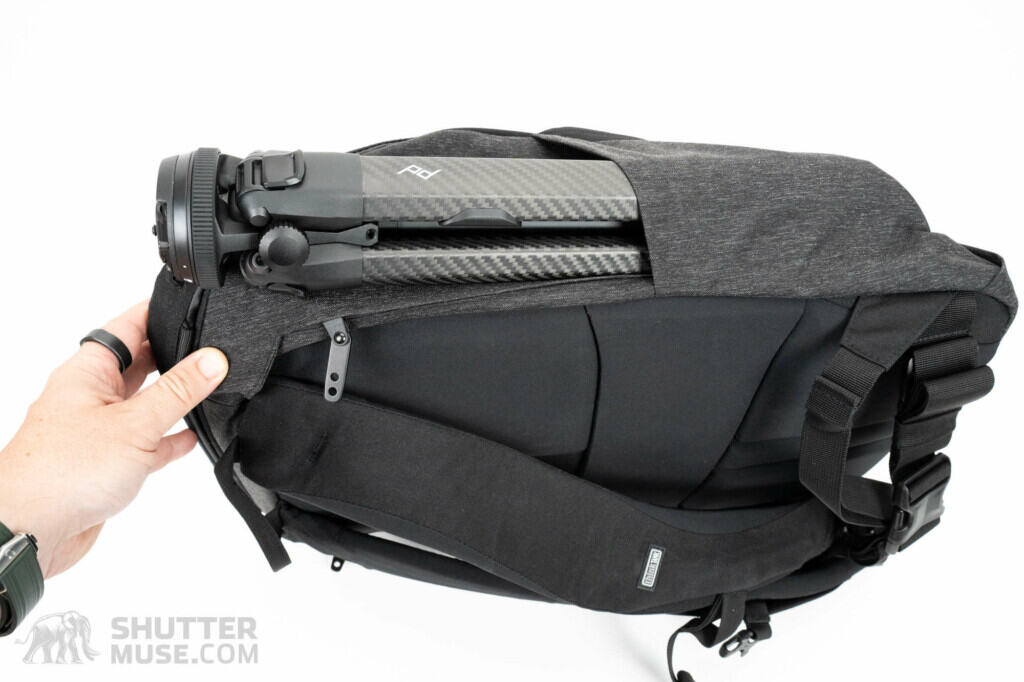 No. There is no way to carry a full-sized or even a travel tripod on the Think Tank SpeedTop Backpack. If you need to support a camera with anything larger than a tabletop tripod, you should look at a different backpack. I get that this bag is a travel bag first and a camera bag second. However, I still think this is a shame. Plenty of other travel/photography crossover bags can carry a tripod. The side pocket is already in place. All it needed was one removable strap to secure the tripod's top.
SpeedTop Backpack Vs. Crossbody
If you're reading about the SpeedTop Backpack, there's a good chance that you've also noticed another bag in the Think Tank lineup carrying the SpeedTop branding. The SpeedTop Crossbody bag is part shoulder bag, part sling bag, and part hip pack. They both use the SpeedTop magnetic closure system but are deployed differently. On this point, I want to underline a difference between these bags that I found confusing while conducting my review research.
In my review of the Think Tank SpeedTop Crossbody, I wrote about how much I enjoyed the magnetic SpeedTop function as a way to get fast access to your camera equipment. Both the SpeedTop Crossbody and SpeedTop Backpack use nearly identical magnetic systems. However, the SpeedTop Crossbody is a dedicated camera bag and is thus listed in the camera bag section of the Think Tank catalog. On the other hand, the SpeedTop Backpack is, first and foremost, a travel bag. Thus, it is listed in the travel bag section of the Think Tank catalog. This also explains why the SpeedTop magnetic mechanism is not used for camera access on the SpeedTop backpack. Camera carrying and access is not the primary concern of the SpeedTop Backpack as it is on the SpeedTop Crossbody.
Pricing and Competition Discussion

When writing this review, the SpeedTop 20 is priced at $149 on the Think Tank site, and the SpeedTop 30 is priced at $169. If you add the optional Stash Masters to carry some camera gear, the overall price for each will jump to $207.75 for the SpeedTop 20 + Stash Master S and $238.75 for the SpeedTop 30 + Stash Master M. The expensive materials, including a rain cover, TSA security cable, and the magnetic SpeedTop function, all contribute to the feeling that this price is well justified.
Inevitably, any camera bag manufacturer making a daily-use backpack for travel and photography will have its product compared to the incredibly popular Peak Design Everyday Backpack. Peak Design's backpack is also available in 20L and 30L sizes, with prices of $279.95 and $299.95 at review time.
The features of the Peak Design backpack are slightly different from the SpeedTop backpacks, so a direct comparison isn't quite fair. What can be said is that the SpeedTop packs are designed to be more travel-oriented, while the Peak Design Everyday bag is designed more like a camera bag. To put it a different way, the Think Tank Speedtop Backpack is a travel bag that can hold a camera, while the Peak Design Everyday Backpack is a camera bag that can work as a travel bag. A better comparison would be the Peak Design Travel Backpack 30L ($229.95) with its optional Medium Camera Cube ($69.95) for $299.90. Around $60 more expensive than the SpeedTop 30.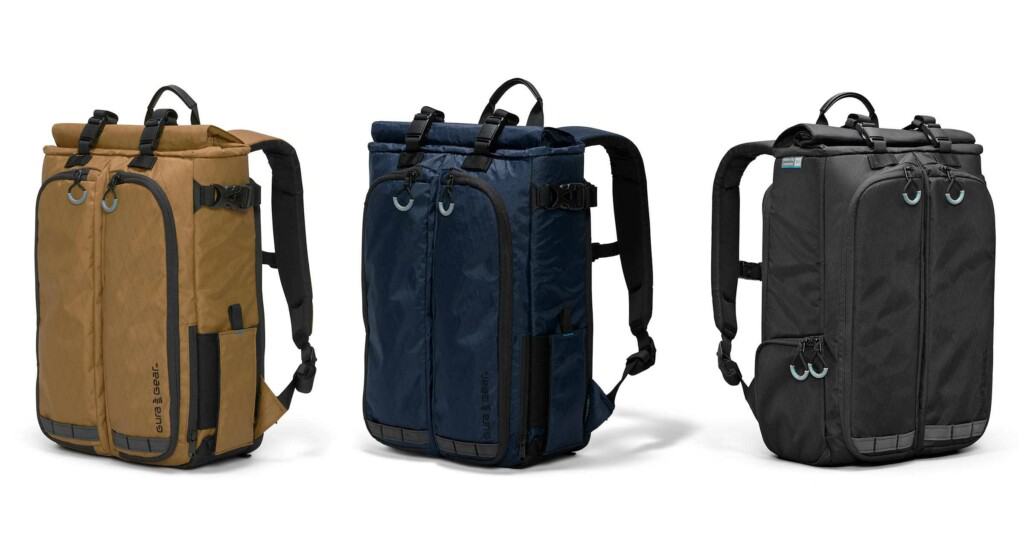 Another bag worthy of consideration in this travel camera bag category is the phenomenal but expensive Gura Gear Kiboko City Commuter 18L. Coming in at around $299, this 18-liter bag features a roll-top design and lightweight X-Pac fabric. If the price of that bag doesn't scare you away, it's worth reading my review and putting that on your shortlist too.
Conclusion
The Think Tank SpeedTop Backpack is a travel-friendly backpack that can convert into a camera bag for light use. The bag features Think Tank's usual high-quality material and hardware selections, in addition to innovative features like the magnetic lid and unusual main zipper design.
Fans of Think Tank's camera bags should understand that this bag is, first and foremost, a daily-use EDC pack designed for commuting and travel. Used this way, carrying my laptop kit around town to coffee shops and packing it for weekend adventures, it did a great job.
With Think Tank's optional Stash Master camera cubes, the SpeedTop Backpack can carry a small camera kit. Compared to using a dedicated camera bag, some users will find the SpeedTop Backpack unsatisfactory, with the main issue being the lack of any way to carry a tripod. My advice is to remember that this bag is part of Think Tank's travel bag lineup and not one of their camera bags. It is not the right bag for carrying a camera kit every day. They make far better bags for that purpose. Instead, think of this as a great EDC/travel backpack that can occasionally carry a camera. If that description sounds like something you need, the SpeedTop Backpack is worth your consideration.
Where to Buy
US Customers get a free gift when they spend over $50 in the Think Tank/MindShift online store after clicking this link. For more details, or if you have any issues, see this post.
I appreciate it when you use our links for your purchases.