As usual, a number of photography brands and photo editing software companies have kicked off the annual Black Friday deals a week before the actual date. Below is a list of the current deals, and more will be revealed almost on a daily basis.
Big Online Stores
B&H Photo
I cannot possibly list all the good deals on B&H as there are, quite literally, thousands of them. I've pulled out a few that jumped up at me from the page, but I highly suggest you dig into the Holiday Deal page, or simply search for the products you want. There is a good chance they will have some sort of discount on them during this period.
Main B&H Links to Explore
B&H Nikon Deals
B&H Canon Deals
B&H Sony Deals
B&H Fuji Deals
Fuji deals were few and far between last year as the company was hit hard by supply chain issues. I'm happy to report that there is a much more extensive selection of Black Friday Fuji deals this year.
Panasonic Deals
Tamron Deals
Sigma Deals
Godox Deals
SLR Magic Deals
There are major savings on most SLR Magic lenses. Some samples are linked below but I'd recommend hitting the top link to see them all.
B&H Apple Holiday Deals
Additional Stand-Out Deals
Seriously, you're missing out if you don't just take a scroll through this Holiday Deal page.
---
Amazon Photography Deals
---
Adorama
Use the button as a starting point to access Adorama's massive Black Friday deals guide. There are far too many savings to list here.
---
Moment
Moment continues to expand their incredible online store this year and they have a raft of great Black Friday photography deals.
They truly offer an excellent shopping experience, and they offer FREE FedEx shipping to almost every country. There's no other photography store that has such a great shipping policy!
Moment Deal Highlight – The BEST Sling
The Moment Rugged Sling is the best camera sling bag on the market. I compared it to the Peak Design and Wandrd slings and it came out on top. For Black Friday this year, Moment is discounting the Rugged Sling 6L by a massive 23%, and the Rugged Sling 10L by 33%. The deal runs from November 23rd to December 2nd. Don't miss this one! This is one of my all-time favourite camera bags.
---
Wex Photographic
The UK's online photographic store has a huge selection of Black Friday photography deals. Hit the button below to view them.
---
Henry's
For Canadian shoppers, Henry's offers a wide range of discounts on all major brands.
---
Pergear
If you're looking for deals on brands such as Godox, ZhiYun, 7Artisans and Viltrox, Pergear is the largest global distributor and offers some great prices.
---
Camera Canada
For fellow Canadians, Camera Canada is always worth checking out. They have a wide selection of discounts for Black Friday this year, and free shipping on orders over $99.
---
DigiDirect (Australia)
DigiDirect has the largest online selection of cameras, lenses, and photography accessories in Australia. Naturally, a wide range of deals are available on all camera brands at this time of year. My Australian readers should hit the button below to check them out. You can even earn Qantas frequent flyer points for every dollar you spend.
---
Photo Gear
Peak Design – Up to 30% Off
Sale Dates: Nov 21st to Nov 28th 2022
---
Gura Gear – Save 20%
Sale ends Monday, November 28th 2022.
Save 20% on all camera bags and accessories from Gura Gear. This is the best deal of the year – in fact, the only sale of the year, on the incredible Kiboko V2 backpacks (review), the Chobe 2.0 shoulder bag (review), and even the brand-new Kiboko City Commuter (review). Although I test many camera bags for this website, I keep returning to the Gura Gear bags when I need to pack for my most essential photography trips. I will encourage you to read my reviews if you are unfamiliar with them.
---
F-Stop Gear – Save 20%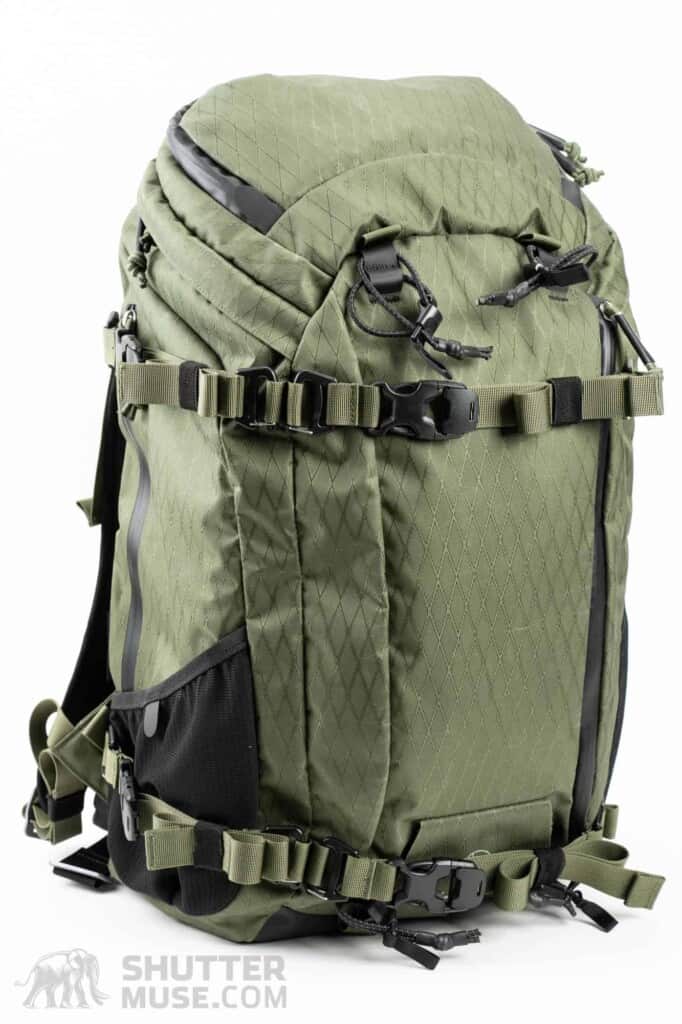 The sale ends 12.01 AM Central European Time on the December 9th 2022
F-Stop Gear has launched its annual Pack Week sale. You can use the discount code PackWeek22 to get 20% off everything in their store, including the brand-new Duradiamond Mountain Series Packs. These new Duradiamond packs feature a huge range of upgraded features, materials, and hardware.
My recommendations:
---
Think Tank Photo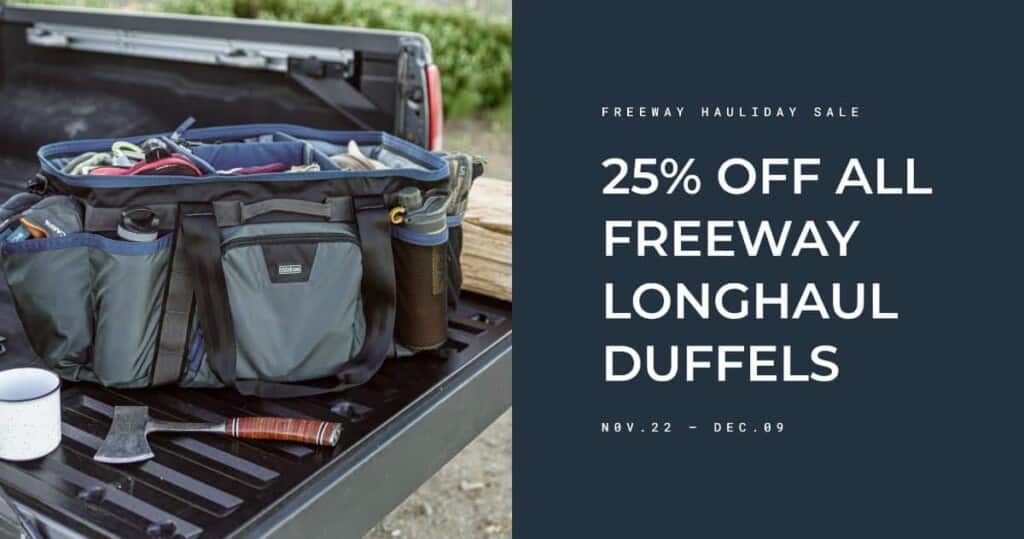 Sale dates: November 22nd – December 9th 2022
This year Think Tank is offering a 25% discount on their Freeway Longhaul duffel bag. This multi-purpose organizational duffel is a fantastic photographer's companion when packing your car for a long road trip. I have reviewed the Longhaul duffel in the past, and it continues to find a place in my car every time I load up for a shoot.
---
Wotancraft – Free Gift
Sale Dates: Ends 31 December 2021.
Wotancraft makes beautiful leather camera bags with a vintage military feel. For the holiday season this year, they are offering several gifts that will be included automatically once orders reach a certain level: $150, $300, $450, $600.
---
DJI – Save Up To 40%
Sale Dates: November 18th to November 28th
DJI has deals on the Osmo Action camera, Mini 3 Pro drone, and their FPV drone for Black Friday '22.
---
Atomos – Save up to $750
This is a great deal. I just took advantage of this one myself! I have wanted a Ninja V in my kit for a while.
---
ProMediaGear
Sale ends November 27th at 11:59 pm CST
15% OFF on all items. Discount applied automatically at checkout.
PMG make my favourite gimbal, the Katana Jr (reviewed here). Now would be a great opportunity to pick one up! They also make an exceptional ball head called the BH50. This ball head is every bit as good as those from Really Right Stuff and Gitzo. It's a hidden gem that's well worth checking out.
---
WANDRD – Save up to 60%
WANDRD Black Friday Deals are valid through to November 30th, 2022.
Most of WANDRD's bags are on sale. Save up to 60%. My personal favourite is the Fernweh backpack (review), but they also made an excellent sling bag this year (review), and, of course, there's the ever-popular PRVKE backpack (review), for which they launched two new sizes last year.
---
Godox
---
Cotton Carrier – Save 25%
Sale runs until November 29th
Cotton Carrier makes the excellent G3 camera harness and the G2 Skout harness. Until Nov 29th, take advantage of their site wide 25% discount.
---
OWC – Save up to 20%
OWC makes what I consider to be the best backup solutions for photographers. I use the Thunderbay 8 RAID to keep all my photos safe and multiple OWC solid-state drives while I'm on the road. This week you can pick up great deals on various items, including the Envoy Pro FX SSDs that I use.
---
CRDBAG – Save up to 50%
Note: Save 15% on purchases from CRDBAG by using the discount code SHUTTERMUSE15.
---
MagMod
MagMod makes all kinds of magnetic flash accessories, but the one I use all the time is the MagMod MagBeam Wildlife kit.
---
SmallRig
SmallRig makes video gear for your mirrorless camera. Tripods, cages, lights, fluid heads, and much more. There are too many deals to list here. I recommend checking out their Black Friday page.
---
Photography Education
PhotographyCourse.Net – Save 50%
I like it when people keep their deals nice and simple! Everything on PhotographyCourse.net is discounted by 50% between Nov 25th and Nov 30th, 2022. Just use the coupon code PHOTOBF50
Don't forget to check out their 365 Photography Course!
---
Photo Editing
Skylum Luminar Neo
Skylum has announced its 2022 Black Friday deals, with a few different options, as usual.
Bonus Discount: On top of the Black Friday deal, you can also use our coupon code ShutterMuse10 to save an additional 10%!
#1 – The Explore Plan
$89 instead of $178 for 12 Months of subscription + an extra 6 months for free + Creative Pack of presets and skies for free. This plan does not include the Luminar Neo Extensions.
#2 – The Pro Plan
$99 instead of $223 for 12 Months of subscription + an extra 6 months for free + Creative Pack of presets and skies for free. This plan DOES include the Luminar Neo Extensions, and given that it's only $10 more than the Explore Plan, it makes it a better deal in my opinion.
#3 – The Lifetime License – 50% off
$99 instead of $199 for a Lifetime license + a Creative Pack of presets and skies for free. This is a really good deal!
#4 – Extensions Discount
If you already have a lifetime license, or you buy the discounted lifetime license, you can buy the extensions for the extensions pack can for $199 instead of $383.
---
Topaz Labs – Save up to 63%
The Topaz Labs Black Friday deals are now live until December 2nd, 2022. This year there are three bundles to suit your editing needs, with options that include the brand-new application Photo AI.
The Everything Bundle – $757.97 $279
Save $478.97 (63%) on this special Black Friday bundle deal, including DeNoise AI, Photo AI, Gigapixel AI, Sharpen AI, and Video Enhance AI. All for just 279!
The Enhance Images Bundle – $458.97 $159
Don't shoot video? This is the bundle for you. Get DeNoise AI, Gigapixel AI, Sharpen AI, and Photo AI for a 65% discount at $159.
Video Enhance AI – $299 $159
Don't shoot photos and just want Video Enhance AI? Save $140 and get this for just $99.99.
---
Adobe Creative Cloud – Save over 25%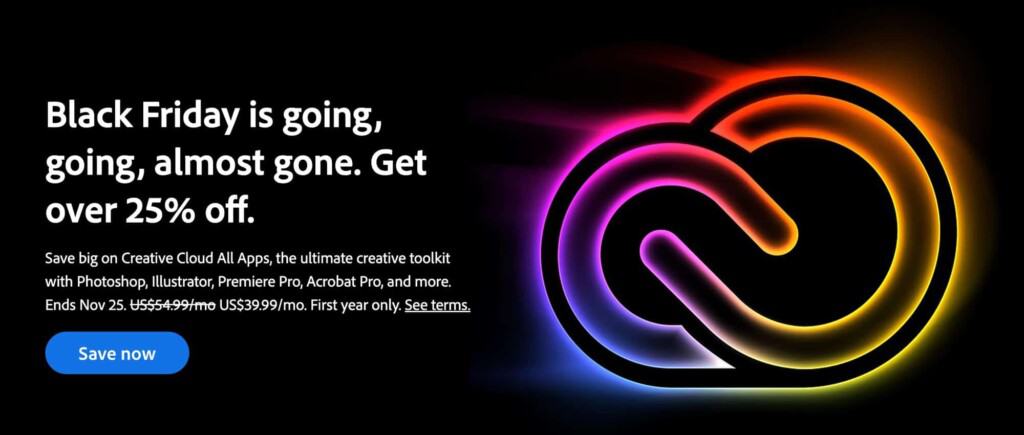 Adobe deals end November 25th, 2022.
Creative Cloud All Apps for Individuals – Save 40% for first-time CCI All Apps subscribers, excludes the United States and Japan
US only: Creative Cloud All Apps for Individuals – Save over 25% off for first time CCI All Apps subscribers
Japan only: Creative Cloud All Apps for Individuals – 25% off
Creative Cloud Student and Teacher – save up to 71% off commercial price for first time subscribers
Creative Cloud for Teams – Save up to 40% off, excludes United States and APAC countries
US only: Creative Cloud for Teams – Save over 25% off
---
DxO Nik Collection – 50% Off
DxO is offering excellent Black Friday deals on its range of powerful photo editing software. Deals finish at 11.59 pm local time on Monday, November 28, 2022.
Nik Collection 5: Half price
DxO PhotoLab 6 ELITE: 30% off
DxO PureRAW 2: 30% off for new customers
DxO FilmPack 6: Up to half price
DxO ViewPoint 4: Up to 30% off
---
On1 Software – Save Up To 45%
---
Rawsie – Save 20%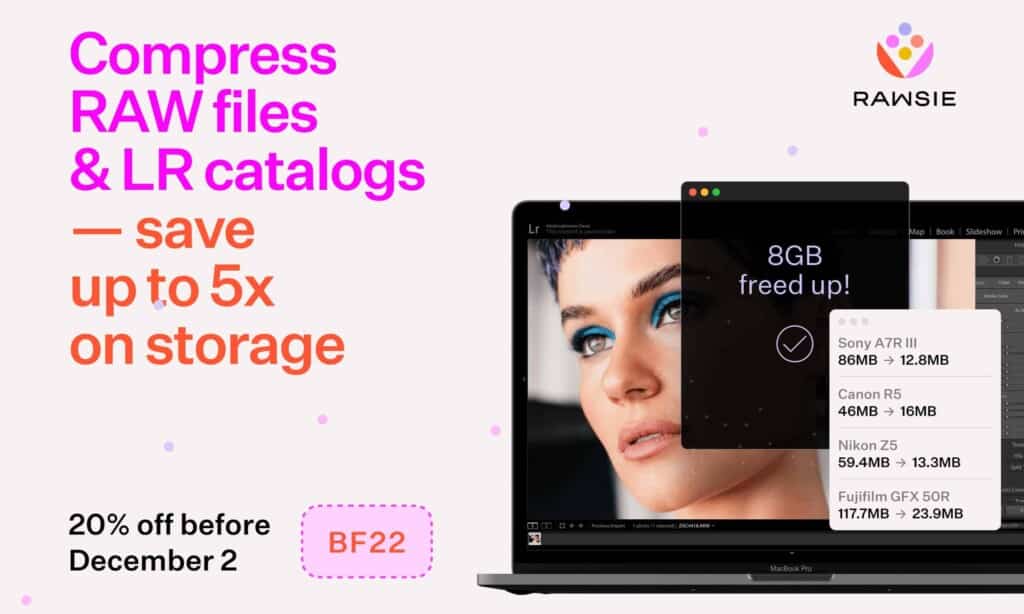 Deal: 20% off your first year
Coupon name: BF22
Dates: November 22 – December 2, 2022
Shoot in RAW? Rawsie allows reducing RAW file size by up to 80% preserving dynamic range,
resolution and edits applied in your Lightroom catalogs. Think RAW image quality, but JPEG file
size. Why bother? Rawsie would save you tons on new HDD or SSD and make your remote
photo storage, cloud, Lightroom catalogs and editing so much faster.
---
Photo Business
Cradoc Software – Save 50%
Cradoc Software, makers of the incredible FotoQuote software are offering a rare chance to save 50% this year. If you run a professional photography business or are looking to in the future, you NEED FotoQuote. It is the de-facto standard for quoting your clients on photography licenses.
---
Photologo – Save 30-70%
Get Your Personalized Photography Logo and Watermark!
Sale date: Ends November 27th
Logos are on sale for $27.99, down from the usual price of $39.99. Customers can save up to 70% on the various extras that are available, such as animated logos.
The deal is auto-applied, no coupon is needed. For customers who spend over $100 or $150 on the checkout, they get an additional 20% or 30% off with the coupons below.
20% Off All Orders Over $100 – Code BFVIP20
30% OFF all orders over $150 – Code 30BF2021
---
Photography Website Builders
It's important to have a great online photography portfolio. This Black Friday you can save a ton of money on some great all-in-one website solutions such as SmugMug and Pixpa. For those that want to build a photography portfolio using the WordPress platform, scroll down to the next section to find great Black Friday deals on photography WordPress themes and plugins.
Smugmug – Save 40%
Sale Dates: Nov 25th to Nov 28th 2022
SmugMug is the service I use to host my print sales store. You can use it to create a quick and easy online portfolio and make money from your prints. For Black Friday this year, sign up before between November 25th and November 28th using the button below, and you'll save 40% on your first year.
---
WordPress Photography Themes and Plugins
Elegant Themes
Massive discounts on the world's most popular WordPress theme. There's also a ton of bonuses to be had, and entry into a huge giveaway with $10,000 prizes.
---
GeneratePress
Want to use the same WordPress theme that I used to build this very website? That's GeneratePress, and they have a 25% discount for Black Friday.
---
Optinmonster – Save 60%
Email newsletters are a powerful tool in a photographer's business arsenal. Optinmonster helps you collect those new leads and engage with past or prospective clients.
---
Envira Gallery – Save up to 50%
Sale Dates: November 1st to December 3rd 2021
Envira Gallery is the most powerful drag-and-drop WordPress Gallery Plugin. With over 2,500,000 downloads and 1,200 + five-star reviews, it only gets better with every update. Easy, intuitive and fast, spend less time configuring your galleries and more time shooting and editing your photos.
This is the gallery plugin I use on my own portfolio website!
---
WP Rocket – Save 30%
WPRocket speeds up your WordPress photography portfolio or blog. From 2021 onwards, Google puts enormous importance on website speed as a ranking factor in Google Search results. You need a fast website if you want your website to show up in Google searches ahead of your competitors. WPRocket will help you get there.
---
WordPress Website Hosting
Kinsta
Kinsta doesn't actually offer Black Friday deals. Their hosting prices are the same every day of the year. I respect that. They know they have a great product. In fact, Shutter Muse is hosted with Kinsta. That's how much I trust them.
Kinsta is a WordPress specialist and has the best technical support out there. They are not the cheapest WordPress hosts, but if you need reliable service with incredible support, there's nobody better. And, if you pay yearly, you can get two months for free.
The speed of a Kinsta hosted website is particularly noteworthy. That's really what you're paying for. Website speed is being taken into account when Google chooses search ranking positions, so it's important to have a website that is faster than your competitor's. If your photo business is in the competitive market, Kinsta's speed will give you an almost unfair advantage!
---
Bluehost – Save up to 73%
Savings up to 60% off of website hosting, domains, and more.
• Choice Plus Plan — $4.95/mo* for 12 months
• Wesbite Builder Basic Plan — $2.65/mo* for 12 months
• Wesbite Builder Pro Plan — $9.95/mo* for 12 months
• E-Commerce Starter Package — 40% off 12/mo term
• Free WordPress Site Migration**
---